SOTA Hosts First Paint and Pizza Event For Fundraiser
Club Seeks To Raise Funds For Second Medical Mission Trip to Antigua.
The evening of Friday, Nov. 30 to most students and faculty at the Dobbs Ferry campus went about the same. While most were eager to get home after a long day of classes on the dark, rainy, and windy fall evening to get a head start on their weekend festivities, there were some who stood. And not to wait out the rain, but for a more helpful cause.
Sheltered from the elements, The Student Occupational Therapy Assistant (SOTA) hosted their first paint and pizza event from the hours of 5 p.m. to 9 p.m. at Main Hall in room 111. For $30 to RSVP, one could have enjoyed as much pizza and painting as their hearts, or stomachs, desired.
SOTA is comprised of students currently enrolled in the Occupational Therapy Assistant program. The program is offered both full or part-time with classes being held Monday through Thursday evenings. According to Mercy's website, 75 percent of 2016 and 2017 graduates secured positions as occupational therapy assistants within three months of graduation.
"One of the main reasons for tonight's event is to help cover some of the cost for the program's trip to Antigua in March 2019," said the president of SOTA, Noreen Santos.
Santos is from the Bronx and graduated from Manhattan College in 1984. She left her job to join the seminary in 1999 and has been a minister ever since.
Her class is slated for a February 2020 graduation, which is vital. Without that transcript, Santos and her fellow cohorts will be unable to take their licensing exam.
SOTA are no strangers to raising funds either. Some readers may have even unintentionally aided in their fundraising by purchasing a baked good or two during one of the many ongoing bake sales they have had throughout the fall 2018 semester.
March's trip to Antigua will be the program's second. The first being during the spring 2018 semester. Ten students took the trip to the tropical island in the West Indies along with Prof. Sharon Sedlak the first go around and ten more will be flying down in March again with Sedlak.
***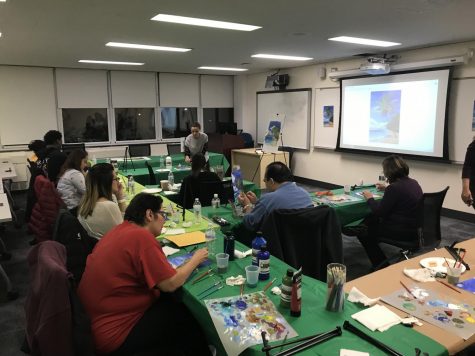 Clear signage around Main Hall made it easy to locate the event. The tables that are accustomed to having laptops, textbooks and notebooks on them have instead been dressed with plastic table covers to avoid any mess. The desks were aligned in an "E" shape with about two mini-easels and canvases propped on each table. A row of paints and brushes eagerly waiting for their purpose.
To get those in attendance excited for the upcoming Antigua trip, a picture of a seascape was chosen. The night sort of had a tropical theme to it.
"Trust yourself and trust the colors in front of you. If you do everything will come out fine," said the night's art instructor Lisa Tilihoi over the sounds of Bob Marley's "No Woman, No Cry" to strengthen the tropical theme of the night.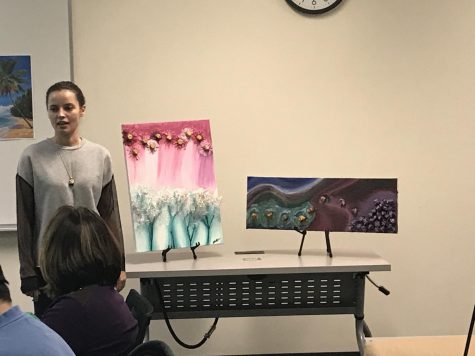 Lisa Tilihoi graduated from Mercy College as an English major. Currently, she works at New York University in fundraising. Fitting for this night.
Tilihoi also has a website: www.lisatilihoi.com
Titled "Love in Bloom" Tilihoi paintings are made with dried flowers. She has an exhibit planned for January. It would be her second.
Her aim is to practice love as a way of life as a form of art, according to her website.
***
A steady stream of students and faculty came and went throughout the four-hour-long event. Some arrived late while others just popped their head in during their break from class, presumably for a slice of pizza. The pizza would not be delivered until about an hour and a half in but served as a well-needed break from the painting.
Laughter and discussion ensued. Whether it was Sedlak talking about the last trip to Antigua with others or Noreen chuckling that her trees looked like one giant bush, the good times were a rolling.
With the fall 2018 semester mere weeks from completion finals, papers, and project deadlines are rapidly approaching. The stress that students face trying to reach the finish line is nothing new, but something as simple as painting can help act as a stress reliever.
"Three major benefits of art therapy are that it serves as a distraction, puts us in a flow, and helps with our overall self-care," said wellness coach and author, Elizabeth Scott.
Art therapy is not a new stress management technique but is one that offers all the benefits that a college student, or anyone for that matter, can ask for.
Shortly after the painting resumed it did not take long before someone felt the benefits of painting.
"This is so relaxing. I am constantly stressed out from work," said Nurys Cabrera, member of SOTA and mother to her six-year-old daughter.
***
Antigua is not the only trip SOTA has raised funds for. They also have the annual American Occupational Therapy Association (AOTA) conference in New Orleans, Louisana. The meeting is over several days and gathers all occupational therapist and assistant (OT/OTA) nationwide for networking and continued courses. In this profession, education must be continued yearly to maintain licensing.
"We are just getting our feet wet as they say with tonight's event. SOTA plans on hosting other events in the future and we wanted to use tonight as a gauge," said Santos.
Some of these future events will consist of a salsa dance training in January and hopes of another paint and pizza event in February, along with countless others.
As the skies cleared on the night of Nov. 30 and everyone's hands were covered in green, blue, brown, white, and red paint, Lisa left us with this gem.
"An artist is anyone who appreciates beauty. It should be a fun and enjoyable experience. Kind of like going to Antigua," said Tilihoi as Bob Marley's "Three Little Birds" played in the background.
And every little thing is going to be alright.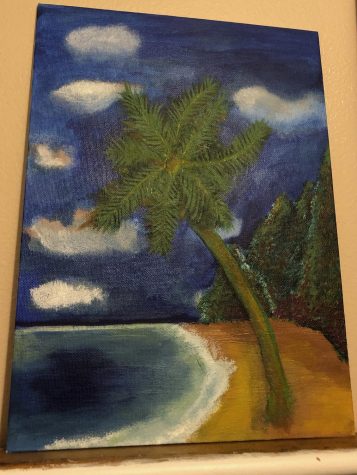 Leave a Comment
About the Contributor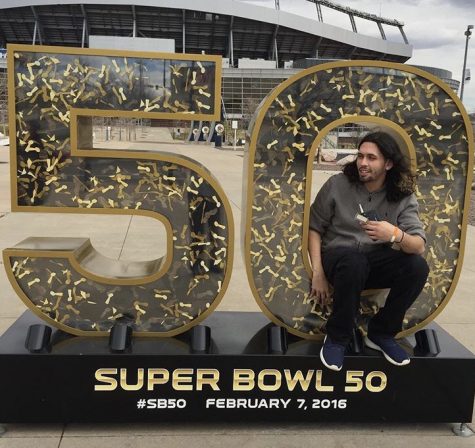 Brian Pineiro, Impact Staff
Brian Pineiro is a senior... finally. After a brief hiatus, Brian is back and more determined than ever to pursue his degree in Media Studies. This does...