Dr. Sorochinski Eager To Join Criminal Justice Program
One of the newest hires at Mercy College is bringing a passion for research and scientific study to the School of Social and Behavioral Sciences.
Dr. Marina Sorochinski is the new, deeply passionate assistant professor in the Criminal Justice program at Mercy College.
Sorochinski came to Mercy with several professional achievements, including numerous peer reviewed journals, book chapters, and awards. In addition, she has previous experience teaching undergraduate as well as graduate courses, and working with government agencies, such as the FBI and The South African Police Force. Her work has helped law enforcement develop and refine their behavioral analysis training programs. She has also studied serial homicides in the United States compared them to the serial homicides in South Africa, while shedding light on the importance and effect of cultural context, and differences in the patterns of the two countries.
Sorochinski is enthusiastic and excited to be at Mercy and to teach her students.
"I am really enjoying being on campus, it is so beautiful. The students are wonderful, as are the faculty here. I think I have had a great and active start so far this semester, recently I was involved in Forensics Day, which was a wonderful event," says Sorochinski.
Forensics Day was an event that was held in early November, where teams of students worked together to solve a murder mystery. The students, whose majors were Biology, Computer Science, Cybersecurity, Mathematics, and Psychology worked together utilizing tools such as DNA and fingerprint analysis, along side psychological profiling to narrow down suspects and solve the case.
"It was a great event and the students seemed to have fun. I really enjoyed the collaboration between the students, and getting to see them work together in teams. I also enjoyed getting to work with students in different majors and areas of study. I would love to do an event like that again in the future," says Sorochinski.
Her involvement on campus doesn't stop there. On Nov. 14, Sorochinski spoke at a Brown Bag Research Seminar for the School of Social and Behavioral Sciences. Her presentation was the culmination of three years of her hard work and relentless research. She will be presenting her findings on Sex Worker Serial Homicides. Her research focuses on how to better link and solve cases that involve serial homicides of sex workers, who can be very vulnerable to violence. Originally, it was thought that cases involving serial homicide of sex workers usually involved mainly the sex workers. However, according to Sorochinski, "About half of the cases that include sex worker victims, also include other non sex worker victims."
This breakthrough came from her research, and will ultimately serve to help law enforcement link up, and solve serial homicides.
Sorochinski is currently teaching three classes at Mercy: Criminology, Research Methods and Behavioral Analysis of Violent Crime, which is her specialty. She brings her passion to the classroom, in particular, her passion for research.
"I love researching, and I want more students to look forward to researching. It is a great experience for students, because it is helpful as well as useful, it will improve their thinking, and its rewarding once you get to the 'A- Ha' moment," says Sorochinski. "I try to remind students that when they are doing research, they should be keeping in mind the end goal of that research. The carrot at the end of the stick."
In the future, Sorochinski would like to invite students to work with her on her research as part of a research team. The idea would be to create a team where students can spend their time experiencing the research process for themselves. This would allow students to get hands on experience in the field they want to go into, while building their research skills.
"I've had students email me after the semester ends, and tell me how much my class helped them and how much they have learned. It is all about the impact I can see I am making on the students, even if I impact just one student, it's worth it."
Leave a Comment
About the Contributor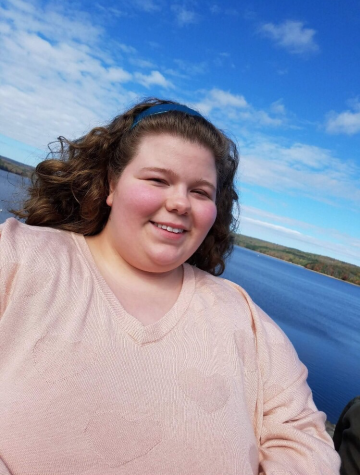 Hope Androsko, Social Media Editor
Hope Androsko is a senior who is majoring in English at Mercy College. Hope's goal is to become a journalist, editor, and English professor. She was...