Packed Parking  Not From CNR Students
As school started, the parking lot fills up and left a lot of students with no spots to be found besides far away from buildings in the R-Lot.
Mercy College is a school with eighty eighty percent commuters and twelve percent residential students, which causes massive parking issues. Students are usually waiting for people to leave classes to actually get a good spot near their classroom buildings.
Students on Mercy campus have been saying that they believe that the problem with parking came from the merger with the College of New Rochelle, which brought in 1,700 new students.
Even though the Dobbs Ferry campus doesn't have all of the 1,700 new students on campus, they have some who do attend this campus and this seems to have made an issue with commuters because it has caused a problem with the parking.
Kevin Joyce, the Vice President of Student Affairs at Mercy, stated that the College of New Rochelle students have nothing to do with the reason why the parking lot is filled. Mercy has about a handful of actual College of New Rochelle students who attend the Dobbs Ferry campus.
"Most CNR students use their old campuses which would be New Rochelle, Harlem, and Brooklyn campuses," Joyce mentioned.
The reason why it's so packed is that according to Joyce, there was an increase in the freshman class between this year and last year's class. It's also because the Dobbs campus is a more desired campus to be at.
Parking became a concern to students in the first week of school when the parking lot near the baseball field was completely filled up, which caused overflow into the R-Lot, which is the resident's lot on Mercy's Dobbs Ferry campus.
"The parking lot was really full the first week due to the fact that more students than just the ones coming for class were here, whether it be going to the bookstore or getting their ID there were more students than normal on campus that first week because everyone was getting settled for the term," Joyce states. "But we saw it subside afterward."
Students have stated that it all depends on the time that one arrives on campus as well as a student's class time.
Samantha Witte, a junior at Mercy College who has attended the college for two years, explained her frustration about the parking situation.
She stated, "The Mercy parking lot is actually so frustrating and there are never extra spots."
When asked if she has heard any word on the parking situation she stated that Mercy hadn't put out any information on it and that she wishes they would have.
This was her first year living off-campus and she was excited to finally utilize her car and be able to drive to and from school with ease.
Witte gave an idea of how the school could possibly fix the parking issue and she stated, "I think if Mercy made students pay for a parking pass like other schools it would decrease the number of cars on campus and other people would find other ways of transportation like train or bus."
Mercy does have a Palisades lot but that takes a lot of extra time off students' hands because that includes waiting for a shuttle and walking to the classes from the drop off point.
The Palisades lot is used by the administrative staff at Mercy more than anyone else. Joyce spoke out about how he has to park there.
"Mercy doesn't give special treatment. There is no preference to Deans or the administrative staff, we all have to park in the Palisades lot at one point," Joyce states.
Another student voiced his opinion on the parking. Henry Casey, a freshman at Mercy, talked about how he comes for later classes and still has a hard time finding parking.
Casey starts his day around 3 p.m. and usually, spots are empty at that point of the day according to some commuters that would be on campus at that time last year.
"I usually end up parking all the way down by the baseball field. If not there, then the parking spots facing the train. Basically as far as possible from the buildings," Casey stated when asked about where he parks during the day.
If he was to get there earlier or had more time on his hands he could usually wait around for a better spot but for most of the times, he just parks near the baseball field.
Casey had a different solution than Witte when it came to the parking problem.
"I think a resolution to fix the parking problem is to have more spots. If it's possible to include more parking spots or even another lot that would be substantially adequate."
Leave a Comment
About the Writer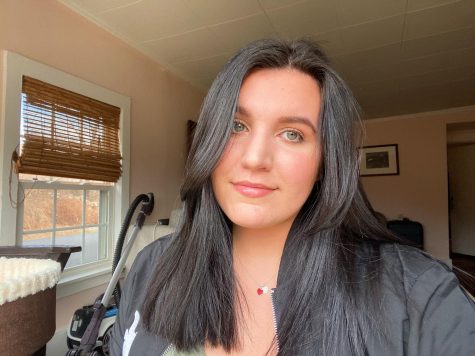 Alexis Lynch, Managing Editor
Alexis Lynch is currently a senior at Mercy College. At Mercy, Alexis is a Media Studies major with a focus in Journalism. She has gained experience that...