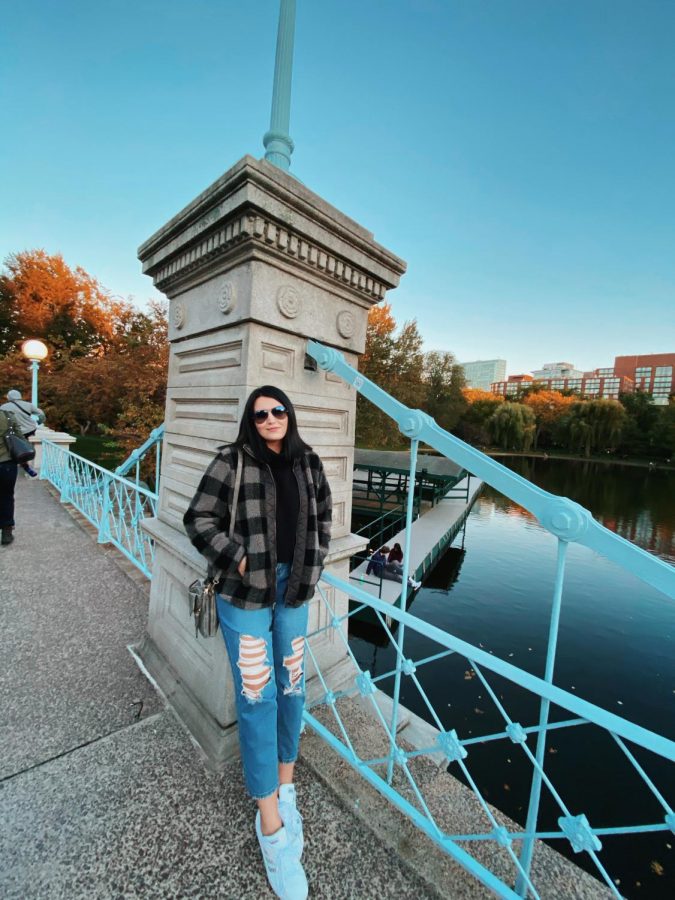 Alexis Lynch is currently a senior at Mercy College. At Mercy, Alexis is a Media Studies major with a focus in Journalism. She has gained experience that ranges from Editor in Chief of a 20 teamed staff, to being a Social Media Editor for The Impact. The Impact also gave her experience of being an Associate Editor of a newspaper. Alexis' main goal is to work for Madison Square Garden Network as a Social Media Manager, specifically for The New York Rangers.
During her free time, Alexis is found at Madison Square Garden rooting for the New York Rangers, working at her local ice rink, or in her bed watching Netflix and Hulu.
She writes a column called
Spilling The Tea
. The column will be focused on gossip in her life as well as, the sports industry and the entertainment industry.
She can be reached at
[email protected]
Alexis Lynch, Managing Editor
Dec 11, 2020

New Girl, That's My Name

(Story)

Dec 10, 2020

Dye Dobbs Ferry with Love

(Story)

Dec 10, 2020

Top 10 Rides in Disney World

(Story)

Dec 08, 2020

PodHeads: Vape Users Not Going Down Without A Fight

(Story)

Dec 05, 2020

'Euphoria': Need a Refresher?

(Story)

Nov 21, 2020

Voices Podcast: PillowTalk with the Editors

(Story)

Nov 21, 2020

The Fight For Her Life

(Story)

Nov 20, 2020

A Letter to the Man Who Ruined My Life

(Story)

Nov 09, 2020

Lucky Doesn't Explain It

(Story)

Nov 05, 2020

Dean West Strives for SLA Success

(Story)

Oct 30, 2020

Sacha Baron Cohen Saved 2020

(Story)

Oct 24, 2020

I Lost My First Love

(Story)

Oct 19, 2020

Mercy Continues to Enforce COVID Testing

(Story)

Oct 10, 2020

A House That's Not A Home

(Story)

Sep 28, 2020

Mercy's Preparation for Re-Opening

(Story)

Sep 26, 2020

Climate Change Is Real, But So Is Anxiety

(Story)

Sep 10, 2020

10 Mid-Pandemic Back to School Tips

(Story)

May 15, 2020

Coronavirus Testing Effects on Adolescents

(Story)

May 13, 2020

Outer Banks is Millennials Goonies

(Story)

May 10, 2020

How to Thrive in Animal Crossing

(Story)

May 07, 2020

I Traveled To The Place I've Always Dreamed Of

(Story)

Apr 30, 2020

Podcast: Two Girls, One Pod Talk About Those Quarantine Blues

(Story)

Apr 11, 2020

Mercy College Announces Pass/Fail Option

(Story)

Mar 26, 2020

10 YouTubers To Watch While Quarantined

(Story)

Mar 25, 2020

PTSD Survivor Finds Art To Overcome

(Story)

Mar 21, 2020

COVID-19 Forces Mercy To Close Campus; Dorms To Close Next Week

(Story)

Mar 20, 2020

My Disney World Corona-cation

(Story)

Feb 28, 2020

I'll Be a Fifth Year Student and That's OK

(Story)

Feb 12, 2020

J31 Protests Wreaks Havoc Throughout NYC Subways

(Story)

Feb 12, 2020

Kobe Bryant: More Than a Basketball Player

(Story)

Dec 18, 2019

The Fight For Freedom

(Story)

Dec 16, 2019

My Crazy Spring Break

(Story)

Dec 12, 2019

7 Reasons Disney is a Break From Reality

(Story)

Dec 11, 2019

Mercy Plunges Right Into Winter

(Story)

Dec 07, 2019

A Conversation With Actor Edward Hibbert

(Story)

Nov 08, 2019

I Found Myself Again, Thanks to You

(Story)

Oct 11, 2019

Being an Orientation Leader Changed My Life

(Story)

Oct 04, 2019

Kylie Jenner Friendzones Travis Scott

(Story)

Sep 26, 2019

Community Remember The Fire and Passion of Beloved Professor Perkins

(Story)

Sep 20, 2019

Voices Podcast: Keeping Those Exes at Bay

(Story)

Sep 18, 2019

Pete Davidson Ruined Stand-Up for Me

(Story)

Sep 15, 2019

Packed Parking  Not From CNR Students

(Story)