Some Students Seek Meal Plan Exemptions
It is in the hands of students to get exempted from a meal plan due to their health conditions.
All colleges require students who live on campus to set a meal plan because colleges believe it is necessary for students to get the full experience of life on campus and to ensure they remain healthy and fed.
All students have a hectic schedule balancing schoolwork, extra- activities and internships. There is no time to cook. Only rushing to the café to get a quick meal and heading to their next destination. But what happens when there are students who have been diagnosed with a health condition? Are students required to purchase a meal plan? Is there another way to help the students get accommodated? Who should they speak to? These are questions frequently asked by students.
The health of any individual always comes first, and it is important. If he or she cannot eat the meals provided from their college, they must address their situation to the college. Students can speak with the office of accessibility which focuses on empowering students who have disabilities with the view to support their reasonable accommodations, services, and programs to make their college experience easier.
Many students at Mercy College encountered a different experience from the office of accessibility. The office of accessibility was helpful towards certain students who had "sufficient and reasonable excuses."
Jillian Simmons, a junior at Mercy College, went through a long stressful process of getting exempt from the meal plan. It took about a month for the office of accessibility to approve the exemption. Simmons had to hand in two doctor's notes. The first doctor note was not detailed, Simmons had to get another note specifying her situation.
Having another detailed doctor's note helped Simmons get exempted. They believed Simmons had a "worthy reason" for exemption.
"They exempted me because they felt my reason for wanting to be exempt was a worthy reason for needing it," says Simmons.
However, not all are granted, and not all students are pleased with that fact.
Some students notice a change in their health if they feel sick and go to the doctor to get checked out. Some received news that their health has changed because of stress or eating habits.
"My habits have changed drastically since I began college and it was affecting my overall health. I spoke to my doctor because I kept gaining weight and was having acid reflux," says senior Briyanna Hutchinson.
Acid reflux is a common condition that causes burning pain, known as heartburn, in the lower chest area. This occurs when the stomach acid flows back into the food pipe. Acid reflux gets worse when a person makes movements of bending over or lying down in bed.
Hutchinson went back and forth with the office of accessibility waiting for a response of being exempted. The process took long, Hutchinson had to fill out a form and received a call from the office of accessibility to explain why she needed to be exempt. A doctor's note was asked and Hutchinson provided one. However, the office of accessibility believed it was not enough and asked for another doctor's note explaining her situation.
"My doctor explained everything in the note she wrote and they still called me and asked me to explain why I needed an exemption. I didn't think it was appropriate for them to ask me to explain my situation when my doctor already wrote the note. If my doctor explained it, I shouldn't have to reiterate what my doctor already said," says Hutchinson.
It can be uncomfortable for each student to explain their situation more than once. Students who find out they have certain health problems are not comfortable speaking about it. A student will feel some way explaining to a stranger the problem they have.
The office of accessibility denied the meal exemption for senior Briyanna Hutchinson. The senior did all the requirements to prepare the process for an exemption. It frustrated Hutchinson by not having support from the office of accessibility and being understanding. They believed it was not a valid excuse.
"No, they did not exempt me. They said it was not an appropriate reason to have my meal plan removed!" says Hutchinson.
Hutchinson had no choice but to follow through of setting a meal plan. This year has been a struggle to eat certain meals in the café, however, she bought foods on her own.
"I gained a lot of weight because I would only eat from the grill and the salad bar wasn't always fresh I felt. I mostly bought food for my friends who were commuters and I ordered my food out," says Hutchinson.
Her parents played a big role in the process and layered out other plans to help her eat right.
"When I didn't get approved, they helped me brainstorm ways to use the meal plan despite how I feel about the food. My parents suggested that I use the meal plan to "buy groceries" as opposed to buying full meals. Usually, I stop by Starbucks and bought cereal, milk or bread and used my meal plan that way."
This plan was very helpful for Hutchinson. It is not a bad idea to use the meal plan to "buy groceries" and then be able to make your own food. Students throughout the year have chosen that method and believed it has helped them, such as Hutchinson.
This plan can be good for some students and others would disagree. Students agree with having a plan at a certain time. Hutchinson believes that "a meal plan should only be required for first-year students."
"I believe that after the first year most people develop a routine and are becoming an adult and it would be more beneficial if they got into the habit of cooking for themselves and preparing their own food."
Leave a Comment
About the Contributor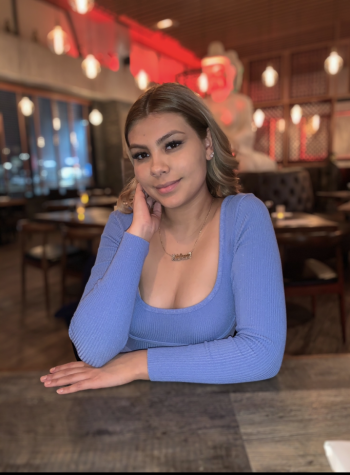 Estefania Salinas, Impact Staff
Estefania Salinas is a senior majoring in Media Studies: Radio & TV Production with a secondary concentration in Journalism. She is a passionate news...