Transfer Student Killed West Windsor Remembered as Loving and Fun
Chelsea Celena Debidin, 21, was killed in her boyfriend's apartment in New Windsor, New York on Sept. 21.
Chelsea was born on Jan. 16, 1998 and had just recently graduated with an Associate's degree in Liberal Arts at Orange County Community College, where she was on the Dean's List. She'd transferred to Mercy College as a sophomore this semester and she was studying for a Bachelor's degree in Social and Behavioral Sciences.
New Windsor police stated that they kicked the door in by two unknown gunmen who then opened fire on Chelsea and her boyfriend, leaving her deceased and him having to be hospitalized.
A bouquet of flowers had been left on the broken window of the New Windsor apartment, as a memory of Chelsea.
Local New Windsor police, state police, and the FBI have been working to find the two gunmen who murdered Chelsea.
On Oct. 15, the Times-Herald Record and MidHudsonNews reported that Cornelius Stubbs, 48, was charged with 39 total charges: second-degree stalking, first-degree coercion, first-degree criminal contempt and a third-degree charge of rape. Stubbs reportedly had a relationship with Chelsea's boyfriend's mother and repeatedly threatened her. He has not been charged in the shooting of Chelsea. Stubbs' lawyer entered a plea of not guilty.
"Senior Assistant Distict Attorney David Byrne made clear in Orange County Court that Stubbs is a suspect," stated the Times-Herald Record.
Those that knew her well miss her and stunned over the tragedy.
"Chelsea was a beautiful girl whose smile could light up the whole room and make you feel loved," said Alexa Persing, Chelsea's roommate at Mercy College and one of the many people who loved and cared for her deeply in this community.
"We were so lucky that she was our roommate. We spent every night talking about life, the struggles of college, making new friends and how she felt she fit right in with us. We miss our roommate, friend, and sister so much and not a day goes by we still feel your presence. Justice will prevail."
Chelsea left behind a tight-knit family comprising her parents and siblings, and several nieces, nephews, cousins, aunts, and uncles who are mourning the loss of their beloved family member.
When asking Chelsea's family about some memories they had with her or what they thought of her, they all looked back fondly at their family members whom they love so much.
"She and I had a special bond, from us living across the street from each other to her growing up with my kids, her younger cousins," said Celena Caruso, Chelsea's cousin.
"It's hard to pick a favorite memory or event because our family loved getting together to celebrate, but something we loved doing is forwarding funny stuff off social media that would crack us up. I miss that and sent her one and immediately felt sad when I realized she's gone. I will keep her alive with my memories and the memorial tattoo I got to honor her."
Chelsea's aunt, Kamieal Mangray, had nothing but praise for her niece.
"She was adorable, loving, kind-hearted and an amazing person. She touched so many lives. I was blessed to have her in my life for a short period, but I will forever hold on to all the memories she left with us. Nothing will ever be the same without her. We love you and miss you, our beautiful niece."
Another cousin, Rafeeza Mohamed, misses their late night FaceTime calls every night even though their grandmother yelled at them to go to bed every time.
"I miss all the weird stuff we used to do! I miss you all together, Chels. You were always the life of the party. You were beautiful inside and outside. I'll forever have all the beautiful memories we had. You had a wonderful 21 years walking this earth."
Her close friends, Lidice Villalpando and Daisy Perez, both spoke fondly of her and how lucky they were to have her.
"She was the most authentic, the most caring, the most selfless person. We made our little friendship our Triangle of Instability, and now one side of our triangle is gone," said Villalpando, a friend since high school.
"Chelsea's smile and personality would light up a room. I don't know anybody was as kind, thoughtful, caring and as beautiful as Chelsea was," said Perez, another one of Chelsea's close friends in high school.
Chelsea Debidin was buried in the Wallkill Valley Cemetery in Walden, New York. She was buried on Saturday, Sept. 28, and has left many people thinking about her, whether they were her friends or family.
Villalpando added, "She wanted to help people, so I challenge people to not think of her of how she died, but the impact she left in the world."
Leave a Comment
About the Contributor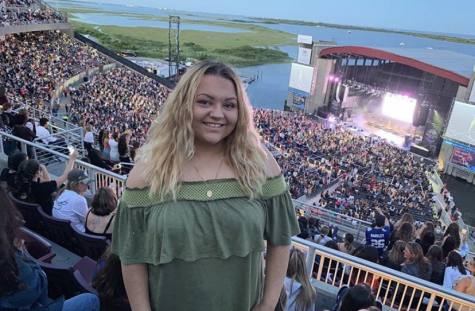 Jillian Simmons, Impact Staff
Jillian Simmons is a junior studying Television and Radio Broadcasting, with a secondary concentration in journalism.

She has a passion for video editing...