Mercy Plunges Right Into Winter
Mercy College students attended the 50th annual Polar Plunge event on Glen Island in New Rochelle, New York to help support the New York Special Olympics.
It was an extra cold day on Nov. 16, especially near the water where the temperature was thirty degrees but felt as low as fifteen degrees with the blustery wind.
Mercy College was in the first wave of groups (group A), to run into the freezing cold water. Only two students took part in the plunge, while a handful of others were there just to observe and cheer the volunteers on.
Student Life Specialist, Denecia Charles, said that this was a first-time experience for the Mercy students that took part in the event.
Jakira Kellogg, a 24-year-old graduate student, was one student who volunteered to do the plunge. Kellogg mentally prepared herself for the plunge by telling herself to run in quickly and jump right back out.
She came ready with a duffel bag of warm clothes, socks, a towel and a granola bar, just in case she got hungry.
She fully knew of the reason behind Mercy's decision to be a part of this event.
Charles stated, "Mercy is here to show their support for the Special Olympics."
The Special Olympics mission is to include everyone. They do this by using the money they raise to fund sports for children and adults with intellectual disabilities. Special Olympics is one of the largest programs in the United States and one of the largest in the world.
The Polar Plunge helped raise $7,000 for the Special Olympics.
Madison Smith, a 22-year-old senior at Mercy College, was beyond prepared for the plunge, as she had been diving into cold water in athletic gear as a hobby since she was in high school.
Smith had known about the event and was excited to formally participate. Along with her love for giving her body a good shock, she was so eager to take part in such a great cause.
The event was packed with contestants from all different places in the Westchester area. Students from over a handful of other schools and community groups lined the shore wrapped in blankets with mugs of hot chocolate in their hands. A DJ kept the crowd afloat and minds off the ice-cold weather with a great variety of motivational dance music.
While one group of contestants got ready to jump in the water, the next group in line would strip themselves of sweatpants, sweatshirts, and other winter clothing items. Some of them even wore bathing suits and bikinis. Watching them jump up and down as their adrenaline started pumping was an exciting part of the event knowing they would be submerged in bitterly cold water just seconds later.
The participants ran to the water as quickly as possible, jumped in, and then got out just as fast. Each dip took such a short amount of time that by the time the last people in line hit the water, the first ones from their group had already gotten out.
There were responders sitting and waiting in the water fully prepared with head-to-toe bodysuits and safety equipment in hand if of an emergency. Rescue boats filled the water and rescue workers in numbers lined the shore ready to run in and save lives. There was a number of workers and volunteers who were on watch for the entire event.
Heated tents and thermal structures were strategically placed to relieve workers and contestants from the chilling winds. They remained propped open and tables and chairs were set up inside so that people had a place to go while signing waivers and registering for the event.
Sweatshirts were given out to each contestant as a "thank you" for taking part.
Although freezing, the atmosphere was filled with excitement, joy, and fun. People were eating, dancing, shopping about the tables of vendors and raffle booths, and laughter was shared all the while. Communities were joined together for a great cause.
While Mercy College's Office of Student Life hasn't taken part in every single annual Polar Plunge event that has taken place, plans are to actively spread the word in the years to come and gather students together to step out of their comfort zones and into a sea of charitable deeds is in the works.
Contact the Office of Student Life at [email protected] for questions about future events.
Leave a Comment
About the Contributor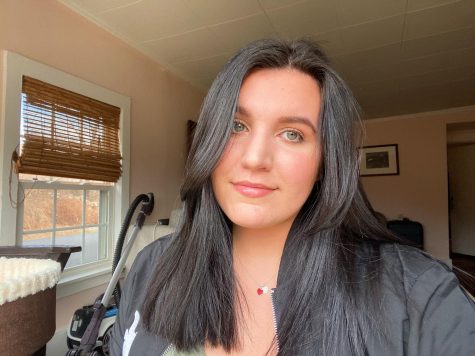 Alexis Lynch, Managing Editor
Alexis Lynch is currently a senior at Mercy College. At Mercy, Alexis is a Media Studies major with a focus in Journalism. She has gained experience that...