Women Empowerment Shines at Annual 'Check-In' Event
'Little improvements make changes if we express them'
Women have become the power tool in today's world. From achieving goals and becoming a better version of themselves for the future. As a young women residing or commuting from a college, there are times where our needs are necessary to be heard. Najja Beaulieu-Hains, the Resident Director for the Founders Building at Mercy College, tried to find a friendly and comfortable approach towards women on campus discussing the necessary needs.
The 'Women's Check-In' is a safe place where women come together expressing their needs, discuss issues and building a bond. Their voices want to be heard creating an incredible bond between 'sisters'. This safe place also brings young women from ages 18 to 22 years old to chat about their personal lives whether chatting about their day and anything else that comes to their minds.
Beaulieu-Hains not only focuses on women concerns but started to hear the men's concerns. From time to time, a male student would join the 'sister talk' expressing male needs as well as listening to the women. Once a month, both men and women come together as one, their voices makes a difference for the Mercy campus.
"I wanted to discuss the issues that go on campus with these young women and I have been working with the men. One voice is limited but more than one voice makes a difference. Little improvements make changes if we express them," says Beaulieu-Hains.
An issue that was brought up during the first meeting was the insufficient resource for disposing feminine products. An insistence of the installation of feminine hygiene trash cans for the disposal of feminine products in all women bathrooms stalls throughout the campus was requested.
"I knew right away that these women were right. This was necessary for women to feel comfortable and have an easy way to dispose products in a specific feminine hygiene trash can," says Beaulieu-Hains.
These women all agreed when one women came forward about this idea. It was a big concern for these women and they hoped the idea was able to pull through. Beaulieu-Hains mentioned this to facilities and within a week the installations of feminine hygiene trash cans were seen in every women's bathroom stalls.
"My reaction of feminine hygiene trash cans being placed in the bathroom stalls were truly surprising. I did not expect for our opinions to be actually executed," said Christina Phillips.
Most women did not believe their opinions were going to be heard and become a successful achievement. Beaulieu-Hains determination of executing the needs for female students is her top priority. Her determination gains the confidence of these young women. They finally are being heard and appreciate all of what Beaulieu-Hains has done for them.
"I admire that these meetings where women come together and make a change. We were able to make things happen. It feels incredible," said freshman Laura Normil.
"She actually keeps in contact with us in person and through email while providing us with social amenities," said Phillips.
One request has been executed and it does not stop there. The progress of making a difference continues with finding solutions for their concerns and working on program ideas to make a successful educational event for women.
"This is just the beginning of what we have been planning. I aspire to see much more improvements," added Normil.
Beaulieu-Hains and the women at Mercy College have been working on an upcoming event called 'Period Power." This event "Period Power" is working on setting a permanent day next year in March 2020.
'Period Power' is all about the use of feminine products and learning our feminine body parts. Mercy college students are very excited about this upcoming event and can't wait to discuss with other young women. Learning a women's responsibility of taking care of themselves the right way is a necessary talk. At times young girls do not have a mother present or anyone who can help them transition into the womanhood. These events created on campuses would make a difference for women who need a shoulder to count on.
Another exciting upcoming event that is being planned is working beside the children's village for a women's mentoring program. Mercy College women will be mentoring the young girls from children's village providing a safe place. This event creates a natural conversation between the 'big sister' and young girls. Women are less likely to speak up because women are afraid of being criticized from men or other people. These female Mercy college students want to transmit a message to these young girls of the importance of one's voice. To never be afraid to speak up when there is a time in need to.
"We will be like their big sister. We have their backs and want to inspire them to never be afraid. We value," shouted out one of the females presented in the meeting.
For female students who are interested in being part of an amazing community and building bonds throughout the year, this is the place for you. Beaulieu-Hains and all the women part of the 'Women Check-In' will welcome you with open hands. There is no judgment, you will heard and a change will most likely happen but with your help.
"This is a safe place to openly express your viewpoints without fear of being judged. It is important to be part of a community like this," expressed Phillips.
"Let us come together as strong women making a change! #womenempowerment," expresses Normil.
Women are strong, they are fighters and want to make a difference wherever they are. Starting a change as a community on a college campus has never been seen, this stands out and shows the importance of having a voice.
The 'Women Check-In', is in the process of creating a permanent place here at Mercy College located in Dobbs Ferry for the year 2020 says Beaulieu-Hains. Her other goal for the year 2020 is expanding the 'Women Check-In' community to other Mercy campus locations. Beaulieu-Hains is determined and as the support of her fellow resident. Together the team will continue to make an impact for a better environment at the college campus.
Leave a Comment
About the Contributor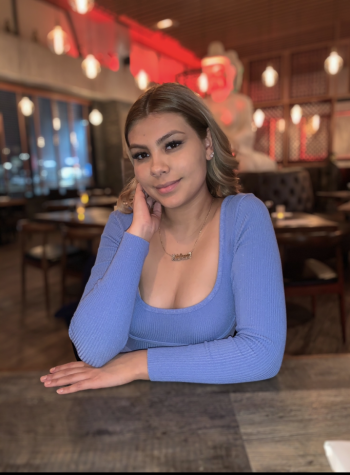 Estefania Salinas, Impact Staff
Estefania Salinas is a senior majoring in Media Studies: Radio & TV Production with a secondary concentration in Journalism. She is a passionate news...