Mercy Makes Strides Against Breast Cancer
The world has strayed considerably from what was a "normal" life because of COVID-19. But for breast cancer victims, the cancer does not stop, and it continues to take millions of women's lives each year.
In the month of October, pink is embedded in homes to globally support and honor those affected with breast cancer. In keeping with tradition at Mercy College, teachers and students would have gathered in Central Park on Oct. 18 in their pink clothes and comfortable shoes to walk three to five miles in commemoration of each woman. This powerful event organized by the American Cancer Society raises awareness and funds to end breast cancer.
In October of 2019, thousands of people attended the walk. However, this year, COVID-19 and its consequences put an end to the possibility of carrying out this event.
The annual Making Strides Against Breast Cancer walk was canceled due to the health precautions for the participants.
This, however, did not stop the Office of Student Life and Mercy College's clubs. Members of the Mercy College Rotaract Club, who are dedicated to doing community service, ensure that any help counts and are encouraging people to form online teams to continue to raise funds for the cause.
"We are encouraging our members to join this activity by the Office of Student Life and our friends from the Running Club," says Gianella Brignoi, 20, junior at Mercy College and president of the Rotaract Club.
This year, instead of the walk in Central Park, people are encouraged to create teams and complete three to five miles somewhere safe.
"Don't take the bus, just walk. I currently just walk five miles,"explains Kathleen Benitez, 18, member of the Rotaract club.
Mercy College created an account with the free Strava app. Strava is a sports app where you can record and share the miles walked based on the information from your GPS. All those people who want to support and showcase their achievements, they only have to download the app, create an account, join the Mercy event, and share the miles they have done with the other participants.
"Each day it builds up. I've seen people up to 26 or 30 miles," Kathleen explains.
Sharing the scores with each other promotes a feeling of challenge while at the same time raising awareness for breast cancer, the students add.
The goal is to create a virtual awareness network that reaches out to all Westchester communities to participate in the fight against the disease.
"Towards the end of the month, we are going to have a potluck, and we are going to celebrate how much we've donated and accomplished with our pink shirts," explained Gianella.
Breast cancer is by far the most common cancer in women, making up 25 percent of all new cancer cases in 2018. According to the American Breast Cancer Society, about 48,530 new cases of carcinoma in situ (CIS) will be diagnosed in women in the U.S in 2020 (CIS is non-invasive and is the earliest form of breast cancer). In addition to that, about 276,480 new cases of invasive breast cancer will be diagnosed in women and about 1 in 8 (13 percent) women will develop invasive breast cancer during their lifetime.
These statistics mean that around 42,170 women will die from breast cancer in the U.S. in 2020.
The Office of Student Life also organized a fundraiser for the American Cancer Society's support services and lifesaving research. This fundraiser started on Oct. 1 and lasts until Oct. 31. The goal was $200.
A few days before the end of the month, not only was the goal reached, but it was surpassed, now at $208, and with hope that it will continue to increase.
"Believe us, every dollar really does count, so we're asking for your help. Please donate or join our team today, because together we can end breast cancer," says the Mercy College Making Strides team.
On top of that, the people who are donating will not only be helping a cause as important as breast cancer, but in gratitude to the donors, those who have donated $5 to $10 will be given a water bottle and to those who donated $11 or more, they will receive a t-shirt with the slogan, "Keep fighting."
Solidarity and initiative are characteristics in society that allow associations and charities such as the American Cancer Society to fund their projects and actions to support those in need.
"We're in it together," says the Mercy College Making Strides team.
One walk a time.
Leave a Comment
About the Contributor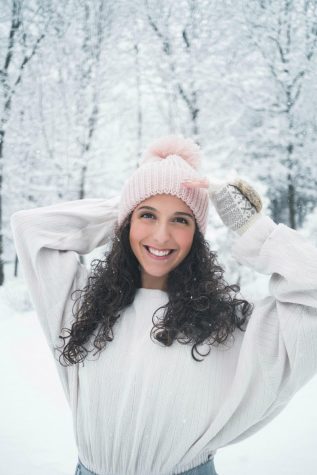 Daniela Baptista Haros, Impact Staff
Daniela was born and raised in Barcelona, ​​Spain. In the fall of 2016, she moved to the US with her family. This became a major turning point in Daniela's...