Dean West Strives for SLA Success
The School of Liberal Arts has a new leader at the helm, Dean Peter West.
West attended Wesleyan University in Connecticut for his Bachelor's and then continued his college career at Emory University to earn his Ph.D. in English.
West then moved to Wyoming to be an English professor at the University of Wyoming. At the time, it was the only four-year college in the area. He worked there for five and a half years. West and his wife began to miss New York and wanted to move back. After Wyoming, he moved to work at Adelphi University in Garden City, New York in 2007.
At Adelphi, he grew his career. He first started as an English professor, then was elected to Chair of the English Department. Next, he was the Associate Dean of Arts and Science. In this role, he focused on the general education program. After he finished his time as Associate Dean, West became Associate Provost, where he worked with deans and faculty to help struggling students.
West found Mercy through a friend. His friend knew that his values reflected what Mercy was looking for so he sent West the link to apply.
"My first Zoom call ever was for a Mercy interview," he shared.
He applied in the fall of 2019 and began interviews this past February. In June, West officially started on Mercy's Dobbs Ferry campus.
He came to the college because its mission statement is something he believes in. He was drawn to Mercy's laser focus on opening doors for students who might not normally have access to education.
"Being a New Yorker, you've heard Mercy's name before," West stated.
Starting a new job during a pandemic was intense, according to West.
"Everyone's been patient with me while I learn about the programs."
If the coronavirus didn't happen, West's initial plan was to let the faculty take a break and relax with their families for the summer, but he couldn't, as they had to construct classes and different curriculum to make sure they would work effectively in online settings.
West's main goal that he wants to carry over from his previous jobs is helping students succeed.
"I want to combine helping students with working with faculty to help students succeed," West stated.
He also knew about the PACT program at Mercy before starting here and knew that they were all about student success.
Since he started his journey at Mercy, his school has passed an approval for a new philosophy minor and adapted curriculums to the pandemic, but West does not take any credit for it. He credits the hard work of his dedicated faculty in the School of Liberal Arts.
In the future, West is looking to secure more grants for liberal arts and finding external funders for programs.
"I want to figure out ways to make liberal arts more accessible to all students."
Another one of West's goals is to introduce new minors to the School of Liberal Arts. On top of this, he is looking to grow the cybersecurity and computer science programs at the Manhattan campus.
With so money students virtual, it has been a challenge to meet and chat with students on campus. West wants students to know who he is because he feels it's important for students to be comfortable communicating their questions and concerns openly and easily.
"It's tough getting to know students because it's difficult to have a dean in a Zoom class," West stated, who would love to hear new ideas. "Feel free to reach out to me any time."
This has been one of the biggest struggles of starting his job during COVID-19, but he looks forward to the situation improving sooner than later so he can fulfill his new role to its potential.
Dean West can be reached at [email protected]
Leave a Comment
About the Contributor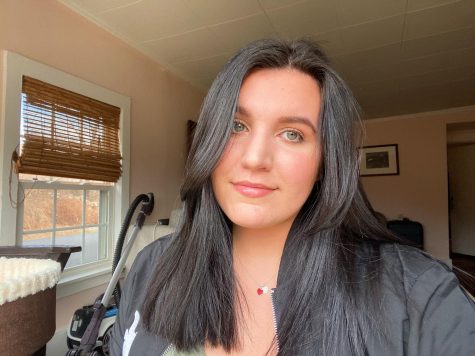 Alexis Lynch, Managing Editor
Alexis Lynch is currently a senior at Mercy College. At Mercy, Alexis is a Media Studies major with a focus in Journalism. She has gained experience that...