Student Parents Experience Unique Challenge During COVID-19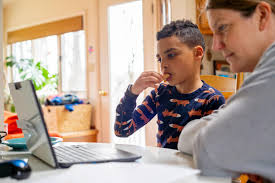 When the pandemic started, Mercy College students met the ultimate challenge of continuing their education.
But some of those students had a unique challenge – many of the students were also parents.
Belen Rivadeneira, 32, is a junior accounting student who has a 6-year-old son.
"I'm next to my son in all his classes," Rivadeneira stated. "It's a challenge."
Her class schedule varies every day and sometimes she needs to get out of her own classes in order to help her son with his. "I have a commitment as a mother, so I do what has to be done."
Rivadeneira's son gets occupational therapy every week since he has difficulty performing everyday activities such as getting dressed, tying his shoelaces, eating, paying attention, writing, or drawing.
"We are talking about two or three hours of therapeutic company, in addition to his educational Zoom classes," calculates Rivadeneira.
When Rivadeneira's classes are over, she works overtime as her son's tutor, helping him with his homework, and later preparing dinner so that at 9 p.m. he is ready to go to bed. She then stays up until 1 a.m. to finish her own homework.
Rivadeneira shares that the experience of being with her son at home all day while she has to study and take care of household chores, has negatively affected her grades.
"I can't concentrate properly in my house. There is always something happening," Rivadeneira stated.
While spending more time with her child can be a comforting experience for Rivadeneira, it is also quite a feat to live both lives. She believes that being both a mother and a student requires effort and courage.
"Until the whole issue of the pandemic is solved, I want my son at home, but I would rather go to college."
She's not the only one facing the challenge.
Angela Castro Rudon, 32, a physician assistant student, said that she has to stay up late, sometimes past 3 a.m. trying to finish all her work.
"Sometimes I realize I didn't eat," she shared. "And I have headaches every day."
Rudon has two children, a 6-year-old daughter and an 11-year-old son. "My kids are asthmatic so I chose for them to stay home."
A normal weekday starts at 6 a.m. at Rudon's house. She wakes up early to study since she explains that she has tests every week. After that, she wakes up her kids at 8 a.m. and helps them set up everything before their classes start. While she is in class listening through her headphones, she also prepares breakfast for her children to eat during their break.
Her schedule demands many hours in front of the computer. "Tuesdays and Thursdays are very intense. I start at 8 a.m. and work until 3 p.m. nonstop."
She ensures that her children help each other when she is very busy and while their father is at work.
Every day she goes to bed around two or three in the morning reviewing and studying the material. "I record my classes and I listen to points I missed."
Although all of this may sound stressful, Rudon has a different feeling:
"Surprisingly, COVID-19 worked to my advantage. I know it sounds crazy but I'm less stressed at home. I have my own rhythm."
Rudon explains how sometimes grades are a competition between classmates and how being at home she did not need to be better than anyone else or compare herself with her peers.
"I used to feel I was a terrible mother because I didn't spend time with my kids."
Rivadeneira and Rudon's children are only three of the more than 1.2 million students who cannot attend classes due to the pandemic, according to Unesco data.
In addition, Spectrum News published last month that, "A total of 124 city public schools will be either fully closed or have one of their locations closed in New York City."
Recently, Mercy College announced that students in blended courses would not be coming back to on-campus classes, except for exceptions in lab classes. Those who had been coming in to class in person will be back on their computers. It is unclear how the spring semester will in terms of modality.
But for now, especially for parents of children who are trying to learn digitally themselves, there is sense of comfort.
Commuting and staying long hours on campus made Rudon feel guilty for her few hours with her children.
"But now that we are home," Rudon continues, "even though it's crazy, I feel at peace."
Leave a Comment
About the Contributor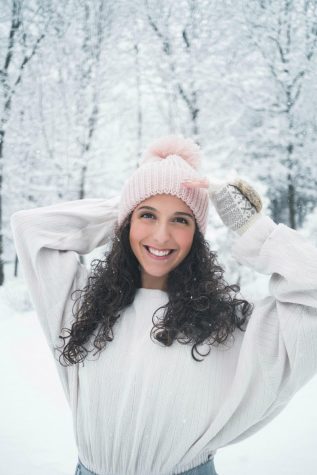 Daniela Baptista Haros, Impact Staff
Daniela was born and raised in Barcelona, ​​Spain. In the fall of 2016, she moved to the US with her family. This became a major turning point in Daniela's...