Thanksgiving To-Go A Success
It wasn't the usual Mercy College Thanksgiving celebration but it was almost a reminder of what it's like to be surrounded by family and friends during the holiday.
Mercy College hosted a successful Thanksgiving "Grab and Go" this week. On Monday the event was in Manhattan, Tuesday in Yorktown and Tarrytown, Wednesday in the Bronx and Thursday in Dobbs Ferry.
With Thanksgiving around the corner and COVID-19 procedures still being in full effect, the Mercy College's office of student life had to adapt to a new way of doing the annual thanksgiving dinner.
"Due to the COVID-19, We had to adapt to this idea and make it a grab and go event. We still wanted to provide an opportunity for students to receive a nice Thanksgiving meal and so we wanted to shift it so that we can still hold something nice like this, all while being able to keep folks safe," said Louis Cameron, assistant director of student life.
Without the usual live performances, Thanksgiving decorations, and large tables to accommodate the students, this year, the students had to line up and maintain social distancing.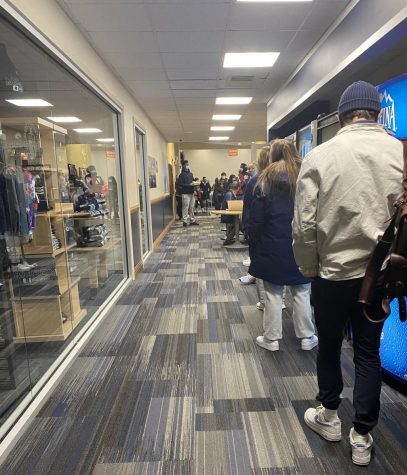 "The way that we did this year is that we partnered with Lessing's and we thought that this would be the most efficient way of doing it, typically it would be a buffet-style where people would come up and grab their own food, but for safety reasons, we decided to do it all in here in the cafeteria so we don't have to worry about the food prepping. The food is all set up with sneeze guards and safety equipment. There's a lot of options, and students can grab as much or as little as they want," said Jason Gloe, associate director of student life.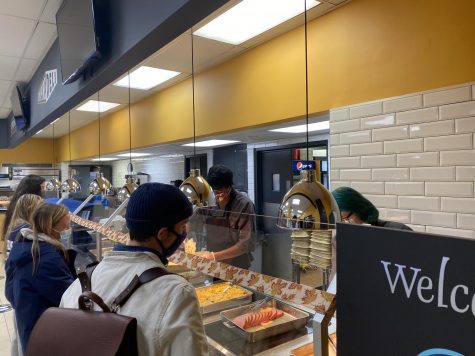 The Grab and go event was hosted in the Hudson View Café, the cafeteria located in the Main Hall. According to Cameron, the event has been around for the past few years and it is normally held in the Rotunda and attracts from 300 to 400 students.
"Our goal is to bring the community together and be able to show thanks to Mercy College as a community," said Cameron. "Each student will go in and get one to-go box and they're able to grab whatever they are interested in, they can grab a dessert as well and a drink and then they can go about their way. So it's just one meal per student."
Sabrina Molina, a Health Science Major and resident student at Mercy College, waited patiently in line with friends.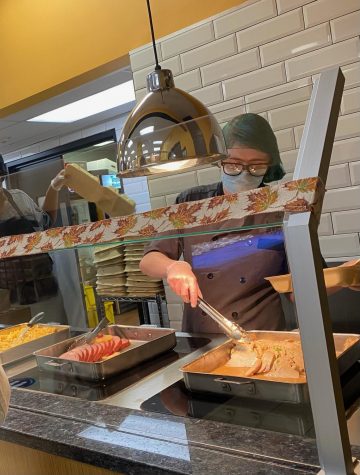 "I think this is a good and smart idea. I know a lot of people who don't go home to their families during Thanksgiving so this event allows them the opportunity to celebrate with a meal and friends."
According to Cameron, the event was primarily geared towards students but that faculty and staff were also allowed to grab a to-go box. The food provided had many delicious options that included; ham, turkey and cornbread, green bean casserole, macaroni and cheese, mashed potato, with a choice of cranberry sauce or gravy. The deserts included pumpkin, apple, and pecan pie, with several beverage options.
Ashton Cargill, a Veterinary Tech major, appreciates Mercy for allowing the event to happen.
"I think this is a great way for students to get together even though we are in the middle of this pandemic."
The event had a total of 204 registered students. A QR code was provided to each student before check in.
"I think that this is a great opportunity to say thank you to our students but also something nice that we can do as a community even if it's not the same format that we have done in the past," said Gloe. "I think that people will still enjoy it, it gives them something to do, something different. Hopefully, it serves as an event to bring people who normally wouldn't be here, and it's a great chance to bring people in even if we are not all hanging out in the same space."
Despite COVID-19 protocols, Mercy College was able to accomplish its annual Thanksgiving event in a safe and enjoyable manner for all students and faculty staff.
Leave a Comment
About the Contributor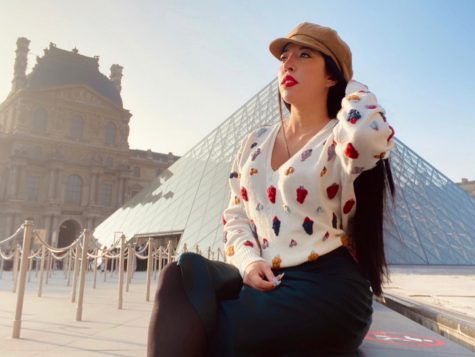 Nicole Alarcon, Associate Editor
Nicole Alarcon is a senior at Mercy College, majoring in journalism. Born in São Paulo, Brazil, she moved to the United States at 10-years-old.

Nicole...