Dye Dobbs Ferry with Love
Dobbs Ferry native, Isabel Cruz-Bai, has taken the tie-dyed world by storm with her new company, DyedwithLove.
DyedwithLove is a company for all shapes, sexes, and sizes. Cruz-Bai made this company to make people feel confident in the clothes she makes. She recently started making cropped items with the motto "one body, one love," hoping that people remember to love the skin that they are in.
"I want people to feel confident in the clothing I make for them," Cruz-Bai said.
Cruz-Bai, 21-years-old, started this company during the pandemic but in March it was only a dream. She would make tie-dye clothing for herself but then her family and friends started asking for some of her pieces.
The dream slowly became a reality as she launched her first release on April 12 on Instagram. Cruz-Bai sold sweatpants, tie-dyed biker shorts, t-shirts, and more. A friend recommended DyedwithLove and Cruz-Bai decided to keep it since it sounded catchy. Now not only do people call it the original name, but they call it DWL as well.
Cruz-Bai said that the hardest part of starting her business was not being 100 percent committed and not having enough time in the day since she dyes everything herself, washes and dries the clothes, and ships them or delivers them to people.
"It's about a 2-day process," she said.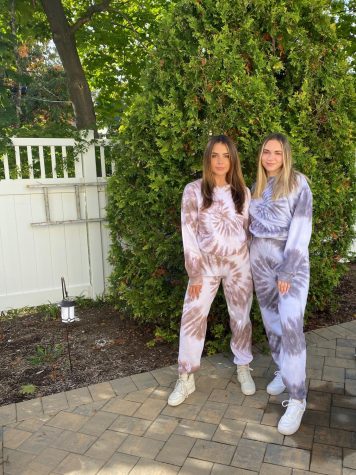 On top of this, she does the photoshoots for the clothes, runs the socials, and had to make her website once her following took off.
"Honestly, Corona helped the process greatly," Cruz-Bai said when talking about the start-up of her business that happed at the beginning of the Coronavirus.
She never thought of owning a business until Coronavirus came around, she had gotten lots of suggestions from friends and family but just wasn't sure if she wanted to go through with it or not but slowly the business turned into her life as she continued.
Within the first day of making her Instagram account for DyedwithLove, she had instant backing from Dobbs Ferry locals. "I am so grateful for the instant support from the Dobbs Ferry community. I've grown up here my whole life and people backed me immediately," Cruz-Bai said.
While this doesn't necessarily mean people were ordering right away but they followed her account, shared her posts, and helped her with photoshoots.
"I wouldn't have been able to do this without my core friend group this summer who helped with photoshoots. They have been so supportive and willing to help me with open arms," Cruz-Bai said, "I'm also super thankful for my mom and sister as I take over the house with DyedwithLove clothes. They've also helped me on my really late nights."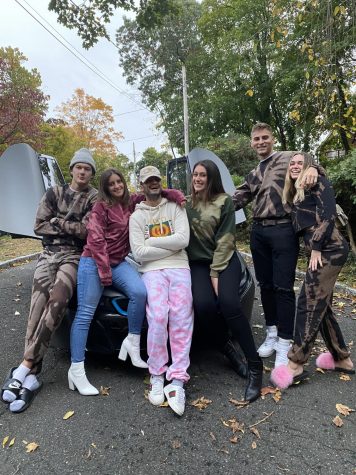 Cruz-Bai mentioned two other people who have helped her greatly, one being Sailor Abel who has helped her with packing, and another being Emily Bohl who helped her with her social media.
As of recently, the holidays have the business booming and her new website has helped her with the craziness of it all. Cruz-Bai dropped her website on Nov. 11 and it made her job easier. Aside from this, she uses the app, Venmo for people to pay for their items.
Cruz-Bai also mentioned that she officially hit over 500 sales within the seven months she has been open for business.
In the future, Cruz-Bai's main goal with DyedwithLove is to open a storefront. She understands this is going to take tons of time but she hopes to start collaborating with other stores first. One of her first collaborations was with Central Park Dance on Central Avenue in Hartsdale. They hosted an Oktoberfest where Cruz-Bai had a pop-up table where she sold clothes.
Cruz-Bai also hopes to add new collections to her fall and holiday collections.
In 2021, Cruz-Bai hopes to add more collections and clothes. "I want to do more patches and go for an edgier vibe."
To learn more about DyedwithLove visit the website or the Instagram @dyedwlove.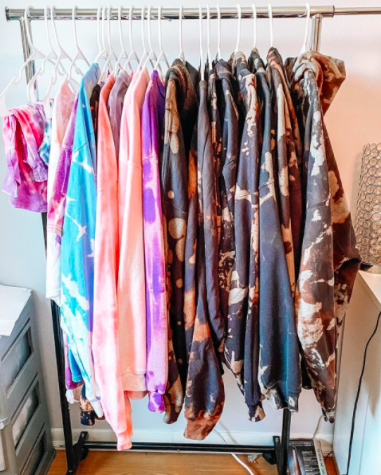 Leave a Comment
About the Contributor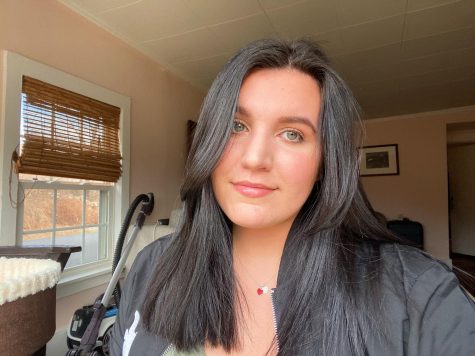 Alexis Lynch, Managing Editor
Alexis Lynch is currently a senior at Mercy College. At Mercy, Alexis is a Media Studies major with a focus in Journalism. She has gained experience that...