H.E.L.P. Promotes Christian Life at Mercy
"I feel chills, and my whole body gets warm, especially when I'm worshiping. It's amazing."
Samuel Novas was raised in a Christian household. He knew every church song by heart and knew that Sundays were the day for the Lord. He learned how to pray, and he was considered a "church boy." However, he was not sure if he could call himself a Christian. He had knowledge about Christianity; however, there was something still missing.
His religious habits kept him from having a true and meaningful experience with God. It was not until a year ago, when Novas was 20-years-old, that he says he really met God and accepted him to come into his heart in a Bible Study by the H.E.L.P. ministries at Mercy.
"I felt butterflies, like when you are falling in love, but I was in the presence of the Lord."
Novas, a junior, studies exercise science and later wants to specialize in physical therapy at Mercy. He saw some flyers and advertisements about the ministry on campus and started attending after his friend Brandon invited him to play the drums. In a short period of time, he became a member, a musician, and he leads people in prayer.
"I like to call myself the utility man."
In 2010, Freedom H. Weekes, 22, who transferred into Mercy College's Dobbs Ferry Campus during that fall, created what we call today the "H.E.L.P. Ministries." He and two other friends, Jairus McNeill and Jasmine Lee, arranged their own Bible study in Weekes' dorm. The first gathering exceeded expectations, with students having to stand in the hallway. The crowd expanded weekly, and over the years, H.E.L.P. grew substantially. Currently, with COVID-19, their services have been prerecorded or streamed live through zoom, but the ministry has never stopped.
"When I first heard about it, I thought it was a program where the school helps students to find jobs or something like that. I didn't know it was an actual ministry where the gospel was being preached," said Brandon Robinson, now a campus lead minister.
Members of H.E.L.P. today come together to bring the world a progressive ministry in which young Christians work tirelessly to spread the importance of faith through music, preaching, and fellowship. Their goal is to bring Christ to campus life and get students to find a church to call home. Mercy offers prayer nights on Tuesdays from 7 p.m. to 8 p.m., a Bible study on Wednesday from 7 p.m. to 9 p.m. and an additional meeting on Thursday, where games and participation is the main factor, called The Exchange from 7 p.m. to 9 p.m.
"It's geared for the students but is open to everybody," explained Robinson.
Robinson, 22, studied finance and analytics at Mercy. As a Christian student, he was looking for other believers on campus. "I first went to the Bible study, and the next thing you know is that I'm enjoying this program so much that I'm getting involved in many things, and suddenly I am leading some ministries."
Robinson has been part of the H.E.L.P. ministries for two years now.
"I truly believe that H.E.L.P. belongs to the Lord and that it is meant to be at Mercy. I mean, it's been ten years!"
According to USA Today "college students are almost evenly divided into three camps when it comes to faith; about a third, 32 percent, are true believers. Another 32 decent are spiritual but not religious. And 28 percent consider themselves secular."
According to Robinson, it is essential to have a ministry like H.E.L.P on campus life since sometimes students can feel lost and alone during their time in college. He suggested that this type of community can project people further into their personal path with God and give people the opportunity to accept Jesus in their hearts.
"My life has changed, and I became a more mature man who seeks out God's presence," shared Novas.
According to a study by Purdue University, "social theory often claims that if any relationship exists between religion and academic performance it is negative or non-existent. Recent studies suggest that perhaps a relationship can exist where religious practice acts as a facilitating agent by influencing pro-social behaviors, thus impacting academic performance in positive ways."
Novas is beyond proud of his growth and the ministry's on campus. "It's like a seed that becomes a flower. I was a seed, and I'm still growing in my path, but this is something that I needed in my spiritual life."
Leave a Comment
About the Contributor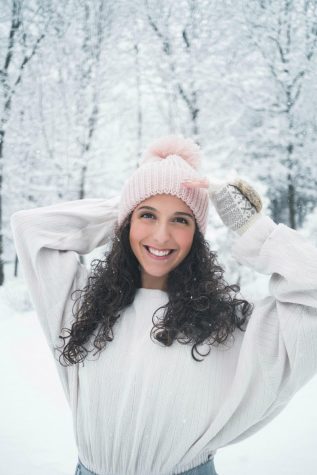 Daniela Baptista Haros, Impact Staff
Daniela was born and raised in Barcelona, ​​Spain. In the fall of 2016, she moved to the US with her family. This became a major turning point in Daniela's...