Pulitzer Prize Winner Advises Journalism Students
On May 5, media studies students at Mercy welcomed Pulitzer Prize winner Lane DeGregory, a journalist recognized for her feature writing skills into their Zoom class.
DeGregory, 54, has worked for the Tampa Bay Times, formerly known as the St. Petersburg Times, for more than 20 years. She grew up in Maryland, and from a very young age, she knew that she wanted to be a writer.
"I was an incredibly nosey little kid."
At just six-years-old, DeGregory was fascinated by journalists' work after living through the Watergate scandal at such a young age and seeing how journalists can "take down a President." For her, journalism was and still is the perfect combination to get out in the world, meet people, and be present when things happen. In addition, she is fascinated by how her work allows her to put all that knowledge and information on paper. Living in a social world but at the same time having privacy when writing is what she likes the most about her job.
"It is such an honor to take the readers with you and show them a place or a person that they never thought of."
She won the Pulitzer Prize for Feature Writing in 2009, recognizing "The Girl In The Window," a moving story of a neglected little girl, found in a ruined house, unable to talk or feed herself, who was adopted by a new family committed to her nurturing.
Following her passion for her profession, DeGregory has taught at universities and conferences across the country, giving invaluable advice to students who want to pursue journalism.
In fact, students had many questions for the professional in the zoom meeting: How do you start working in the real world? How do you become a good journalist? What steps do you need to follow? How do you find great stories? Among others. DeGregory, using her own experience as her example, answered all inquiries openly and honestly.
DeGregory begins by advising students to find internships. "Even if it is in a little paper, that's the way you will get a job." She added that the students should focus on finding a place where they would like to start. "You will probably start in a small and not that great paper, so build on it, and find somewhere you want to be."
One of the main advantages of starting your work life in an unfamiliar place is discovering different cultures and lifestyles than what people are used to. This will challenge students to understand that the world is a great place and worth knowing.
When it comes to finding stories, DeGregory has two tips. "Make sure they know you are a journalist. Give them your card." She pointed out that people often do the work for you, and they contact you with great stories because they know you are a reporter.
On the other hand, journalism students can find news through already published reports. "Look what is in the news and what piece you can take. Who else has anything at stake? There are many ways in one story."
DeGregory also shared her early mistakes as a journalist, one of which was underreporting, which is a common mistake in beginners. "I thought that if I can make it sound pretty, it would cover up the places where I didn't do enough reporting. But that is not fair to the subject or the reader or even yourself."
She explained that journalism is centered around writing about topics that people aren't even aware of. So she encouraged students to ask at all times, even if the question seems silly. "I was afraid to say 'I don't understand' or offend people." But over the years, DeGregory understood that it takes courage and humility to become a source of trust. Also, a journalist's job is to get information that no one else knows, even if it is difficult to ask.
"You can apologize for it. I still do. Sometimes I even blame it on my editor, and say 'I don't want to ask you this question, but my editor will need to know'."
She assures that journalists have to aspire to do honest journalism. But, to do this, people have to break with the submission in which they work.
"The worst thing that can happen is when you don't ask. You miss your opportunity because of fear." To which she added, "understand that nobody has to like you. They have to respect you."
During the meeting, DeGregory taught the group how to take proper notes, how to do good research, and start writing. She also advised taking breaks to refresh your mind. Taking a break allows people to come back to their work with a clear mind and a new perspective. This is important because it also allows people to critique their writing by bringing a fresh view to their work.
It is clear that through her 20-plus years in the professional field, DeGregory has a lot of knowledge that many students find useful as they finish their degree and break out into the real world.
According to DeGregory, the world needs journalists with passion and courage, creativity and clarity. At the end of the meeting she encouraged and offered help to those who are finding their way. She advised the students to be patient to find their voice and personality and enjoy the privilege of being a source of information.
"What helped me to find my voice the most was finding other people's voices. When you are reporting and then writing, you get to live in this other person's world. You have to write like they are the ones telling the story. So, what it is like to be them? What it's like to be a 13 years-old girl who buys a card for valentine's day? Or an old man who kills someone because he was being harassed? When you accomplish that, you will have your personality in your stories."
Leave a Comment
About the Contributor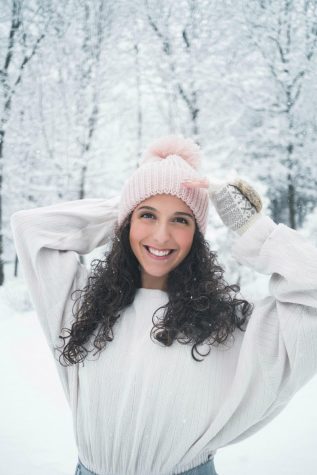 Daniela Baptista Haros, Impact Staff
Daniela was born and raised in Barcelona, ​​Spain. In the fall of 2016, she moved to the US with her family. This became a major turning point in Daniela's...