Wilson Jumps at NIL Opportunities
Mercy College student and basketball player Brandon Wilson has quickly established himself within the NCAA's new NIL guidelines.
The NCAA ruled in the summer of 2021 that collegiate athletes in all competing division were now allowed to profit off of their name, image, and likeness. Athletes who were able to grab strong followings on social media and who performed at a high level were now able to make money off of these skills.
Wilson, a senior who is expecting to graduate this spring, saw this new rule as an opportunity to capitalize financially, while also being able to fulfill a passion that he has had since middle school, by creating his company InfluenceTee.
Wilson's desire to be in the merchandising business began when he was in middle school and only grew from there.
"I was the kid in middle school who was selling tie-dyed Nike Elite socks to my classmates. That evolved into two clothing brands that I began in high school. I was always interested in graphic design and this was an outlet for me."
While Wilson mentioned the two-apparel business he began in high school and did not take too seriously, his current business is something that has taken priority in his life.
Wilson, along with friends Beau Smith and Korey Lee, began the business the same summer as the NIL rules were set in place. Their goals, aside from finding a purpose for their own personal interests and hobbies, were a way to "provide every athlete with an opportunity to make a name for themselves."
Wilson noted that when the business began, recruiting athletes was a bit of a struggle since they were an unknown for all athletes competing in the NCAA.
Aside from designing merchandise for the athletes we were able to grab early, we also spent a lot of time reaching out to a number of athletes and gauging their interest in pairing with us going forward."
While Wilson said that they began with "two or three athletes a week," that number has jumped to "about 10-15," and it has become much easier to partner with prospective athletes.
"What has really helped us moving forward was we were able to partner with agencies that were respected in the sports world. They have access to a ton of athletes, and we can reach out to (athletes) through them."
As far as their clientele, Wilson stated that many of the athletes that they have been partnering with have been college football and basketball players, but they are attempting to diversify their athletes.
"We want to make this inclusive as possible. Our goal has always been to include as many as we can and give everyone the same opportunity."
When speaking of inclusiveness, Wilson is very proud that the company has been able to go "just about 50/50" in terms of their male and female clients.
"Some of our best clients that are able to sell the most merch are women in sports. Haley Van Dyke is a tremendous athlete from Wisconsin, and we have two females that are playing professionally in softball and soccer. We're very excited about them moving forward."
On the male side, InfluenceTee's biggest client would have undoubtedly been former Oregon football player Spencer Webb. Webb, who headed into the 2022 season as their starting tight end, and had over 150 thousand followers on Instagram, passed away at the age of 22 after a cliff-diving accident.
Wilson and InfluenceTee had partnered with Webb a short time before his death, and Wilson remembers him fondly.
"We had reached out to Spence's representatives early in 2022 about potentially pairing with him. He was really excited to be a part of our brand and we were so happy to have him on board. The kid had such energy and passion and he's definitely missed."
Wilson's ability to connect with potential athletes is also helped by Wilson's experience as a college athlete at Mercy College. Wilson arrived on campus after doing a post-graduate season at Covenant College Prep. A native of New Jersey, Wilson has no regrets about his college choice.
"Mercy was the first school to make me an offer to play basketball. I was getting recruited by some Division II and Division III schools, but it always stood out to me that Mercy was the first school to offer me. I knew I was wanted."
This season, Mercy Men's basketball has had what Wilson says is "an up and down year," but he will always love the memories he has made playing for the school.
"I'm personally trying to cherish this last year. I want to give all of my effort for my teammates that I possibly can."
After college, Wilson says he has "no plans" to peruse a prototypical nine-to-five job. He will be directing all of his energy into InfluenceTee.
"This company has grown so much in the past two years. I am very confident that this can continue to grow into a large business, and I know that I will be successful. Being out of school will only help me direct more attention to it."
InfluenceTee can be found online on their website, and their Instagram page has over 2,000 followers, a number that Wilson expects to grow, much like his athlete partnership list.
Leave a Comment
About the Contributor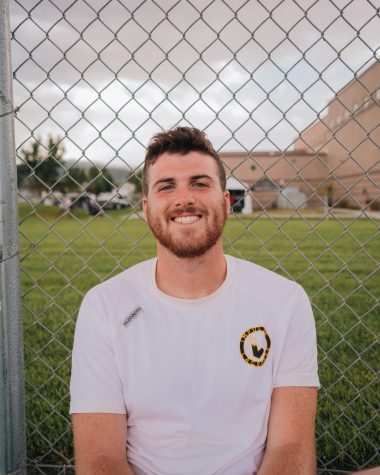 Zack Higgins, Impact Staff
Zack Higgins is a 5th year Media Studies major at Mercy College.  He is a previous student of Salisbury University, Onondaga Community College, and the...