OP/ED: Nevertheless, These Women Persisted
Senate Majority Leader Mitch McConnell unwittingly became part of feminist history on Feb. 7 when he cut off Sen. Elizabeth Warren while she was reading a 1986 letter written by Coretta Scott King, the wife of civil rights leader, Martin Luther King Jr., during a debate over Alabama Sen. Jeff Session's nomination as Attorney General.
McConnell defended his actions by saying, "She was warned. She was given an explanation. Nevertheless, she persisted."
What happened next, McConnell probably never expected. Once his words became known to the public, #ShePersisted tweets became trending on Twitter.
Feminists used his words as a rallying cry. Most were quoting his words, while also highlighting notable women who have persisted the odds throughout history.
These users were proving that, although McConnell clearly meant to paint Warren's persistence as a negative quality, women who persist are the ones who succeed.
Those three words – "Nevertheless, she persisted" – is oddly enough, a poetic symbolism of what it often means to be a woman.
It's basically the story of Hillary Clinton's life. And now that it's become a new favorite slogan, Clinton herself, has endorsed the message.
She quoted those powerful words: "'She was warned. She was given given an explanation. Nevertheless, she persisted.' So must we all."
There's many women in history who have stood and remained unbowed in the face of adversity, as many tweets have shown.
In 1955, segregation was in full swing. Black bus riders were required to pay at the front of the bus, then exit and reboard through the back door. When the front of the bus would become full, it was custom for bus drivers to make black passengers give up their seats for white passengers.
In December of that year, Rosa Parks was one of those black passengers who were asked to move to make room for a white person. Because she persisted, police were called and eventually was arrested.
Years later, when asked why she wouldn't give up her seat, Parks said she was "tired of giving in."
Dolores Huerta may have been seen as the "little one," standing at five feet and weighing in at 100 pounds, but she's bigger than that. She's a powerhouse for social change, an activist and labor leader who co-founded what we know today as the United Farm Workers.
Despite discrimination, Huerta persisted to fight her whole life to improve the standard living for farm workers.
Harriet Tubman became a prominent abolitionist in 1849, before the Civil War, as she escaped slavery. Though she fled successfully, she returned to the south to rescue many who were still trapped in slavery.
It's estimated that Tubman guided more than 300 slaves to freedom in the north, because she persisted.
Edith Windsor was with her partner, Thea Spyer, for over 30 years before they married in 2007. Two years later when Spyer died, Windsor was ordered to pay $363,000 in estate taxes as the federal government did not recognize the marriage between the two.
She appealed it in the Supreme Court, as they agreed to hear her challenge to the Defense of Marriage Act.
After much persistence, she won.
A nature writer of the twentieth century, Rachel Carson, challenged the notion that humans could obtain mastery over nature by chemicals, bombs and space travel.
Her book, Silent Spring, warned people of the dangers to all natural systems from the misuse chemical pesticides such as DDT and questioned the scope and direction of modern science.
Because of her persistence, it initiated the contemporary environmental movement.
When the Pittsburg Dispatch published a letter from an "Anxious Father" about his unwed daughters, alongside a response from columnist Erasmus Wilson, "What Girls are Good For," the paper received much of a push back from women throughout the community.
Among the letters to the editor, one was from an anonymous "Lonely Orphan Girl." George Madden, the Managing Editor, was much impressed with the ferocity and writing ability the letter had exhibited, that he published an ad for "Lonely" to come by the office for proper recognition.
The next day, Elizabeth Cochran showed up.
She came from a wealthy family, where there were 15 children. After her father passed, she helped her struggling mother to run the family's boarding home, but her childhood dreams of writing professionally, persisted.
Once she arrived at the office, Madden offered an opportunity of a lifetime to Cochran – write professionally. She was asked to turn her letter into a rebuttal about "women's sphere," and when she did so, she was hired full time and given a pen name, that many of us know her as: Nellie Bly.
Almost a hundred years later, because of her persistence, she is the framework of investigative journalism.
Amelia Earhart faced many problems which prohibited her many times from achieving her dream of flying.
She persisted and never gave up. Earhart eventually set many aviation records until her mysterious disappearance in 1937.
We don't see Earhart as a great American Women because of her records. Instead, we see her as an hero because of her courageousness and perseverance. It takes much bravery to have a career that's considered dangerous for women, while also defying the average woman stereotype.
Like Warren, these ladies throughout history remind us we must persist, even when warned.
Though she was silenced, Warren still persisted.
Outside the Senate Chamber, she read King's letter in it's entirety, on Facebook Live, where it caught the attention of over 4.5 million views by Wednesday morning.
This should be a message of hope, motivation, and a good ole fashion girl power to the next female generation with dreams that might have seemed unattainable.
And just like Clinton said in her first public appearance after the election, "Despite all the challenges we face, I remain convinced that yes, the future is female."
We are the next heroes and history makers; never doubt the value and power any of us have at the hand of opportunity.
We all have the will to be successful and pursue anything and everything, as long as we persist.
They say the sky's the limit, so when you're ready, rear your head back and soar like you've never done before. Don't let anyone clip your wings. Break through the glass ceiling and shatter some glass.
Because Warren's not the first, and she won't be the last. Who knows, it might even be you.
Leave a Comment
About the Contributor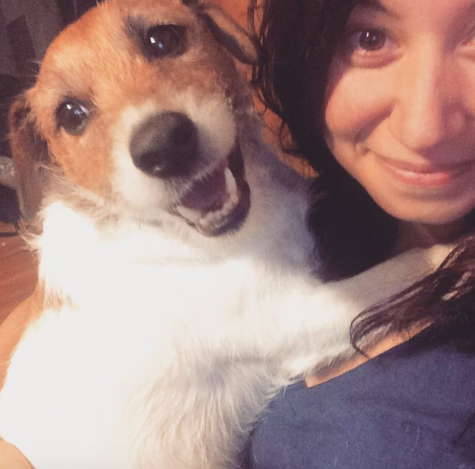 Kayla Simas, Managing Editor
Kayla Simas is a Journalism major at Mercy College. She's from the forgotten borough of New York - Staten Island. She's an avid coffee drinker and enjoys...