OP/ED: It's Time to Pull the Plug on Holiday Festivities
It's back. The holiday lights extravaganzas are popping up around every neighborhood. And with the light spectaculars comes lavishly decorated fake Christmas trees, gigantic holiday parties and tons of gift giving.
It's impossible to drive down a street in suburban America where there's not at least one house decorated from top to bottom with brightly colored, flashing lights.
Sure, they are awe-inspiring and certainly help everyone delve into the holiday season, but this is a tradition that needs to be forgotten. The time is now to start conserving resources and truth be told, the planet needs help more than ever.
American household holiday lights acquire more electricity than some countries do in a year, according to the Center for Global Development.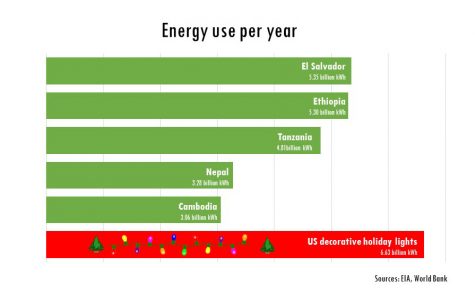 While those bright colored lights strung around trees and rooftops account for about 6 billion kilowatt hours of electricity consumption in the U.S., El Salvador uses about five billion kilowatt hours for the entire year.
That little over six billion kilowatt hours is enough to power 14 million refrigerators, according to the same research.
Yes, LED lights use less energy than conventional incandescent light strands but there are other, non-environmentally threatening ways to decorate.
Consider reusable ornaments and ribbons. Your house can look just as festive without blinding lights that stay on until 5 a.m., and yes, Santa will still stop at your house on Christmas morning.
Although plastic Christmas trees are reusable from year to year and save you from countless hours of vacuuming up pine needles, real trees are the more sustainable choice.
Plastic trees are made of petroleum products (PVC) and use up resources to manufacture. Artificial trees have three times more of an impact on climate change and resource depletion than natural trees, according to Ellio, an environmental blog out of Montreal.
Real trees can also be composted and recycled. Many cities have chipping services for when you're ready to kick your tree to the curb after a month.
Real trees are significantly cheaper than artificial trees as well. So, if you're looking to save some money and the environment, a real tree is the way to go.
Now, onto these holiday get-togethers. Everyone needs to tone it down with the seven layer dips, cheese and cracker platters and the turduckens.
Americans waste, on average, 5 million more pounds of food between Thanksgiving and New Years, according to the National Resources Defense Council (NRDC), a nonprofit conversation group.
Hosting a bountiful holiday dinner is something so sought after in this society driven by greed, but you don't need 10 different sides to be a marvelous entertainer. Make sure to think about the overflowing landfills and starving people around the world the next time you think of buying yet another type of cheese to add to your platter.
And tis' the season for over-gifting.
Many gifts, especially from big online markets such as Amazon, come from halfway around the world. And the impact of transportation contributes significantly to greenhouse emissions and global warming. As more consumers take to the internet for their holiday shopping needs, the more cardboard boxes, air-filled plastic pockets and Styrofoam pellets end up in the landfill. Buying locally cuts out that transportation and supports the local economy.
Americans produce around 25 percent more waste around the holidays than other times of year, estimated by the Environmental Protection Agency (EPA).
A major part of this waste is overly extravagant, and usually under appreciated, gift wrap. You're seven year old won't care that it took you over an hour to learn how to create the perfect pom pom bow, so leave it out. Using newspaper as gift wrap, although not as festive, is an effective way to hide the apple logo on your child's new iPod that they'll rip off in two seconds anyway. And, you guessed it, it's environmentally friendly.
So, for this upcoming holiday season, keep the environment in mind. Remember that the season is about spending time with loved ones and giving thanks, not setting up lavish decorations that destroy our lovely planet.
Leave a Comment
About the Contributor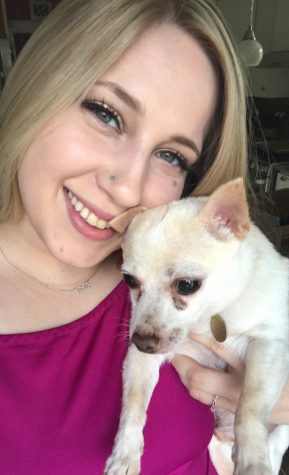 Liv Meier, Former Associate Editor
Olivia Meier, most commonly referred to as Liv, is a journalism student at Mercy College. And while she loves New York, she is a true Jersey girl. If she's...