OP/ED: Dating Apps A New Norm
The advancement of technology has transformed every aspect of society including our social interactions. With the growing popularity of dating apps, traditional forms of meeting people are slowly becoming obsolete as more young adults become dependent on these apps to form friendships and romantic connections.
Whether dating apps are used as a tool to find a soulmate or as a gateway for casual hookups, online dating has become one of the most popular avenues for singles in the United States according to the Statista website. During the past decade, consumer demand for internet dating services has increased significantly because of busy work schedules and the proliferation of smartphones. As of 2020, there are over 32 million people who are using online dating services.
Let us be honest, there are certain conversations that are easier to conduct behind a computer or phone screen. There are many people who find it difficult to communicate/meet with others in person, so they resort to dating apps as a more comfortable avenue to interact with people who are looking for someone to date or just hook-up with. Hence, the existence of Tinder as a way of life.
My 20-year-old friend, Jessica, has been on the dating sites, Tinder and Bumble, for the past two years and she has mixed feelings about her experiences on both sites. She had a great experience with some of the partners that she met but it does not negate the bad experiences that she endured where she was publicly disrespected on several occasions. However, she does give these dating services credit for convenience because not only is she not seeking a serious relationship at this point, but her busy school schedule and anti-social behavior restricts her from meeting men in person.
The Statista website states that Tinder was one of the most popular dating apps in 2019 with 7.86 million users. The reason that it is so popular is because of its global availability, specific targeting of smartphone users, and its freemium business model. The annual revenue for Tinder has seen triple-digit growth rates over the past several years. The website also reports that In that same year, online dating revenue in the United States amounted to 912 million U.S. dollars, and as matchmaking platforms are becoming ever-more socially accepted, the online dating industry is forecast to surpass the billion-dollar mark by 2021.
People are gravitating to technology as a means for helping them decide if they should "swipe right" or "swipe left" on their future partners. The anonymity of private swiping is very convenient if you have a fear of people and social events. Online dating sites give you the freedom to be anyone that you want to be as opposed to real-life where what you see is what you get, and some people do not find that as exciting as being able to exaggerate certain qualities of themselves to seem more appealing online.
My friend, Alicia, met a man who said that he was over six feet tall on Plenty of Fish but, he was only 5'6 inches when she saw him in person. She ended up dating him after he revealed that his insecurity is the reason why he lied and used his platform online to stretch the truth a little. He believed that was the way to get women not to judge him based on his height which is what would usually happen to him in real life.
According to the Pew research center website, the result of a survey that was conducted in 2020 finds that online dating is especially popular among certain groups-particularly younger adults and those who identify as lesbian, gay, or bisexual. Roughly half or more of 18 to 29-year-olds (48 percent) and LGB adults (55 percent) say that they have ever used a dating app while 20 percent in each group say that they have been married or been in a committed relationship with someone that they met through these dating platforms.
I think that online dating can be a great way for single people to find love especially given the current environment that we are in where everyone is forced into isolation because of the pandemic. Dating apps provide a healthy way in which we can socialize even when it is impossible to gather and dine in a restaurant, movie theatre, or park.
Additionally, the PRC website states that roughly seven in ten online daters believe that not only is it very common for people who use the platform to lie to try to appear more desirable but there are incidents where dating sites can become a venue for bothersome or harassing behavior. especially for women under the age of 35. The research that was conducted reveals that 60 percent of female users ages 18 to 34 say someone on a dating site or app continued to contact them after they said they were not interested, while a similar share (57 percent) reported that they were sent explicit messages or image they didn't ask for.
Critics of dating apps may see the online harassment of women as a valid reason to stay away from dating sites but I disagree wholeheartedly. While I do agree that there are downsides to engaging with people online, I believe that predatory behavior is not limited to online users. It is a societal issue that women are also subjected to in real life. Therefore, the blame cannot solely be placed on dating sites.
The solution to inappropriate behavior on dating sites is to utilize features on these apps that allow you to report inappropriate behavior. Most dating sites offer blocking and reporting as a feature according to the Cision PR Newswire website which suggests that nearly three-fourths of dating app users (72 percent) have blocked another user at least once in the past six months, according to new survey data from The Manifest, a business news and how-to website. Nearly half of dating apps users (60 percent) have taken it a step further by reporting a user directly to the platform, suggesting inappropriate or explicit behavior.
Online dating may not be for everyone but it is certainly worth exploring as an option to meet new people. You might actually find it to be a quite enjoyable experience.
Leave a Comment
About the Contributor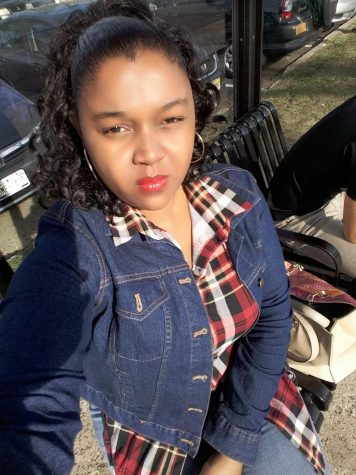 Renae Morgan, Impact Staff
Renae is a Jamaican student at Mercy College that is currently in her senior year of studies. She enjoys writing poetry, sleeping, watching King of Queens,...