OP/ED: Virtual Graduation 2021
First, class of 2021's senior Spring Break gets canceled, and now graduation is online.
Now obviously, the world is in shambles. Everything isn't going to go the way people hoped or as wanted but there are definitely better ways to make graduation happen for the class of 2021 and 2020. For some reason though, Mercy has decided to break the hearts of many seniors and push for graduation online.
Honestly, Mercy College took the easy way out of graduation when they have plenty of space to hold an outdoor ceremony. Mercy has a huge athletic field with a view of the Hudson River. Not only that but it also has the school logo on it, it would be perfect. The biggest reason for not hosting graduation in person is the 150 person limit for commencement.
Here's an idea to solve that problem! Push back graduation to a later date or make it required that everyone who comes either needs to be vaccinated or show a negative COVID-19 test before entering.
It's not that hard to see that the world is slowly healing, people are being vaccinated, sports arenas are open, and everything else in between. Why can't the seniors have their time to shine just like everyone else?
Why can't we host an outdoor graduation ceremony? Why can the NFL have Super Bowl, NHL have a Stanley Cup Final, and the MLB can play games outdoors but we can't walk across a stage? It makes no sense.
For those who didn't read the latest email from President Tim Hall, have a look.
… After exploring numerous options, we have decided to host the commencement ceremony virtually on Wednesday, May 19. In addition to the formal commencement exercises, we will celebrate the Class of 2021 with several Senior Events, including what we hope will be a safe and meaningful in-person academic procession for any Class of 2021 or Class of 2020 graduate who would like one We will also welcome our graduates and their families to come to each of our campuses for socially distanced outdoor family photos.
Current New York State guidelines on gatherings limit attendance at events such as commencements to 150 people, depending on the circumstances. We do not anticipate these numbers will increase significantly in time for us to plan a large-scale in-person graduation event in May.
The virtual ceremony on May 19 will include all the pomp and circumstance of an in-person ceremony: we will hear remarks from Provost Herrera, the School deans, student speakers and distinguished keynote speakers. I will enthusiastically confer our graduates' degrees. To help graduates capture the moment, a cap and tassel will be mailed in the coming weeks for them to wear during the virtual ceremony.
The optional in-person individual academic processions will take place over several days leading up to graduation. Students who choose to participate in this experience will be able to walk across a stage at the Dobbs Ferry campus in regalia, hear their name read, receive a scroll from a Mercy College Official, and have the opportunity for photos. The procession and name-reading will be livestreamed for family and friends.
I often say this is "Mercy's Moment", but I want the Class of 2021 to know this is your moment. You earned this! You continued your education during one of the most tumultuous periods in recent history, and I could not be prouder to celebrate your achievement of this important milestone.
Please visit the Commencement website here for details about and registration for the Senior Events, the optional in-person procession and the virtual graduation ceremony. Information about viewing the May 19 ceremony will be shared in the coming weeks.
We are looking forward to celebrating our graduates at these special events.
Seniors have been chatting and honestly, no one cares for these events. The main event seniors wanted was graduation with their family there to walk across the stage.
Setting up a photo-shoot day with family doesn't change the fact that they won't be able to see us get our diplomas. Having a senior toast won't be the same as having it in person with our friends, hugging them, and enjoying our success.
It's the same as the in-person academic procession, that won't be the same as having our families there. The main reason why seniors walk across the stage is to see how proud their families are of them.
Aside from the events that have been planned for us, let's talk about the fact that the seniors will only be getting a cap and tassel – no gown. What if we wanted to take pictures in our gowns with our sashes? Is that not allowed now? It's absolutely unfair.
Dobbs Ferry High School is having football games with tickets given to families and they reside right down the street from Mercy College.
The whole situation doesn't make sense, isn't fair, and is breaking the hearts of many. Do better Mercy and make it right and really make it our moment.
For updates on graduation, check the commencement page on Mercy's website.
Leave a Comment
About the Contributor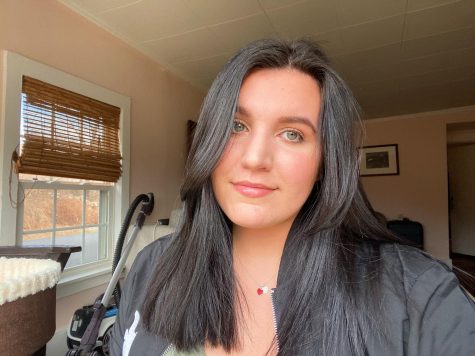 Alexis Lynch, Managing Editor
Alexis Lynch is currently a senior at Mercy College. At Mercy, Alexis is a Media Studies major with a focus in Journalism. She has gained experience that...