Dinner With the Girls!
The bond in a kitchen brings together a friendship that will last forever.
My best friend and I have a lot in common. We are very close to our parents; we love to try different things and we love to cook! Our Spanish mothers have taught us small tasteful recipes to make, but sometimes we learned on our own.
Cooking with Krystal is always great vibes. I would say she would be the mother in the kitchen. She comes in her slides and an old shirt. She isn't afraid of getting messy and always tries to get it done at a certain time. She is always careful when she places the food on the stove to cook and into a plate when it is ready.
Our bond in the kitchen grows every time we cook. We made the Spanish style of spaghetti with grounded beef. The ground beef I knew added a bit of Ragu, tomato sauce, and minced garlic. We always have to use the good brand of tomato sauce, never the cheap one.
The Ragu gives the ground beef a delightful taste, but the minced garlic gives it a nice touch. Krystal knows the right amount to add and she would ask me if it is enough. Getting a second opinion is the greatest thing as friends and as chefs.
Krystal would stay right in front of the stove with the wooden spoon and add the sazon when she felt the meat was right. She would not leave the pan for anything. If there is a need to add, she would call me and make me bring it to her. She reminds me so much of my mother when we cook and ask for the ingredients even if they are a foot away!
I got caught up working on something at school but every 10 minutes I would revisit the kitchen and see how everything is. If she needed help, another ingredient on. She did her best when I was there for a short period.
By my third visit to the kitchen, Krystal turned into mother mode. She would look up at me and pointed at me with the wooden spoon and said.
"I got this don't worry, continue what you are doing. It is almost done. Come back in 20 minutes to check if it's ready and then we can eat."
I would never forget those words. Her humility, affection, and friendship define her to be the best friend anyone can ask for. I have so much love for her when we go out, talk and cook.
After I finished. I came running up. The spaghetti was already done and the ground beef was too. I glanced at it and gave the okay of its ready.
Now it's time to mix!
While she mixed the two ingredients, I cleaned the table. I took out all the ingredients we have used and set it in a bin I brought. We washed the table with water and a little soap. It felt good to prepare a table with plates, napkins, and cups. That feeling brought me back home. The food was added to our nice table set up. Krystal's boyfriend accompanied us and it was a nice 'family dinner.'
I observed how Krystal served her boyfriend a plate and at that moment I knew she will always have a place in my heart. My second mother, best friend, and a chef. She will never change and that's what defines Krystal. She will always continue to be herself and care for others no matter what and no one can change that. She has shown me so much in life and continues to push to be on the right path with her advice. 'Dinner with the girls' has been great times during our senior semester. Those are memories that I know I will cherish forever. I never met a person who enjoys a passion that I have since I was ten years old.
I dedicate this to you, Krystal. I love you and thank you for being there for me as a second mother, a best friend, and a chef! I can't wait for moving on into our lives and hopefully we stay close.
Love you.
Yours truly,
Este your bestie.
Leave a Comment
About the Contributor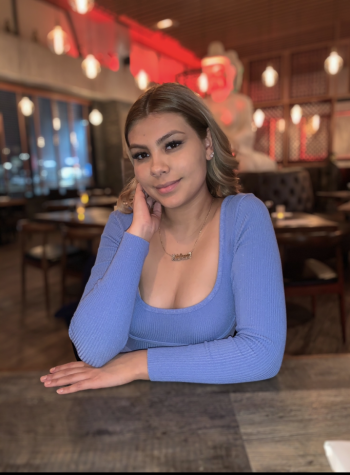 Estefania Salinas, Impact Staff
Estefania Salinas is a senior majoring in Media Studies: Radio & TV Production with a secondary concentration in Journalism. She is a passionate news...