La Reina de la Hispanidad 2016
Try new things and never be afraid to be yourself.
Reina de la Hispanidad is organized by the Hispanic Heritage Committee in Manhattan. Each year, a queen and her court are crowned. The best part of being crowned is the winners get to be on a float during the Defile de la Hispanidad. It's the biggest Hispanic parade in Manhattan and the queens are the most important part.
The pageant went for two days and there was a cocktail party. The first day of the pageant was the competition. Each candidate had to describe a traditional costume from the country they represented. Then came the evening gown, each candidate had to wear an elegant dress and had to be prepared to answer two questions, one regarding the history of the country they were representing and one about general knowledge. The last day of the pageant was the crowning day.
At the age of 16, I was the second youngest candidate running in the pageant. There was a total of 12 girls participating and the majority of the girls knew what they were doing. These girls were experienced and previously won pageants. I was new and clueless to how the pageant world worked, but I was not afraid to give it a try.
My mother and I worked really hard on my walk, my performance, and my speech. Our bond grew stronger and she was amazed at how much interest I had in the pageant. My mother wasn't a fan of them and the cameras. But I wanted to experience the pageant world, so she was my partner in crime. She accompanied me to every practice and asked for advice from those who knew more about the pageant world.
My mother was afraid that I would be depressed if I didn't win. The truth is, I wasn't thinking of winning, I focused more on my personal achievement to not be afraid to speak in public, to have confidence, and to grow. I was that shy girl who would sit in the back of the class, afraid to raise my hand. I was afraid to speak in public and was an introverted person. I wanted to change from that and I did.
I call it "the tinkus performance." The song was powerful and had a great impact on the performance. I danced a little bit until I reached the front of the room. All eyes were on me. I paused to catch my breath but I couldn't. I was stuttering for about three seconds and then I took the biggest deep breath and told myself "I can do it." I started to talk normally and emphasized every word. It took me seven minutes to describe my costume in detail. There was some laughter from the audience because of the jokes I told. I remember looking straight into the judges' eyes, I could tell they seemed so impressed by the way they smiled. I will never forget that moment because their reactions confirmed to me that I did something right.
When I finished, everyone from the audience cheered for me, even the judges. People that were there to support their own candidates were supporting me at that very moment. It was unbelievable and I danced my way back to the entrance. I couldn't stop smiling. That night, I transmitted a positive message to the audience through my performance. No matter what age you are, do not be afraid, give it the best you can, and represent your country with great pride. People said that I was so innocent because of the way I represented my country and they could tell I was being myself. Most of the girls changed when it was time to compete, even their attitudes. They were all about beauty even though that wasn't the purpose of the pageant. All the girls gave me the dirtiest look when I finished my performance. They weren't happy. They realized I was a threat.
I honestly was just happy, and their negativity didn't bother me. I focused on me and continued to do my best all throughout the competition. I had to go change into my other dress and the makeup artists were congratulating me. The evening gown round was the most important. The walk, the dress, and the answers had to be on point. It showed who was really fit to take the crown. I thought I did very well.
Crowning day was nerve-wracking, but I thought positive and smiled throughout the whole night. I was crowned "Miss Congeniality" and I thought that was enough for me. I didn't think I was getting the crown but at least I was recognized for something. The crowning announcement was happening and the next thing I knew my name was called.
"Y la Vireina es Estefania Salinas."
I was in shock, but my legs moved a step forward and I cried tears of joy. Oh man, the crowd got crazy! They just cheered and stood up while applauding. They were happy with the decision.
Since I won my first pageant, I have become a new person in a good way. I wasn't afraid to speak in public anymore, I enjoyed being interviewed, and worked on plans as the new queen. After I finished my term, I went on to compete in another pageant that I won. People still remember who I am and my performance. It's beyond crazy that after so many years, people still remember me.
Don't be afraid to try something new. Don't ever doubt yourself either. Just keep pushing and always think positive. The pageant opened my mind to what I really wanted to focus on for my future: journalism.
To all my ladies, whether you win or not, you are all still queens.
Leave a Comment
About the Contributor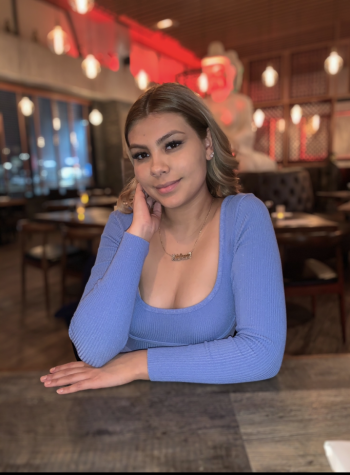 Estefania Salinas, Impact Staff
Estefania Salinas is a senior majoring in Media Studies: Radio & TV Production with a secondary concentration in Journalism. She is a passionate news...