My Lucky Numbers: 2, 8, and 24
The numbers of the positivity of life will forever be remembered in my heart.
I was totally in love with Kobe Bryant. I admire how humble he was, how he treated his girls, and his talent on the basketball court. His smile was contagious and his powerful messages would always make me tear up and think about my life. His relationship with Gianna was heartwarming and reminds me of my father every day.
These two were best friends and ball was the topic of most of their conversations. Oh man, Gigi was her father's twin; her moves on the court were so similar to his. It was incredible watching her play, she had potential to make it big.
When I heard the news about a helicopter crash on Jan. 26 and that Kobe Bryant was one of the passengers, my heart dropped. I looked at my phone and just cried. I cried as if I knew the man personally. I'd never felt so much hurt. I just cried and cried and I couldn't stop.
I admired this amazing, heartwarming man who was a leader to his peers, a role model to the youth, a loving husband to his wife, Vanessa, and a cool dad to his four princesses. As I cried once again, I questioned God, "Why? Why did you do this?"
It was 10 minutes later when I got word that Gianna Bryant was also in that helicopter. This changed everything. A young girl who was following her father's footsteps with her dream to make it big in the WNBA. She could have been a legend just like her daddy. She had the best team, her father was the coach, her mother and sisters were her number one supporters, and the cheerleaders were always cheering for her.
The news of two fallen basketball angels, Kobe Bryant and Gianna Maria Bryant, shattered the whole world. It shattered me.
I felt broken, I felt hopeless, I felt empty.
It took me several days to recover from the tragic deaths. It didn't feel real. I was waiting on an Instagram post from Kobe that was never going to happen. After Vanessa spoke out on her Instagram account, I calmed down. I needed to know how she felt. I prayed for Vanessa and her girls. It must have been very tough for her as a mother to lose both her husband and one of her children, and to know that she'd be raising their other three children on her own.
The numbers 02, 8, and 24 have brought me positivity in my life. Good things happen because of those three special numbers. They will forever be special to me and I will forever cherish them. Kobe is looking out for the youth, his fans, friends, and family.
I recently received my acceptance letter to grad school in Florida. It was my dream since last year to be accepted to one of the best schools in Florida. I chose my dream college which will lead me to my future as a reporter.
As I made it to the end of my acceptance letter, my heart pounded so hard that it felt like it was going to come out of my chest. I started to cry and just couldn't stop. I couldn't believe it. The letter read: "We look forward to seeing you on 8/24 the first day of classes."
I couldn't get any words out of my mouth. It was a sign. 8 and 24 were Kobe Bryant's jersey numbers; the same numbers that will start me on my journey through grad school. And that's not all. I found out about my acceptance in February: the second month of the year. The number 2 turned my dreams into reality.
I didn't want to call my mom, I wanted to surprise her in person, so I did. When she reached the end of the letter and saw the start date, she couldn't believe her eyes. It was just so crazy to see and feel that those numbers are the positivity of life. 8 and 24 were worn by a great man that loved his fans, family, friends, and most importantly basketball. And the number 2 was worn by the twin of the greatest legend, Kobe Bryant.
Kobe Bryant and Gianna Maria Bryant are the real MVPs watching over us. I will forever cherish you, Kobe Bryant. Your humbleness and the love you had for your daughter, Gianna, will always be remembered by me and the hearts you have touched.
#2 #8 #24
Forever Mamba and Forever Mambacita
Leave a Comment
About the Contributor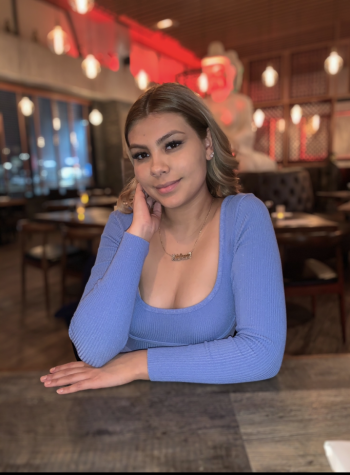 Estefania Salinas, Impact Staff
Estefania Salinas is a senior majoring in Media Studies: Radio & TV Production with a secondary concentration in Journalism. She is a passionate news...