Unique Restaurants Around the World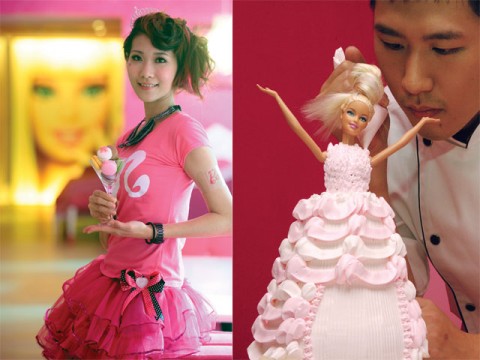 Among the gloomy news headlines of late, one stood out today like a cloud of sweet, pink perfume. Mattel announced the opening of the first official Barbie-themed restaurant in the world, Barbie Cafe, which opened yesterday in Taipei, Taiwan. The frilly cafe appears to be an explosion of girlish magenta, complete with chairs upholstered in laced-up bustiers, waitresses donning tutus and tiaras, and so many murals of the blond anatomic wonder, that it resembles more a Church of Barbie, than a food establishment. It seems the perfect place for the tween crowd to sit at the stiletto shaped tables while they share pastel-colored petits fours and dish about the latest Bieber happenings.
Themed restaurants are certainly no stranger to Taiwan, and Barbie's Cafe, whose tables and chairs will probably out dress the guests, seems infinitely classier than another Taipei restaurant, Modern Toilet, where diners eat from certain round, porcelain bowl-shaped structures that closely resemble…well, you can imagine, can't you?
Barbie's new endeavor, in addition to being an inspiration to 50-year old icons that just won't go away, led me to consider other themed restaurants I'd like to visit one day. Here they are, in no particular order, though this next one is probably the weirdest.
Cat Cafes
If dining in Barbie's cloying cotton candy world is not stimulating enough, consider visiting one of the dozens of cat cafes scattered around Tokyo, Japan. Touted as therapeutic for overworked, apartment dwelling urbanites, these cafes double as homes to dozens of cats that roam around, willing to sit on patrons' laps, be playful, or just idly gaze about, making themselves available whenever customers need a little affection. The cat cafes look like any other coffee shop; guests order coffee and refreshments, catch up with friends, and take advantage of free Wi-Fi. The difference though, like at Calico Cafe, is that tables share the floor with scratching posts, and customers might at any time find themselves surrounded by purring friends. Various cafes operate differently, but many, for example Nekorobi will display cat profiles that look like kitty mug shots, informing customers of the name, age, and habits of each feline resident.
Cabbages and Condoms
Back in the 1990s, Thailand was a leader in HIV prevention, but as happened in much of the world, AIDS education programs were so successful that complacency eventually set in. The regime change in 2006, however, offered the chance for the nation to refocus and double its efforts on safe sex education. A popular Bangkok restaurant Cabbages and Condoms, with its motto "Be fed and be sheathed" has joined the government's efforts by donating its proceeds to an NGO that educates people in under served communities about family planning and safe sex. Cabbages and Condoms' menu offers Thai favorites like Pad Thai, Chicken Satay and Tom Yum Gung, and assorted condoms will arrive with your bill, in place of after-dinner mints.
Dans le Noir?
New York City is home to Dans le Noir? –French for "in the black," one of a handful of restaurants around the world that aims to give diners a full sensory experience, as well as consider, at least for 90 minutes, what it might be like to be blind. Similar restaurants have opened around Europe, but this is the first of its kind in the U.S. Diners enter the restaurant in a lighted reception area, where they sip on cocktails, choose from several set menus, and sign waivers against any potential injury that may occur in the dark room. When their party is called, customers are asked to surrender their belongings, including purses, cell phones and cameras to lockers in the reception room. Meals are eaten in complete darkness and served by blind waiters.  The menu is kept a surprise until the food is brought out to the table, an act intended to heighten one's sense of smell and taste.
New Lucky Restaurant
India's bursting population often requires business owners to be a little creative. In the 1950s,  K.H. Mohammed opened an outdoor tea stall next to a centuries-old Muslim cemetery in Ahmadabad, the fifth largest city in India. Business boomed, and Mohammed kept expanding the tin walls of his stall until they began encompassing the tombs themselves. Today, New Lucky Restaurant is a modern establishment complete with proper walls and roof, and cement graves as part of its floor plan. The diners eat at tables arranged around the graves, whose occupants are thought to be relatives of a 16th century Sufi saint. The graves are protectively surrounded by metal rails, and the owner insists that their presence brings good luck to all who dine there.
Have you heard about or been to any interesting restaurants around the world? Let me know—I'd love to keep growing my list!
Leave a Comment
About the Contributor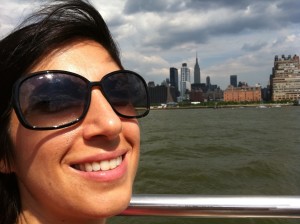 Michele DeBella, Impact Staff
Michele DeBella is a journalism major who loves to discover the interesting stories in people around the world. After more than ten years of living a nomadic...