Knitting Love with Save the Children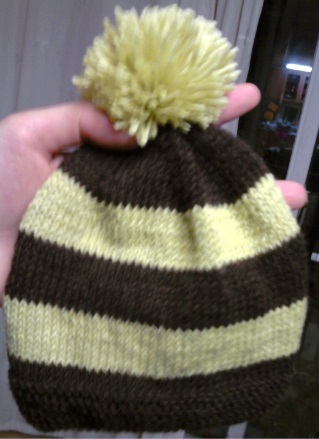 This time of every year, I would recall what efforts I made for someone who is colder than I am in the winter. When I was a freshman, I participated in knitting woolly hat for the Save the Children with the recommendation of my RA. Actually, even if I thought that I am dexterous, that was the first time to knit woolly hat. However, after I read small instructions in the kit and followed directions by watching the video, small and cute woolly hat was made before I knew. In addition, by reading small book in a kit, I could keep in mind the meaning of the volunteer work and understand the reason why I knit this woolly hat among numerous kind of volunteer work. I am trying to introduce knitting a woolly hat of Save the Children which is already seventh event.
What is the knitting hat campaign?
The number of newborn babies who die on their birthday is 1,050,000, and that of babies who die in a month after they was born is 2,950,000. The cause of death is Pneumonia and diarrhea, malaria, and the methods to prevent this are not difficult or big things. Newborn babies who have weak immune system due to low weight or malnutrition can be recover by "Kangaroo care". Especially, woolly hat is good for newborn babies for maintaining warm temperature and protecting from low temperature symptom and Pneumonia. Therefore, if we complete to make woolly hats, the hats are delivered to newborn babies in Zambia, Ethiopia, Tadjikistan on between January and March, 2014.

Why these woolly hats are needed in hot countries like Africa?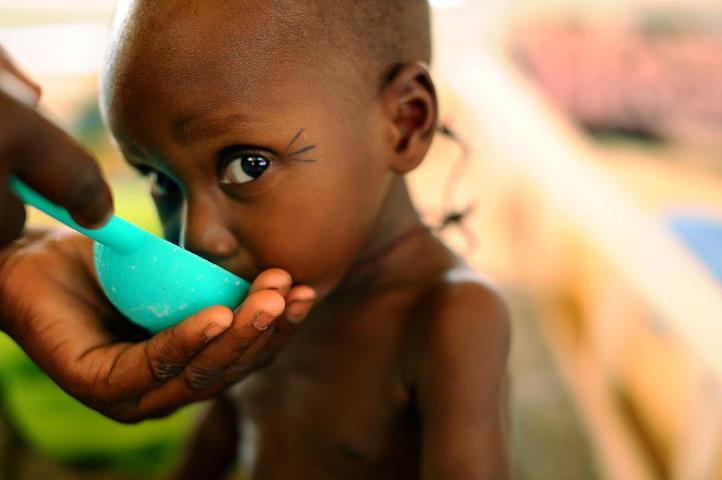 Climate in Africa is various. Babies living in near desert or with huge temperature range need woolly hats. Particularly, there is much more need to have warm hats for babies who have malnutrition or was born early or with low weight in Africa. 111 infants of 1000 people in Zambia, 106 of 1000 people in Ethiopia, and 63 of 1000 people in Tajikistan have lost their lives before they are honored for fifth birthday. The woolly hats can have effects on rising about 2℃(35.6℉) of babies' body temperature. That is why woolly hats are needed to babies in Africa.
How to do it?
1. First of all, access this website, http://www.savethechildren.org/site/c.8rKLIXMGIpI4E/b.6115947/k.8D6E/Official_Site.htm orhttp://www.sc.or.kr/ and then buy a kit for knitting woolly hat.
2. Knit woolly hats charmingly by following the instructions and video.
3. Wash the completed hat by your hands for babies having weak immune system.
(If you use hot water or washing machine, the hat would be shrunk)
4. Send the hat in envelop by 5th, March 2014.
Is this first time to knit woolly hat? Follow me! 
① Make 86 stitches (40cm).
② Knit 56 garter stitches (15cm, with only knit stitch back and forth).
③ Hem the edge of the hem by knit stitch.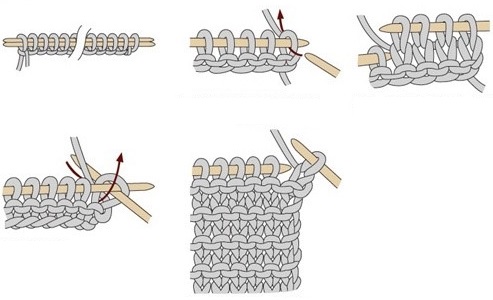 ④ Fold the hat in half and sew the both side of the hat as hemming to connect.

⑤ Quarter the top of the hat like cross shape, and sew as hemming to connect and then complete!
Although the video explains in Korean, it was more helpful to watch repeatedly the video than just to listen. Therefore, I highly recommend to watching over and over again specific parts of the video that you don't know well, and then follow the parts.
If you have some interests in making something with your hands, it would not be difficult. The fields of activities of Save the Children are signature campaign to prevent child abuse and fund-raising campaign for disaster aid as well as knitting woolly hat.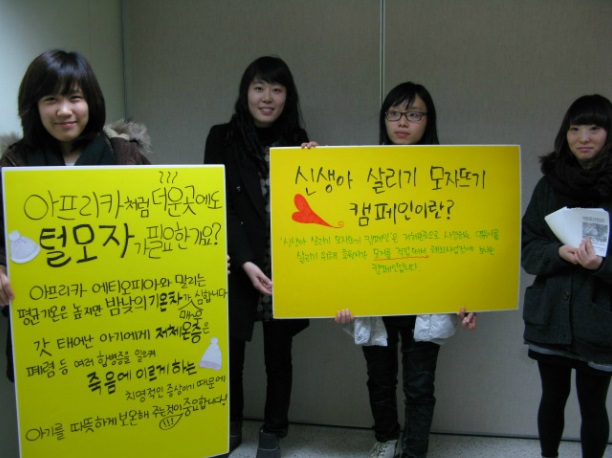 The volunteer work at Save the Children was not over. Although the woolly hat that I made for the first time was completed, I wanted to make the good cause spread. Therefore, as I have mentioned above, I studied for myself why we knit woolly hats and where the hats will be used. Before knitting the hat, I already knew background knowledge more or less, but when I watched some video and surfed the Internet to search information, I realized the true meaning of the volunteer work. In addition, I made placards autonomously with friends in the dorm. While I made the placards, I could keep in mind the goal of the volunteer work and made many friends. We publicized that our volunteering work with placards and urged more people to participate. Although all volunteer works have a good cause, why don't you try to knit a woolly hat with all your heart? It is knitting love that you knit. Try it now!
Leave a Comment
About the Contributor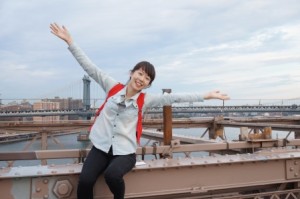 Jung Hyun-Jung, Impact Staff
"Jenny" Hyun-Jung is an exchange student from Yonsei Univ. in South Korea. She majors in Korean Language and Literature and she is highly interested in...