This 18 year old Puerto Rican "feisty little fireball", as X Factor judge L.A Reid has described her, made it to the top 12 on Fox's the X Factor.
Before I get into her career and her elimination, let me tell you a little more about this adorable up and coming star.
Jennel Garcia comes from Rochester, MA (just like her good friend and past X Factor contestant, Jillian Jensen). Jennel has been singing since she was 7 years old, when she had her first performance in a school talent show performing Alicia Key's "Fallen". She also used to sing in the American Juniors and then in a troupe who would perform at community events and dinner shows all over Massachusetts.
At age 10, she appeared on America's Most Talented Kids. Then, at age 14, she started competing in dance again and joined her school choir team in high school.
Her musical influences include Pat Benatar, Lady Gaga, Hayley Williams, and Joan Jett. Jennel is determined to bring rock 'n' roll back. "I think a woman finally putting rock music back out there is an awesome idea," said Garcia.
For her first audition in Providence, R.I, Jennel performed "Paris (Oh La La) by Grace Potter in front of all 4 judges, Simon Cowell, Demi Lovato, Britney Spears, and L.A Reid. The judges had loved her from the start, especially Demi.
Check it out right here! Jennel Garcia's First X Factor Audition
"I think I have the X factor because what I bring to the table is different than anyone else. I'm not quite the most talkative person offstage, but once I get on stage I turn into a firecracker," Jennel stated.
As the competition continued, a bond was formed between mentor/judge Demi Lovato and Ms. Garcia. They seem to have grown very close, and I think that is just beautiful.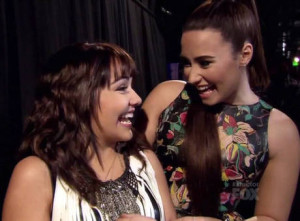 Unfortunately, on the November 15th episode of the X Factor, Jennel was eliminated. She had to participate in a "sing off" against fellow competitor and team member Paige Thomas. Jennel sang a wonderful performance of "The Reason" by Hoobastank.
Unfortunately, when it came down to the judge's decision for who should stay and who should go, Jennel was chosen to go. Demi Lovato was the only judge who voted for Jennel to stay in the competition.
You could see how upset both Lovato and Garcia were; you could see the love between the two. It was actually very sad to watch. While hugging and crying together in the last few minutes of Garcia's X Factor career, Demi said to her ". "You have a future ahead of you so I'm not worried. I love you and I really, really believe in you."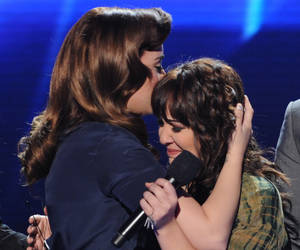 Both Jennel and Demi were shocked with the decision. During a media conference call with WetPaint, when asked about why she thinks she was eliminated off the show, Jennel stated "The vocal coaches have told me I was the strongest on Demi's team, so I think when the judges had the choice to get me out, they took me out."
I absolutely love Jennel Garcia. She has been and always will be my favorite contestant on X Factor. I was devastated to see her go, but this will not be the last we see of her. She has even said so herself, "This will not be the end for me," said Garcia "I cannot wait to show you guys what I have in store for you."
Keep a look out for this future rock star!