Demi Lovato's "Simply Complicated" Is Simply A Must See
Singer-songwriter, and actress, Demi Lovato recently presented the ugly truth on what she has entailed before and after gaining fame. She recently released Simply Complicated, on Oct. 17, which is a YouTube Original Documentary in which Lovato and her loved ones recollect the events of her troubled youth and transformation into a sober 25 year old.
Demi Lovato, a known child star since her days on Barney and Friends along with productions on Disney Channel, has now shown the world a side of her fans have never truly seen before. In hopes of inspiring struggling indivduals, Lovato has been open about her battles with drug addiction, bipolar disorder, and eating disorders. This documentary allowed fans to go behind the scenes of the creation of her most recent album Tell Me You Love Me and hear the unfiltered story to recovery Lovato has been wanting to tell all along.
Lovato has been in the spotlight since she was child, and began the documentary by talking about her early days as a pageant girl. Her love of singing emerged from that experience.
She later talks about how living with her father's issues as a drug addict and alcoholic affected her adolescence. She first experienced drugs and alcohol for herself at only the age of 17. She soon after began her downward spiral into a lifestyle she believed was her only escape from the pressures of the entertainment business. She greatly expressed the strain her father's actions had on her life. "I guess I always searched for what he found in drugs and alcohol, because it fulfilled him and he chose that over a family." says Lovato in the documentary.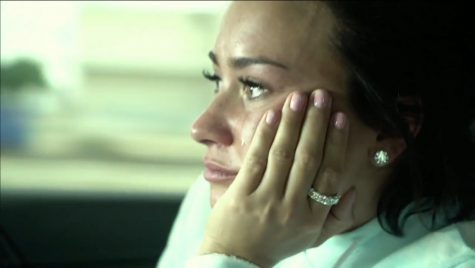 One can only imagine the toll it took on a young girl, just beginning to grasp sense of self and womanhood. Lovato also mentions the dark thoughts that ran through her mind as child, in which she couldn't fully grasp the reason those thoughts were taking over such a capacity of her brain. Lovato states in the film, "I was depressed at a very, very young age. Fascinated with death. Wondering what it would be like to have a funeral. I never knew why I would think so darkly, and it took me a long time to figure out what was going on."
Lovato being only a teenager as her acting and music career began to steer off, left room for large amounts of pressure and self discovery. "The fame started to creep into my life… I started feeling pressure to look a certain way, to sing music that I felt people would like, rather than sing music that I would like. There was more pressure to succeed, ya know, numbers on charts. I was a perfectionist, and I really wanted to be the best of the best," states Lovato.
After many interventions with Lovato by her loved ones and management team, it was becoming clear her road to recovery wasn't something as fixable as a typical teenage girl phase. At this point, her main addiction was cocaine. Around that time, Lovato also newly discovered her diagnosis of bipolar disorder. Lovato says "When I got diagnosed with bipolar disorder, it just made sense… When I was younger I didn't know why I would stay up so late writing and playing music, and then I learned about episodes of mania and I realized that that's probably what it was… I was manic. In a way I knew, it wasn't my fault anymore. Something was actually off with me."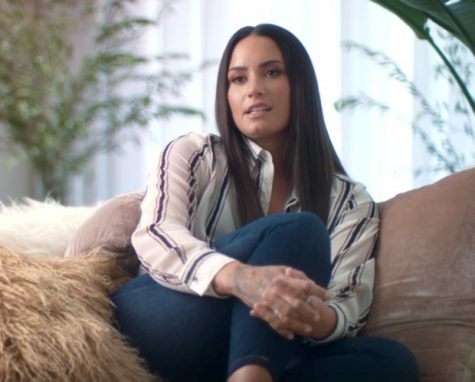 Also mentioned in the documentary, there was one event where Lovato was scheduled to perform on American Idol. She mentioned how in the car, on her way to the performance, she had been greatly hungover and vomited moments before hitting the stage to sing her hit single Give Your Heart a Break. I personally remember watching that performance at home, and greatly admiring her performance skills and strong vocal talent. I envied how happy and full of life she was on stage, and little did I know, she was in fact masquerading her deep pain with those smiles. That's just mind-boggling to me at how easy she disguised her pain.
After one last intervention by her management team, they strongly threatened to drop her if she didn't clean up her act and become sober for not only her loved ones and career but for herself. "You really have to lean into the people that are trying to support you… You really have to surrender, because that is when the change is going to happen." says Lovato.
Lovato also mentions the significance of her relationship with her now ex-boyfriend Wilmer Valderrama. She emphasizes the importance of knowing how to be alone and not always rely on the comfort of another person. After being with Valderrama for six years, she reiterates the seriousness of learning how to live alone and take care of yourself. Only recently, is she on her own for the first time in her life and believes it is a monumental part of her road to continuous recovery.
She is shown in the documentary to be very open about her dating life and sexuality. She emphasizes how natural and normal casual sex is for a woman. She makes it clear she isn't looking for anything in particular; "I am open to human connection. So whether that's through a male or a female, it doesn't matter to me."
Lovato also opens up about some moments of terror from her childhood, in which her eating disorder stems from. She mentions how many kids in her school bullied and terrorized her regarding her weight and constantly pushed her to commit suicide. Lovato was soon homeschooled, but those experiences left her with an eating disorder she still suffers with to this day.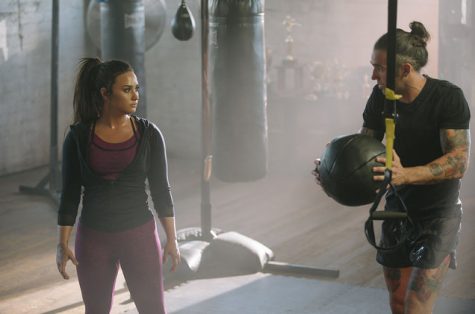 Although she still struggles each day to keep her eating disorder at hand, she finds active outlets to take her mind off the uncontrollable, negative thoughts in her head. Going to the gym and practicing Jiu-Jitsu as much as possible helps regulate her mind. One of her ultimate goals is to reach a black belt in Jiu-Jitsu as she feels this will be a massive accomplishment. This activity is something she looks forward to and believes the complex way in which she uses her mind during the sport, is a great coping mechanism. "Working out is a form of meditation to me because I'm not focused on anything in my head. It can transport you to a totally different place," Lovato says.
Simply Complicated also focused on the technical and emotional process for Lovato when recording her latest album Tell Me You Love Me, released on Sept. 29. A common occurrence I noticed in the documentary, was when each scene concluded, there always seemed to be a song from Tell Me You Love Me, that fit the topic she was mentioning.
Songs from the album such as Sexy Dirty Love played when Lovato talks about feeling confident and embracing her sexuality. Her first single Sorry not Sorry also released it's pop melodies throughout the film when Lovato mentions wanting to change her sound. Games also starts playing after Lovato sheds some light on the "douchebags" she's dated.
Overall, as a long time fan of Demi's I got to experience the side of her beyond the glitz and glamour of Hollywood. As perfect as their life may seem, not every celebrity has their life 100% together. They're simply inhumane if they're just happy and smiling every single minute of the day. By the film not only expressing Lovato's struggles, but the quirky a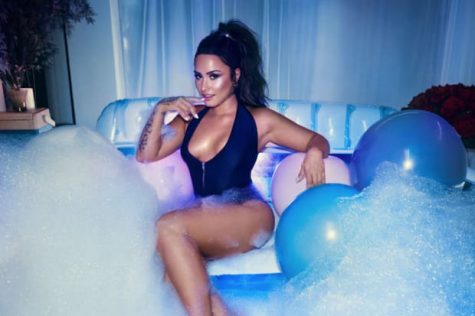 nd unfiltered side of her as well, made me feel connected to her, like we're hanging out on my couch as longtime friends.
I also resonated with Lovato's sentiments when she discussed her need for perfection. I realized I'm not the only one that feels that way and sometimes it's okay to take a step back and breathe.
Many people may not deal with the specific issues Lovato has dealt with, but her main goal is to help people who are suffering with any kind of ongoing mental illness. By Lovato speaking on how she still suffers with her eating disorder today, proves how she's not a healing angel, but simply human. Simply Complicated.
As of 2017, Lovato is five years sober.
"When I'm comfortable in my own skin, I feel confident. And when I feel confident, I feel sexy. And when I feel sexy, watch out." – Demi Lovato, Simply Complicated
Leave a Comment
About the Contributor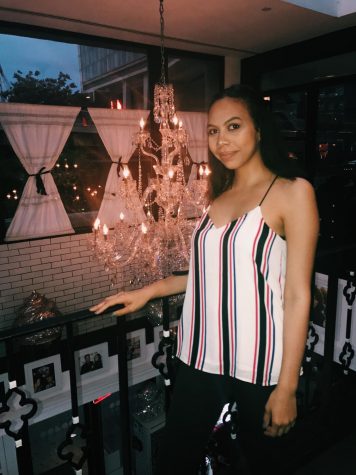 Nicole Acosta, Managing Editor
Nicole is from The Bronx and is a journalism major at Mercy College. Her hobbies include discovering new places to eat on a budget, photography, listening...