Steve Lacy Brings New Album "Apollo XXI" to the Legendary Apollo Theater.
The music industry has never been kind to the introverted artist.
More often than not, you see artists who would rather avoid the public eye than be thrown into the limelight by their respective labels in an effort fueled by greed. We've seen this story too many times and when the artist feels like there's no one there who supports them, they turn to drugs and alcohol and maybe even take their own life. It's a sad cycle out of which the money-hungry entertainment industry will never escape.
But Steve Lacy is an artist: he can sing, write, produce, play a multitude of instruments (guitar, bass, drums, keys, synths) and he has only just turned 21.
Every person who writes an article about Lacy seems to be required to focus on the fact that he's not only been producing for artists like Kendrick Lamar and J. Cole, but that he has done so using only his iPhone. I would rather focus on the man himself as opposed to his more famous collaborators or his "infamous" production technique.
Lacy has been working in the music industry since he was only 16, starting out by playing with his friends in the band The Internet (known itself for being an Odd Future spin-off project). It is with them he started to gain the confidence to show the world the music that he had been making in secret by himself.
In 2016, he dropped "Steve Lacy's Demo", a collection of six live instrument-based songs that blended funky R&B with Lo-Fi indie rock. The songs came and went, all of them barely clocked in at three minutes and some not even to two. It was a tantalizing collection; we wanted more from him. Finally, in 2019, to celebrate his 21st birthday, he dropped his long-awaited debut album, "Apollo XXI".
The album has gotten a lot of varying reactions, but I think it is one of the best albums of the year. Instead of making the record "Steve Lacy's Demo Volume Two", he made it a weird, experimental blend of Lo-Fi, electronica, funk, R&B, indie rock, neo-psychedelia, and even trap music while still keeping the live band sound for which he is known.
Steve Lacy did not want to tour again, he'll tell you that himself. As he said to the crowd that night during the latter half of his set, he's burnt out. He'd been on tour with The Internet ever since he got out of high school and hadn't been back to his home in California in a long time, but the label wanted him to tour the record, so he agreed.
One of the most curious decisions of the whole night was the lack of a live band. Whenever Lacy has played in the past, he has always used a live band to give the performance the same feeling his records invoke. He used a live DJ, and he himself played a lot of instruments live (including one wicked moment where he uses a Moog branded synthesizer and fiddles with the knobs to make cool dystopian noises in between one song), but the music didn't quite feel the same without a backing band.
He also decided that for the main setlist, he would play the entirety of his debut front to back. This brought out what is arguably the weakest part of the album- it's sequencing. The tracks do not really flow together in a cohesive fashion making for what felt like a very stilted and weird set, an example of which is one moment where the DJ just played a three-minute interlude from the album straight from the tape while the lights went dim and Lacy was nowhere to be found.
Despite all of this, the crowd rushed to the stage when he first appeared, were on their feet the whole time (even in the balconies) and Lacy was still as charismatic and talented as you expected him to be, going between guitar, bass, and keys while singing the whole time.
Some funny moments that stand out include him telling a woman in the front to "not touch (his) leg without permission, woman" and him telling the crowd "this is how I drink water" as he took a big swig from his plastic bottle backed up by rapturous cheers from the crowd (he took another swig immediately after the first one which received even more applause).
While there were some lows in the set ( "In Lust We Trust" felt like it went on for way too long and without a choir, the song "4ever" felt like it went on… forever), there were also a fair amount of highs. Tracks like "Only If", "Basement Jack" and "Like Me" got the crowd going and slower songs like "Hate CD" and "Lay Me Down" still sounded superb. Not only that, but some weaker cuts off the record such as "Guide" and "Outro Freestyle" were heightened by a very good sound system and a very energetic Steve Lacy running around the stage like an excited kid in a candy store.
The show ended with Lacy going through some of his older catalog. He played stand out "Demo" cuts "Ryd", "Some", and "Dark Red" and a very heartfelt and powerful rendition of his debut single "C U Girl" alone on the guitar. However, during this part of the show, there was a notable dip in enthusiasm on Steve's part. He seemed ready to leave and after playing through only half of "Demo" he declared that he had "played all of his songs".
As the crowd screamed their favorite "Demo" cuts that he had skipped and obscure tracks he posted on SoundCloud (there were some die-hard fans in this audience!), he realized that he had only played for an hour, so he told his DJ to run "Dark Red" again. After playing it for the second time in a row, he said his goodbyes and left the stage. The house lights went up and his DJ played a drum and bass remix of "Thangs", one song Lacy forgot to play when he mentioned that he played "all of his songs" tonight.
The show seemed to lack the imagination and the strength of the music Lacy produces, but even an under-realized show from a man as talented as Lacy is still one that is good. I honestly expected more from him, but the high points were worthy in it of themselves. However, for this review, the lack of a live band and enthusiasm on Lacy's part caused the show to be hardly as successful as it could have been.
That being said, the crowd this evening at the Apollo seemed mostly to be satisfied and I would see Steve Lacy again on a future tour.
Rating: 2 ½ stars out of 5
Opening Act: Up-and-coming singer/rapper Kari Faux mixed a very strong and well-constructed DJ set which included varying acts such as J.I.D., ScHoolboy Q, Sade, EARTHGANG, The Neptunes and Gorillaz.
Pre-Show Music: An eclectic mix of old soul music, disco, Detroit house music, synth-funk, Lo-Fi indie rock, and Steve Lacy predecessors- Prince, Thundercat, and OutKast.
Leave a Comment
About the Contributor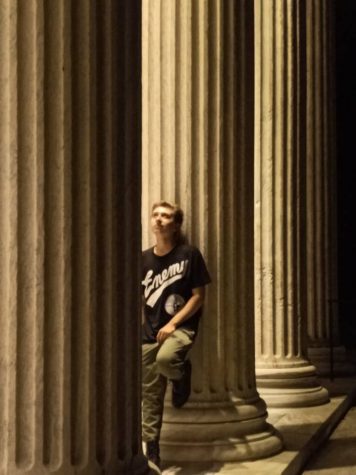 Jack Seda-Schreiber, Entertainment Editor
Jack Seda-Schreiber is the entertainment editor for The Impact News.

Born in New Jersey, Jack has an almost encyclopedic knowledge of music and a wide...