Michael Kiwanuka Finds Himself on 'Kiwanuka'
My, oh my – did this really come out of nowhere. I'm not going to tiptoe around this one. Instead, I will say it right off the bat: this is a fantastic record.
Michael Kiwanuka is an artist who has been in the game for a while. He is an English singer, songwriter, and multi-instrumentalist yielding the guitar and holding down the keys like a true master. On his third album, "Kiwanuka." Michael Kiwanuka is trying to make his own "What's Going On" or "Superfly." "Kiwanuka" is an album statement, most tracks flow into each other and they are all linked conceptually. A bold move for an artist to do nowadays, but Kiwanuka pulls it off masterfully.
The first thing to notice about the record is its sound, this album is grand. Kiwanuka is back again with famed producer Danger Mouse on the helms but this time they are also accompanied by newer UK producer Inflo (probably brought in after his impressive job on rapper Little Simz' recent effort "Grey Area" which Kiwanuka dutifully features on). This record is coated in many sonic textures.
In the past, Michael Kiwanuka's music has been stripped down, taking influence from blues and folk and soul. On "Kiwanuka," the songs are covered in soulful yet jazzy keyboards, psychedelic fuzzed-out guitars, afro-beat percussion, gushing strings, choirs, glitching synthesizers and even hip hop indebted breakbeats. The album's tracks all flow together and are often separated into two tracks with their opening minute or two serving as an interlude. Yet this album does not feel like a departure from Michael Kiwanuka's essence, it feels like an expansion.
Despite these cool new elements to his soundscape, Michael Kiwanuka's unique and smooth voice is still the most vital ingredient. Tracks like "Solid Ground", "Living In Denial" and "Piano Joint (This Kind Of Love)" are oozing with emotion. You can tell that this album represents his true inner being.
A lot of the lyrics on this record deal with Kiwanuka's journey towards self-acceptance. He deals with his own self-doubt on the giddy psych-funk bop "You're Not The Problem" and talks about where he can go next on the anthemic rock-soul hybrid "Hero." The album also deals with current civil rights issues through its use of samples on its bleak and nerve-wracked interludes.
Clocking in at 51 minutes, this album demands a lot from its listener in that short amount of time. The average track length on this album is around 5 minutes, with some tracks lasting longer and some lasting shorter. As someone who loves music but can understand the troubles of sitting down and listening to a lengthy album, I ask you to take some time out of your day and check this out. Tune out all distractions and focus on the soundscapes and wisdom that Kiwanuka and the company offers.
"Kiwanuka" is an album that feels like it doesn't exist in anyone time period and you best "believe that I'll be back" to this record many times over.
Michael Kiwanuka's "Kiwanuka" is out now on all streaming platforms, you can also find it using this link:
michaelkiwanuka.com
Rating: 4 1/2 stars out of 5
Top 5 Tracks: "You Ain't The Problem", "Piano Joint (This Kind Of Love)" (listen with intro), "Hard To Say Goodbye", "Solid Ground", "Living In Denial" (listen with "Another Human Being" intro)
Worst Track: This album has no bad songs, listen to all of it.
Leave a Comment
About the Contributor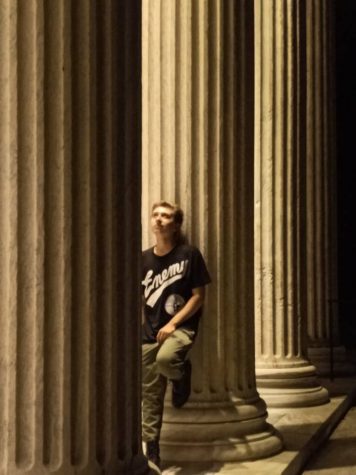 Jack Seda-Schreiber, Entertainment Editor
Jack Seda-Schreiber is the entertainment editor for The Impact News.

Born in New Jersey, Jack has an almost encyclopedic knowledge of music and a wide...