Rams' Defense Looks to Slow Down Burrow's Offense in Super Bowl LVI
The Los Angeles Rams and Cincinnati Bengals are set to face off in Super Bowl LVI. Neither of the teams has had an easy stroll into the new SoFi Stadium in Inglewood, CA.
The surprising Bengals have witnessed the Chiefs choke away a game they almost had wrapped up and relied on two game-winning field goals by rookie-kicking sensational Evan McPherson. McPherson's leg is a perfect 12 for 12 in the postseason heading into the biggest Sunday of the year.
Across the gridiron, the Rams survived a near collapse in blowing a 24-point lead to the Buccaneers in Tom Brady's final game. Then followed that up by barely scraping by in a fourth-quarter comeback against the 49ers.
Historically, the Rams have won only one other Super Bowl. This was while they were in St. Louis. If they were still there, it would make this Super Bowl more meaningful, but that's a column for another day.
The Bengals look for their first-ever championship making only their third trip ever to the big game. In the 33 years since their last appearance, they look to break one of the longest Super Bowl droughts in the NFL.
The Quarterback for each team has had their own unexpected journeys, which have brought them both to the biggest moments of their careers.
Following 12 disappointing years in Detroit, Matthew Stafford finally has a home in Los Angeles. He has proven that when given the proper weapons, he can take his team to the biggest game.
Joe Burrows is on the opposite end of the spectrum, quickly becoming the darling of the league in only his second season. He looks to become the fifth quarterback to win a Super Bowl in their second season, joining Tom Brady, Ben Roethlisberger, Kurt Warner, and Russel Wilson.
Staying on the offensive side of the ball, this Super Bowl will showcase the league leader in receiving yards in the Rams' Cooper Kupp and the fourth leading receiver in the Bengals' Ja'Marr Chase.
These two will be vital for whichever team comes out on top by the end of Sunday night. Other receivers will have to join the spotlight with these two drawing the best corners from the opposing team. Rams' Odell Beckham Jr. is finally in a culture where he can just play football and not deal with outside noise. Bengals' Tyler Boyd will look to pick up more opportunity with Rams' star cornerback Jalen Ramsey locked on Chase.
This secondary matchup is crucial if the Bengals want to give themselves the best chance at winning.
Turning to the defense, we see the aspects where these two teams start to separate themselves.
The Bengals defense is good and has talent in players like defensive end Trey Hendrickson safety Jessie Bates III. However, the Rams' defense is loaded.
Aaron Donald, Von Miller, Leonard Floyd, Greg Gaines, and A'Shawn Robinson are going to cause massive issues for the Bengals' offensive line and do everything in their control to throw off the Burrow-Chase connection. If they can get through that, Burrow is going to be staring down a secondary led by Ramsey and veteran Eric Weddle.
It would be a challenging task for any quarterback, but against a second-year quarterback, it may prove too much.
This game will be summed up in one simple question. Can the Bengals' offense score against the Rams' defense?
The Rams will look to throw everything they got to establish some relevance with Los Angeles sports fans. Luckily for them, the defense may have just what it takes to do that.
Burrow has always come through in the big game ever since his cigar-smoking days at LSU. He has made play after play each week to carry his team all the way through to this point. Every time he's been doubted he's silenced the critics.
Unfortunately for Burrow, this isn't any other game, this is the Super Bowl. Offense wins games, defense wins championships.
Final Score: Rams- 31 Bengals- 17
Super Bowl MVP: Matthew Stafford, but Donald will probably deserve it more.
Leave a Comment
About the Contributor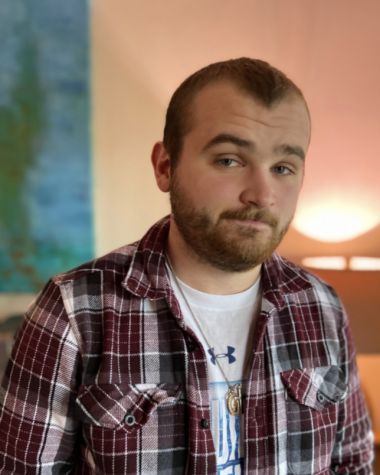 James Tiedemann, Managing Editor
James Tiedemann graduated from Mercy College in the May of 2022. He transferred there after graduating from SUNY Orange with his Associate's Degree in...