Augustine Recovers From Injury For Stellar Season; Soccer Wins ECAC Tournament Game
As Mercy's women's soccer team faced American International College, Nicole Augustine, a senior goalkeeper, made seven saves to try and keep the Maverick's winning streak.
In the first 13th minute, the first save of the day was made by Augustine; she made three saves of her own as the two teams headed into halftime scoreless.
During the second half, American International Yellow Jackets made a direct change. Augustine made two more saves in the game to keep the Yellow Jackets scoreless. But, it wasn't enough.
In the 71st minute, the Yellow Jackets scored, making it 1-0. The Mavericks were determined to fight back. They picked their heads back up and played their hearts out until the last second of the game.
Almost scoring in the last ten seconds of the game, they could not find the back of the net, creating a loss and ending their winning streak.
That loss dropped Mercy to 5-5-2.
It was a tough loss, but the Mavericks knew they brought everything out on the field with them and did not let it get in the way of their pride as a team altogether.
If Mercy could keep it together, a playoff run would be in there future.
***
Nicole Augustine, who is studying business, has played soccer since she was three years old. She's played many positions on the field, but being a goalie is her favorite.
"I started as a goalie when I was in the fifth grade," Augustine said, "I soon grew and fell in love with it."
Although Augustine was not able to make the women's soccer team due to a previous anterior cruciate ligament surgery (ACL), during her high school year playing lacrosse, she was still determined to make the team the next year around.
"They couldn't see what I had to offer for the team my freshman year because of my ACL," said Augustine.
"When I was finally able to step in and show them what I can do, it was a great feeling," added Augustine excitedly.
She felt grateful that she made the Mavericks.
Augustine stood her ground and stuck with a strong mentality and sportsmanship.
"I made sure I worked hard and had a good spirit when I was finally capable of showing them what I could offer to the team," said Augustine.
She refers back to her philosophy to "play with your heart and have confidence," says Augustine.
Augustine adds that having confidence is something you need to be a goalie.
"It's not as easy as it looks, actually," says Augustine, "you have to be tough to go out there and make a save or a slide tackle. Having confidence will help you do extraordinary things."
The women's soccer team works together in every move they make on the field.
"I may make the save," says Augustine, "but, we work together to make that save. Even making a goal."
Last year, the women's soccer team made a 17-3 standing as they were mourning the loss of a fallen teammate.
"Everyone knew who Katie was last year, and about her passing," said Augustine, "she was the type of player that every coach wanted on their team."
Katie's loss was hard for her teammates, but it was something that they saw as a reason to get back up and play harder than ever.
The team knew how much soccer and being on the team meant to Katie, and they wanted to use her momentum to spark a win for each game, to make it where they did in the East Coast Conference.
Throughout the season, Katie's legacy was seen and mentioned every day the Mavericks were out on the field.
"We mentioned Katie and spoke about her to the newcomers on the team about why we play the way we do and who we do it for," said Augustine.
"And they understand it even though they never met her, and they show it while they're on the field, which is something that really makes us a team," added Augustine.
This year, the team may be brand new and young, but the women's soccer worked to spark up as many wins as they could.
"As a team, we worked to help the freshmen adjust to the college experience because it's completely different than their high school sports club that they're used it," said Augustine.
Augustine refers to her team as a family. With many of them being from across the United States, being a close-knit team helps the homesickness go away, and creates a bond across the team.
Augustine added, "One team, one family!"
***
Mercy would get hot after that loss to American International, and win three in a row to close out the season.
First their was the 2-0 shutout of Dowling. Freshman Haley Noble and Sophomore Heidi Serna scored goals while Augustine made five saves.
Alyssa Iannuzzi and Alexandra Modlinski, sophomores, both scored goals against Queens in the next 2-0 shutout, which was Augustine's fourth.
Augustine made six saves in a 4-1 romp of Molley to earn the fourth seed in the ECC tournament against rival Bridgeport. Mercy hung tough with Bridgeport, who entered the game 17-1-1 and the top seed, yet fell 2-0 despite four saves from Augustine.
Yet a playoff win was still on the horizon for Mercy. The ECAC tournament began days later, and after 110 minute of play against Pace University, the score remained tied at zero. Mercy fell behind 1-0 in placekicks, but won the game behind three freshmen scores – Corinna Ferrante, Molly O'Callaghan and Ileen Mejia.
Mercy, the three seed, fell to the No. 4 seed, Post, 2-0 in the championship. Playing in goal in the ECAC tournament was sophomore Ashley Price, who is set to have the torch passed to her in goal from Augustine.
Despite the loss, Mercy notched another playoff victory as it continues to grow as a program, yet will miss a talented group of graduating seniors who performed valiantly in all three postseason games this season.
Leave a Comment
About the Contributor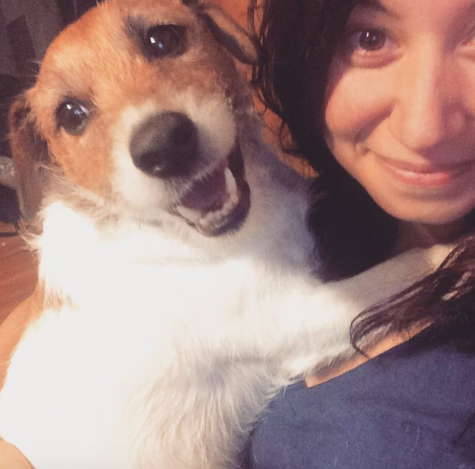 Kayla Simas, Managing Editor
Kayla Simas is a Journalism major at Mercy College. She's from the forgotten borough of New York - Staten Island. She's an avid coffee drinker and enjoys...