Parish Sparkling For The Mavericks
Despite being the sixth man, she is of the team's top two offensive players.
Tatiana Parish steals the ball and throws it to a teammate to record an assist on a fast break layup. Parish takes it a second time – she's giving her teammates energy, the crowd's going wild. She throws it to her best friend on the team, then calls for the ball back. Once the balls back in Parish's hands, she goes for a layup. She jumps as high as she can on her right leg, but never went up.
Tatiana Parish is a senior studying journalism and media at Mercy College, who plays for the women's basketball team. She's originally from California, where she began playing basketball at the age of three.
"My mom always reminds me how when I was little, I'd bounce a ball around the house wherever I went," said Parish.
Parish would go to the 24-hour fitness gym nearby her house and have her mother drop her off every day, where she would spend at least four to five hours, sometimes more just practicing.
When Parish decided to play basketball, it was a big shock to her family. Track and field are the sports in her family, and for another sport to be played by a member of the family was a little difficult at first.
"Both my parents, my brother, grandfather – they're all state champions," said Parish. "It was an eye-opener for them. They always wanted me to run track."
Parish's parents couldn't teach her basketball, so she always had a personal trainer. But, that doesn't prevent them from supporting her, even when she's miles away from home. She's used to being out of state playing basketball when she played for a travel basketball team in high school. And she knows there's constant support back home.
"I know my parents are always watching the games either live or replays of them," said Parish.
***
While Parish played for her junior college, she went to take the layup, but never went up. She immediately felt a pop in her knee. She stood still like a statue with the ball in her right hand and instantly fell to the floor, holding her knee.
"Once I fell, I felt the swelling," said Parish.
Parish even remembers the crowds reaction to when she fell.
"A thousand people were watching and screaming, but the only voice I heard was my mother's," Parish said. "All I heard was 'get up' from her."
Parish never had an injury before this moment. And this was very severe. She had an ACL tear in her right knee.
With her ACL tear, Parish was nervous because coaches don't want to take a chance with someone that is "damaged goods," as she put it because it could happen again.
Parish's fear turned into a dream when she received two offers, one from Mercy College, and another from College of Mount. St. Vincent. 
Parish wanted to play Division II basketball. When Coach Rashidi Aikens recruited her, Parish was thrilled.
"I was excited to play basketball again, and especially in New York," said Parish.
It's always been her dream to live in New York since high school.
Parish added, "I even had a bird's eye view of the city as my screensaver."
***
Right now, for the Maverick's, the women's basketball is 2-7. They are still a young team but are getting to where they need to be gradually, say the players.
"I'm very confident that it'll be a successful season," said Parish.
Parish also said that new coach, Alena Kush, is a great addition to the team.
"She's got a high basketball IQ and overall great coach that will help us where we need to this season," added Parish.
As a routine, Parish used to wear the same socks to each game if she played great the game before, but after making her big move to Mercy, she had a new routine.
"I was not confident at all when I got to Mercy," said Parish. "I was terrified that I was going to tear it again."
But, with support from her mother, she got through each game, one at a time.
Parish added, "My mom sent me prayers before each game to help me become more confident out on the court."
Parish was averaging nearly eight points per game through the first three games and was second in the team in scoring before she unfortunately went down with another injury. At guard, she was shooting 30 percent from the field and was perfect from the free throw line.
Parish plays basketball because she loves the sport. She's overly passionate about it. She's not like most girls, and she knows that.
"Growing up, I was never the girl that played jump rope with other girls," Parish said, "instead, I played basketball with the boys."
Basketball taught her a lot that she knows about life. She plays because she was always underestimated continuously wants to prove people wrong about her.
Playing basketball for so long taught Parish about conflict, leadership, discipline, time management, constructive criticism, and pressure in critical situations, that she knows will carry over to her lifelong career.
"My love for basketball helped me honestly on the career path I'm heading," said Parish.
With a great basketball IQ, she knows the game like it's the back of her hand, which is why sports journalism is in her future.
"Last night I went to the Knicks game at Westchester County Center, I was analyzing and dissecting what was going on in the basketball game," said Parish. "That's why sports journalism is the perfect fit for me."
"I can't wait to make my passion my career."
Leave a Comment
About the Contributor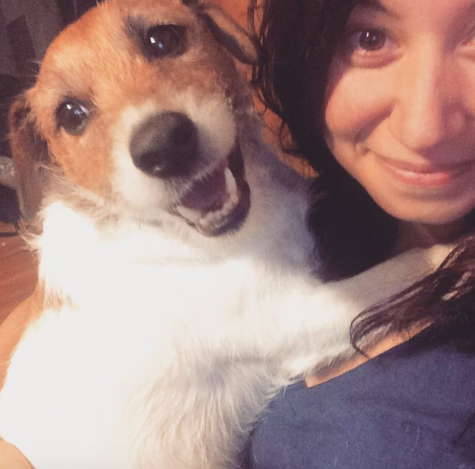 Kayla Simas, Managing Editor
Kayla Simas is a Journalism major at Mercy College. She's from the forgotten borough of New York - Staten Island. She's an avid coffee drinker and enjoys...