Goodson Leaves Senior Season On A High Note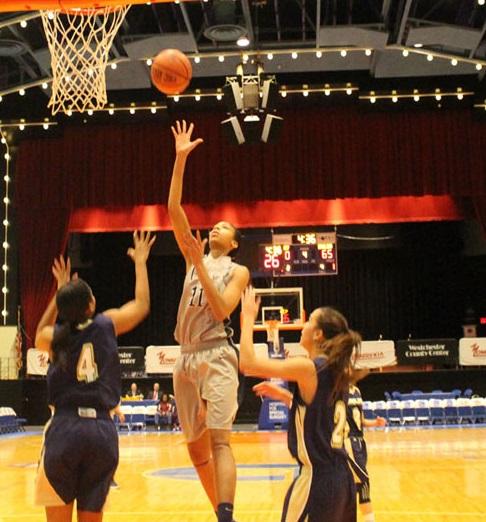 Some athletes start playing a sport for as long as they can remember while there are others that start their careers later in life.
Deasia Goodson, a senior majoring in sociobiology, falls into this category.
She never even played sports until she was in the eighth grade, yet middle school was a turning point in Goodson's life, whether or not she knew it. Reluctant to try out, Goodson refers to her start in basketball as a "pretty funny story."
"My gym teacher said to me, 'If you try out, I'll give you pizza,'" Goodson started to say as she began laughing.
"And who doesn't love pizza?"
Goodson added, "When I tried out, I was really bad."
It's no secret that athletes often reminisce their plays and time on the court, but for Goodson, it's much different than that.
"I randomly have flashbacks while I'm lying down or shopping; I think of the good and the bad," Goodson started to say.
"I see how far I've come, and it's a long way," said Goodson.
Aside from basketball, Goodson has also played two other sports.
"I started volleyball the same year as basketball, then stopped the majority of high school," Goodson started to say, "where I played badminton, as well."
"Until my senior year, I played volleyball and actually was named MVP."
Making MVP helped Goodson realize she wanted to further her volleyball athletic career to play in college during her freshman and sophomore year at SUNY Polytechnic Institute before making her debut at Mercy, regardless of the fact she was recruited straight from high school.
"The other school seemed like a better fit for me at the time," Goodson began to say. "I chose Mercy later on because I was looking for a fresh start, higher competition, and better options academically."
***
Looking back, Goodson admits she was not the best on her team when she started out, but she took that and put hard work into becoming better.
"I started to get a better feel for the game when I was in the ninth grade," said Goodson.
"In tenth grade, I was promoted to varsity, which I found challenging at first," Goodson started to say, "But with the motivation from my coach and my desire to improve, I constantly worked on my game."
"And now here I am," Goodson added.
Since starting for Mercy, Goodson has made the ECC Weekly Honor Roll, recorded a career-high five blocks in the 70-68 victory against Bridgeport, last season. This season, Goodson was rewarded as Corvias Eastern College Athletic Conference (ECAC) Women's Basketball Division II Player of the Week, for the week ending Jan. 24. Her performance during the Mavericks victory against Dowling College led her to finish with a season-high sixteen rebounds.  
Against Daemen College, Goodson would lead the women's basketball team with a game-high 23 points, sixteen rebounds, and four blocks to record her 14th double-double of the season. However, it was not enough for the Mavericks to gain a victory, where they lost, 75-67.
In the game following, this Maverick team suffered a 71-53 setback to their East Coast Conference foe, St. Thomas Aquinas College, Tuesday night. It was the game Goodson nearly recorded a triple-double, finishing with eight points, eleven rebounds, and a game-high eight blocks.
Still not enough for this young team to gain a victory, leaving the Mavericks to fall to a stand of 6-18.
***
Being one of the only two seniors on this Maverick team, Goodson knows her time playing basketball is nearing the end.
"My last year feels bittersweet," Goodson said. "My body feels like it's breaking down so much and feels like it's time for it to end."
"But basketball will always be a part of my life," added Goodson.
Looking towards a future after this season, Goodson is hoping to play volleyball for the Mavericks in the fall.
"I think it'll be a great way to end my time at college," sid Goodson.
But as far as basketball, it will always be a part of her life, even if she's not in it for the victory or challenge, but for the fun.
"I'll definitely be playing for fun," Goodson, "I'm sure I'll be playing over the summer for some team."
Goodson added, "I've been told I'd be a pretty good coach, so I'm thinking about that."
"But we'll see."
Leave a Comment
About the Contributor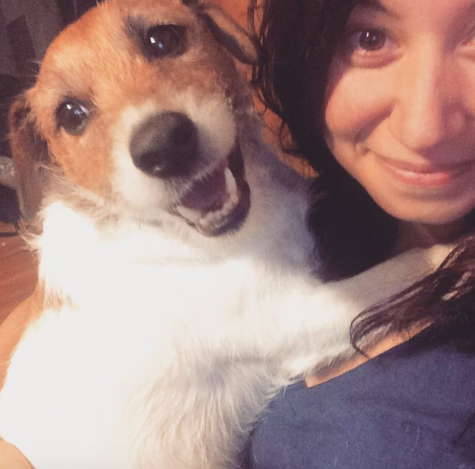 Kayla Simas, Managing Editor
Kayla Simas is a Journalism major at Mercy College. She's from the forgotten borough of New York - Staten Island. She's an avid coffee drinker and enjoys...