Softball Improves With Nine More Wins From Last Season
It was the last game of the season.
Marlena Marzigliano led off the game with a home run to left center, making the score, 1-0.  In the bottom of the half, Kielty tossed a 1-2-3 inning, as the Mavericks worked together adding a pair of runs to make it 3-0. Third inning struck with a RBI double, Stevens made it 4-0, as Lloyd connected on a home run in the fifth inning making it 5-0.
Marzigliano singled home a run, while Golino scored on a wild pitch. Lloyd had a three-RBI double to right center, as the Warriors recorded their second hit in the bottom of the sixth, but it wasn't enough to make any runs.  
The crowd going crazy, as the team came together, the Mavericks ended their season in victory.
Being a Maverick has Marzigliano, a sophomore who's studying business, glad she came to Mercy. She admits that she weighed in on the factors before becoming a Maverick and part of the team. 
"Mercy isn't too far, but it's still not close to home," Marzigliano said as she speaks about Highland Mills, New York.
"Also because Mercy had a great business program and softball team," Marzigliano added.
Marzigliano speaks of her team as being the best team and reminds her as to why she loves the sport.
"I don't ever remember not playing softball," Marzigliano began to say. "I've been playing since I was about two, but didn't start playing on a team until I was seven."
Marzigliano admits she began playing softball because of her father – it was one of the only ways for them to bond.
"My dad loves all sports, especially softball and baseball," Marzigliano said. "He taught me everything he knew about the sport, and I just fell in love with it."
Marzigliano speaks highly of her father as being the best teacher and added that he kept her in love with the game.
"He doesn't have to be there at all of my games to cheer me on," Marzigliano said. "He's always cheering me on from wherever he is. He motivates me to do better each game."
Not only does Marzigliano's father motivate her, but so does her team and winning.
"Whether we're the worst or the best team in the league, I would do anything for my teammates because I want to help them win," said Marzigliano.
"If I have to be the one getting the water for everyone, I wouldn't mind if it means we win," Marzigliano added.
The Mavericks ended their 2016 season at a standing of 22-25, just shy of two games to make it to the post season. The games against Nyack College ended in doubleheader victories for the Mavericks as the first game ended in 6-0 and the second game with 10-0. Both were led by complete-game shutouts from freshman Cusumano and junior Kielty.
As they concluded their season, they had nine more wins than a year ago. A great way to end the season, as the Mavericks say a farewell to their three seniors, Alyssa Gutierrez, Milana Gilaga, and Amanda Gardiner.
Shortstop Julie Gross led the team with a .364 batting average, followed by Kaylee Stevens, who batted .294 and smacked five five home runs. Outfielder Morgan Lloyd and Stevens led the team with 19 RBIs.
McCaily Cusumano led the team in all pitching categories with nine wins, a 1.9 ERA, 121.1 innings pitched and 117 strikeouts.
Marzigliano admits that there are many positives that her team can and will take to next season.
"We didn't led up. We never gave up on a game, regardless if we played a really bad one," Marzigliano said.
"We may have lost more games than we won, but we always have a fight in us," she added.
Aside from the positives, Marzigliano adds that she could've done better though, but will do so next season.
"This season, I kept hitting slumps," Marzigliano began to say. "I struggled with my control. I'd get extremely angry and anxious because of it."
Marzigliano added, "I'm going to work on more control for next season.
"I'm going take deep breaths, and just focus."
Deep breaths and focus is just what Marzigliano does as her pregame ritual.
"I always do my eye makeup black, listen to inspirational music and just picture myself in the game," said Marzigliano. "You see, I don't just think of one particular game and moment, because there's just so many that I've played."
"So usually it's me up to the plate, taking deep breaths, focus and doing the right moves, but with less pressure," added Marzigliano, as she laughed.
Playing softball has been a big part of Marzigliano's life, as it has helped her bond with her father but also taught her skills she uses in her everyday life.
"Softball taught me discipline and responsibility," Marzigliano's began to say. "I learned how to work well with others because we're all different personalities."
Marzigliano, humble about where her team stands in the 2016 season, is determined that the Mavericks will come out with a better result next season.
"My team is great," she said. "They are the best team that I've been a part of."
Leave a Comment
About the Writer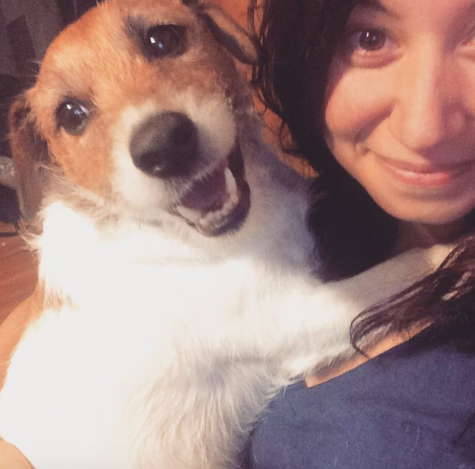 Kayla Simas, Managing Editor
Kayla Simas is a Journalism major at Mercy College. She's from the forgotten borough of New York - Staten Island. She's an avid coffee drinker and enjoys...