Ballin Showing Heart As She Ends Her Field Hockey Career
Standing in a circle with twenty-two of her fellow teammates, Jackie Ballin awaits patiently for her turn to speak. She listens carefully as her teammates discuss their best attributes. Then it was her turn.
Ballin steps up with a smile on her face and says strongly, "Heart."
That's what senior Ballin, who's studying biology describes she brings to the young field hockey team.
Only starting the sport when she was a freshman in high school in Cupertino, California, Ballin says beforehand, she never even heard of the sport. She had planned on playing for  her high school's volleyball team because the varsity coaches came to her middle school games and even reserved a spot for her on the team, Ballin remembers.
"Then one day, one of my friends told me how her sister played field hockey and I should come to summer conditioning sessions that the head coach held before tryouts," Ballin added.
And so she tried it out and ended up getting offered a spot on the varsity team. Now she had a spot on both volleyball and field hockey, but could only choose to play one.
"I wasn't able to play both sports because they're the same season," Ballin began to say. "I had to choose one and I just enjoyed field hockey better."
"It's fast pace, similar to playing soccer," she added.
Similar to soccer is how Ballin describes it, but she also admits that soccer used to be her main sport at one point. She played club soccer and even had extra training sessions with coaches because of her original intention to play college soccer. By the time she was a sophomore, she already had Division II and III schools looking at her for the sport.
"At that point, I was in love with field hockey and didn't want to commit to soccer as much anymore," Ballin said.
Ballin felt plateaued as she began to hit a wall in the sport and felt as though she wasn't the best in the pool full of girls who played since they were young.
"When it came down to it, honestly," Ballin said, "I was just better at field hockey."
As her love for field hockey strengthened, Ballin broke the news to her father that she decided to shift her focus to playing the sport in college. She ended up having a bet with him later on, that if she scored more than 20 goals, she could get her cartilage pierced.
"I ended up scoring 21 goals," Ballin said as she grinned.
Being one of her biggest supporters, Ballin's father began filming her and sent out bios along with links to her Youtube, to all D2 and D3 field hockey schools.
"Eventually we got responses from a number of colleges," Ballin said. "I had to narrow it down what schools I wanted to visit on a recruiting trip, since it was so expensive coming from California."
Ballin narrowed it down to Mercy College and Limestone College in South Carolina. She admits that Limestone was appealing because of their national championships and facilities, but felt a better connection with Mercy. Not only did she connect with the girls on the team during the recruiting trip, but she also loved the location.
It was her old head coach, Kayte Kinsley, who initially pushed her to choose Mercy.
"She pointed out to me that even though the program was brand new, I could make a real difference for the team and build a stronger program."
Making a difference is what Ballin set out to do and she succeeded in it, surely.
"It's a competitive sport and I put everything I have into it."
"I fought hard to secure a starting position since my freshman year," she added.
In 2013, she was named to the Synapse Sports National Rookie Team. Synapse Sports National Rookie Team is a team that committee puts together naming the players they believe stood out as rookies in Division II Field Hockey. Making the rookie team reassured Ballin that all her hard work paid off and continues to do so, to this day.
"There's no game – it's basically a team of players they feel would make an ideal rookie team," Ballin said as she smiled.
***
The game against ECAC rival, Newberry, on Oct. 2 had the Lady Mavericks ready to fight but ended in a loss. With a score of 2-1, the team is now standing with a 3-8 overall record.
Senior Soler scored her first goal of the season, while sophomore Bryan added an assist. Ballin recorded a shot on goal and sophomore Pettit made eight stops in her first collegiate debut.
The second half saw Pettit with three saves before Newberry scored the game-winning goal within the 61st minute. The Lady Mavs were unable to find the niche as Newberry surfaced with their first win ECAC win of the year.
Ballin has scored the most goals on the team this year with three, and leads the team with shots on goal.
Ballin admits that a 3-8 standing may not be ideal, and it's easier to be a team when they're winning, but she knows how hard they all try on the field.
"You really find out the strength of your team when you're still able to come together when going through a losing streak," Ballin said.
The Lady Mavs fight their hardest through each game and fight till the end. Because of that ideal skill, that makes Ballin proud to call her team her family.
"No matter the score, we're still family."
"We argue and laugh together like sisters," Ballin began to say. "They invite me over to their houses for the holidays when I can't go home. I'm grateful for them and glad because this is what I wanted out of playing collegiate field hockey."
As Ballin prepares to apply for graduate school programs for physicians assistant, she's feeling all sorts of emotions. It may not have been her original sport, but since playing it, Ballin has accomplished a lot.
"There's always a great amount of talent brought to the team; every class brings something new and different," Ballin said.
"I always play my heart out there on the field," Ballin added as she explains why she chooses to say 'heart' as something she brings to the team.
Aside from accomplishments, field hockey has given her so much to be proud of.
"Field hockey gave me the opportunity to attend college across the country and make friends that are now like family to me. I have an east coast family.
Leave a Comment
About the Writer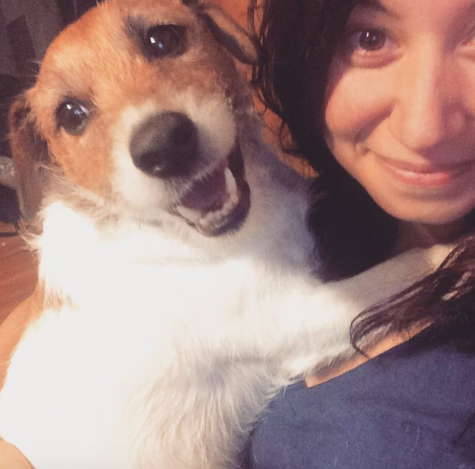 Kayla Simas, Managing Editor
Kayla Simas is a Journalism major at Mercy College. She's from the forgotten borough of New York - Staten Island. She's an avid coffee drinker and enjoys...