Olson Helping Pace Volleyball Team
Before Peyton Olson steps foot on the court, she pauses for a minute. As she watches a few of her teammates dance before their home game against Roberts Wesleyan, she pulls out her phone. She presses play and hip-hop music begins, offering Olson a sense of motivation.
She's now ready to get out on the court and play the best she can with her fellow Mavericks. And the game today is not just any game. It's the first game her father is coming to see for the season, as he always watches from home through live streams.
It's a day she had thought about for ages.
Olson, a sophomore studying marketing, has played volleyball since eighth grade and found a new passion for the sport ever since.
"My cousin and I played recreational volleyball just for fun," Olson began to say. "And it just took off from that point on."
"My coach at the time was extremely passionate and wanted us to work hard," she adds as she smiles.
Olson describes her coach as someone who cared enough to always help the players better themselves.
"He was always tough when it came to the sport, but that was normal," she says as she refers to how volleyball is much different from where she's from.
Growing up on the west coast, Oregon, to be exact, Olson has experienced the sport to be extremely competitive.
"Not only is it the mentality of the sport, but the physical aspect of it, too," she said. "It's more of a concrete feel."
When describing what she means, Olson believes that it's perhaps because volleyball is rather more popular on the west coast, than it is here, on the east coast. But that didn't matter to Olson when she was looking for colleges, as she just planned on going away for school.
"I wanted to go somewhere that wasn't Oregon," she began to say. "And I got my wish."
"New York is very different. Oregon's very green," she pauses for a second. "Just trees and land, nothing more. Here, it's very diverse with people."
Diverse is the word Olson would also use to explain her team, although there's only eleven players. Playing for a small team has it's ups and downs, as Olson explained it.
"It's fun because there's always a closer bond, but there's a down side to having a small team," Olson said. "Because volleyball is such a physical sport, we can't afford injuries. If someone gets hurt, that forces the rest of us to do more than one job out on the field.
"But I wouldn't change the team whatsoever. I love this team."
Coming from a team with only eleven players, Olson is one of the team's valuable players. In the 2015-2016 season, she was named the Corvias Eastern College Athletic Conference Division II Volleyball Rookie of the Week, where she led the team with 365 kills, averaging 3.32 kills per set. Olson has also received the East Coast Conference Weekly Report Honor Roll for Week One, Three and Eight during the 2015-2016 season, while she received Week Five, Six, and Seven, for the 2016-2017 season.
Olson admits that she desires higher accolades than the Honor Roll award, but it gives her a lot of motivation and she's honored to receive it as not many student athletes get the opportunity.
"I just feel (life) is easier when I'm busier," she says
Being named Rookie of the Week is something Olson is also proud of, as she says it's not common for a freshman to play their first year. When she was given the opportunity to do so, she played her heart out and it reminded her of one of her most exhilarating moments in volleyball.
"Back in high school, my team won state and that right there taught me that working hard for something you believe in gets paid off."
***
The 2016-2017 season for the Lady Mavericks started off with a turn for the worst as they have an overall standing of 4-20 with wins over Molloy, Salem International, Roberts Wesleyan and Dominican.
"Yeah, we may need more wins, but while we're out there playing, we're all having a good time," Olson said. "There's times we get flustered, while there's other times when we shine and do so well."
As Olson describes it, this is the season of redevelopment.
"We have a brand new head coach, who works us to be the best we can," she said. "Right now, we still have a few more games left, and whatever happens, happens. We always have next season to improve on what we did wrong this season.
"We're pretty much setting the pace for next semester."
Olsen currently leas the team in kills with 262. Andrea Velasco is second with 167. Brianna Heffernan leads the team in digs with 245, and Velasco is second with 200. Brooke Runge recorded 185 digs and Olsen tallied 148. Danielle Saransky and Lean Petty recorded 37 and 32 blocks this season.
On Saturday, Oct. 15, the volleyball team held a Breast Cancer Awareness game, in honor of three ladies who have close connections to the team. During the game, raffles were held and t-shirts were handed out. All the proceeds went towards raising awareness for breast cancer.
All "pinked out," these Lady Mavs were ready to play against Daeman (3-0) and Saint Anselm (3-2), which ended in both losses.
It may not have been the perfect score Olson wishes her team would've had, but it was definitely a great weekend she got to see her dad, after watching the games.
"He's my biggest supporter, and even when we lose, he's still there to cheer me on."
Leave a Comment
About the Contributor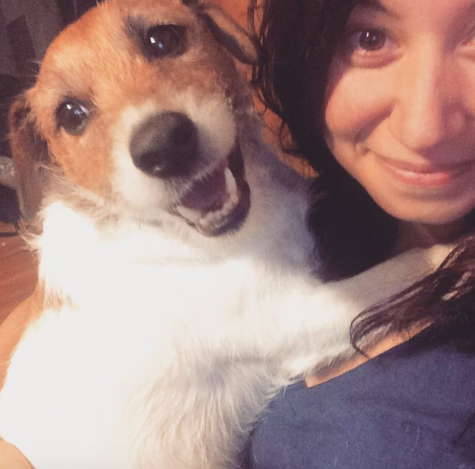 Kayla Simas, Managing Editor
Kayla Simas is a Journalism major at Mercy College. She's from the forgotten borough of New York - Staten Island. She's an avid coffee drinker and enjoys...