Escala Returns To Squad; Team Falls in ECC Semis, 2-0
Standing front row by the fence of the Mercy Field, Stephanie Escala was cheering on the Lady Mavericks during their 2014-2015 ECC finals. The game against the Bridgeport Purple Knights was ongoing and first goal went to Mercy in the 68th minute.
Fourteen minutes later, Escala felt as though she had more anxiety than any of the players out on the field as she watched the Purple Knights attempt to even the game, taking a shot. Luckily, there was no match for the Mavs, as goalkeeper Nicole Augustine preserved the win for her team.
Feeling relieved, she watched as the clock was counting down the seconds. By this point, the Lady Mavs were already celebrating their 2014 East Coast Conference Championship with a 1-0 win.
It was then, in that very moment, Escala decided she wanted to be a part of a team again. Not because they were champions, but because of the joy in winning that was brought to the team.
The joy of soccer, as Escala describes it.
The second semester junior studying exercise science with a track in performance, took a break from soccer due to financial reasons, but still supported the team. Looking back, she regrets leaving but knows now that coming back was the best decision she's made thus far.
"I just wanted to get back to the sport I loved the most," Escala said with a smile. "Soccer was my getaway.
"It's my stress reliever."
She learned this after she played just about every sport a girl could play.
"I played basketball, lacrosse, and softball," she began to say. "But there's no other sport like soccer."
Escala admits that the other sports were rather more of a, "you play to just play," while soccer, on the other hand, "you play to better yourself."
"Soccer gave me the type of energy that I enjoyed and has always held a special place in my heart."
Quitting the team wasn't something Escala planned on doing during her collegiate years, but watching the team excited for their win, she knew she had to make a change.
"I should've never quit," she began to say. "I just needed to come back and finish what I started."
Luckily for Escala, after talking to her coach, he welcomed her back with arms wide open.
"At first it was difficult because I hadn't played for about a year. I had to work hard to get back in shape and prove why I deserved to be there," Esala said.
Once she was back, it was as though she never left. Aside from her coach, her teammates welcomed her with open arms, as well.
"It was a big achievement for me," she added.
"I appreciate my coach for letting me come back and teammates for me there for me."
***
The last game of the season against the Bridgeport Purple Knights started with a ceremony honoring two of the Lady Mavs graduating seniors. Head Coach Jonathan Feinstein and the Mercy athletic department recognized Samantha Longo and Libby Zelikowitz.
Shortly after, the Lady Mavs were ready to get out there on the field and play their hearts out and keep their winning streak. They kept it going until the 16th minute when the Purple Knights scored and had a 1-0 lead.
In the 18th minute, freshman Dominique Banks saw her chance, took the shot but hit the crossbar, keeping the score at 1-0. In the 26th minute, the Purple Knights got the ball to the back of the net, once again, adding another point. Barely a minute later, they scored their third goal with a 3-0 lead, heading into half-time.
The Lady Mavs knew they needed to step up their game, but there was no match as the Purple Knights scored in the 52nd and 78th minutes, creating a score of 5-0.
Fearing there would be no score, the Mavs tried their best as it neared only 39 seconds left in the game. Banks sent a cross to the front of the net as Zelikowitz fired it into the net and scored a goal. It was Zelikowitz' first collegiate goal in her final game as a Maverick.
Though their winning streak came to an end, these ladies were still proud to see themselves up on the board with 5-1.
The season was far from over though. The Mercy College women's soccer team secured the No. 3 seed in the ECC season-ending conference tournament played at No. 2 seed LIU Post Pioneers on Wednesday, Nov. 2, in a semifinal matchup.
Entering the ECC semifinals, the Mavs were ready mentally and physically, as Escala said, and she has hope for her team's future.
This would mark the Mavericks fourth straight appearance in the tournament, as they looked to advance to the championship game for the first time since 2014, when they were crowned champions on their home field.
Mercy also looked to help their NCAA tournament resume with a win over the Pioneers who entered the week ranked third in the East Region regional rankings. The Lady Mavs last made the NCAA Tournament in 2014 when they advanced all the way to the East Region Final for the first time in school history.
LIU Post would drop Mercy to 12-5-1 with a 2-0 victory. Mercy dominated the shots on goal category, doubling LIU's output, 16 to eight, but fell short.
Proud of how far her team had gone, Escala says the hard work truly pays off.
"We have to get up early for 6 a.m. lifts and 8:30 a.m. practices," she began to say. "We do it not because we have to, but because we want to be the best."
"We're taking it game by game and working really hard to prove we belong there," Escala said.
"We have a good standing and ranking because all we ever do is work extremely hard and push to better ourselves."
Forward Haley Noble led the team with 10 goals. Heidi Serna chipped in six scores as Alyssa Iannuzzi and Jessica Brandt each scored four. Serna led the team with six assists. Ashely Price recorded 56 saves this season with a goals agains average of 1.17.
***
Soccer has taught Escala to be passionate for something she loves, and to never give up. And that's something that she did after originally quitting the team.
There's not a day that goes by that Escala is constantly thankful for her coach to let her come back. With the similar excitement the Lady Mavs felt during their ECC game, Escala says she's excited that she may have one last season of soccer left.
"I recently spoke to my coach about this, actually," Escala said with a smile. "I work hard constantly every time I go out on the field, no matter what and that's what I plan on doing next season."
Similar to Billy Martin, who played for the Yankees, Escala admits that she knows she's not the best Maverick to put on the uniform, but she surely is the proudest.
"I may not be the best player, but no one outworks me."
Leave a Comment
About the Contributor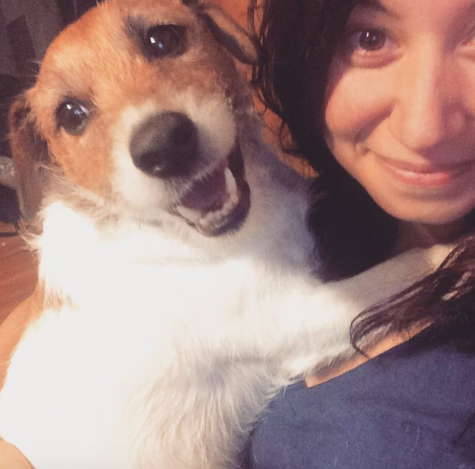 Kayla Simas, Managing Editor
Kayla Simas is a Journalism major at Mercy College. She's from the forgotten borough of New York - Staten Island. She's an avid coffee drinker and enjoys...