Hickey Blessed To Play The Sport He Loves
As Ryan Hickey walked out onto the court for his first appearance as a Maverick, he knew this game was different than any other game he's ever played before.
Looking around, he watched and heard the cheering crowd echo as he stood in the middle of the three leafed clover, right on the blue symbol. In that moment, he had no words to express what he was feeling.
He was mesmerized and in awe.
Hickey was standing on the floor that has been used by some of the best in the conference. The same floor he's watched on television many teams from the ACC play on since he was a kid.
Thinking it was just a dream, he was wrong. He was really standing on the court the Fighting Irish call home.
"Historic schools such as Duke, North Carolina, Notre Dame, Pittsburgh, and Syracuse have all played on that court," Hickey began to say as he shared a smile. "But now I was going out there to play on that court. Mercy was going out there."
It was a once in a lifetime experience the MBA turbo graduate student can say he experienced.
"It was extremely surreal, I can't help but feel truly blessed."
***
Growing up, Hickey knew he wanted to be a leader and play his heart out as best as he could just like the legends he looked up to as a child. By doing so, he wore the no. 15 since he began playing basketball at the age of four.
"I'm a die hard Yankees fan and Thurman Munson, a catcher from the 1970s, wore the no. 15," Hickey said. "Vince Carter was my guy when he played for the Toronto Raptors in basketball, he also wore the number 15."
"It just felt appropriate to wear the number 15 as it's blessed me to where I am now."
With a genuine love for the sport, Hickey specifically loved the advantage basketball gave him, and the drive he received from the ability of getting to make a difference so quickly.
"There's a big advantage to playing basketball over any other sport," Hickey said as he began comparing basketball to baseball. "In baseball, you can have an out at bat. You can not perform up to your standards when you strike out, but then you have to wait three innings to try again, which can sometimes be an hour or more, to finally make the impact you want."
"But in basketball, it's not like that. If you make a mistake, you can make it up on a fly in the next position, which could be a minute later."
In high school, Hickey was a four sport athlete who played baseball, volleyball, track and basketball. After scoring 1,111 points and his love for the sport, he knew he wanted to continue playing basketball during his collegiate years. He attributes basketball to teaching him vital skills, aside from leadership, he never would've learned elsewhere.
"Basketball taught me the incredible importance of self motivation and resiliency," Hickey began to say. "Two traits I don't even know where I would have developed, if it wasn't for this game."
"Playing this game, you just learn to push and better yourself everyday," he added as he referenced playing undersized in a tall man's game.
Taking those skills while debuting his collegiate basketball career as a Dowling College Golden Lion, Hickey's leadership helped name him captain for two years of the three years he played. Luckily for him, Hickey was able to finish his undergraduate within three years before Dowling's closing.
Looking back at his time as a Golden Lion, Hickey proved himself as he came to Mercy with 10.5 points, 4.1 rebounds and 3.2 assists per game. He was the recipient of the CoSIDA Academic All-District Team in 2015-2016, as well as ECC Scholar-Athlete of the Year in 2015-2016.
"Receiving the CoSIDA is a pretty great achievement, as they're given out by regions and based on your academic and athletic performance," Hickey said. "And to know I was a recipient of it was a great feeling."
When it came to looking for schools for his MBA, Hickey also had in mind his last year of basketball. Coach Jody King notified him about the ECC Athletic of the Year Award Scholarship, and that Mercy would be a great fit for him to finish out his collegiate basketball career.
After thinking it over, Hickey committed to becoming a Maverick and says it's been one of his best decisions thus far.
"Everyday I'm adapting, especially with my teammates," he began to say as he let out a laugh. "My whole college career I played against these guys and now, now I'm playing alongside them."
"It was definitely weird at first, but we started the season off to a great start. We got all the cylinders into place and are ready for what the rest of the season has in store for us," Hickey said.
Though it's still too early in the season for the Mavericks, their recent game against the Bridgeport Purple Knights where Hickey scored a team-high 13 points, it wasn't enough as the men's basketball team dropped down to a 1-8 standing, after a 71-89 loss.
Hickey doesn't focus on being one of the top scorers. Instead, he believes it's a team effort and the team this season is filled with a great group of guys he knows are capable of getting far, as they did last season.
"The best part about being a part of a team is when you win," he said. "It's a feeling I will never get tired of."
With a big smile across his face as his eyes lit up, Hickey said, "Next stop, ECC, baby!"
***
The Mavericks took a big risk as they faced off the Fighting Irish, the Division I team that is among the nation's elite, for the first time ever. A team high of 14 points from Hickey and senior K.J. Rose did no justice as they suffered a loss with 119-58.
Hickey described this game as a glorified scrimmage, where score is kept and official referees are used, but the game doesn't officially count.
"It's the game where you find the tunes for the season, pretty much."
Yet it is one every Maverick will always remember.
Opening the contest, the Irish had the first points of the game, but the Mavs responded back with a three from senior Raphael Jennings to take their lone lead of the the game at 3-2 with 18:59 left in the first half. At the 16:23 mark, the Irish came back with a 10-4 run taking a 12-7 lead.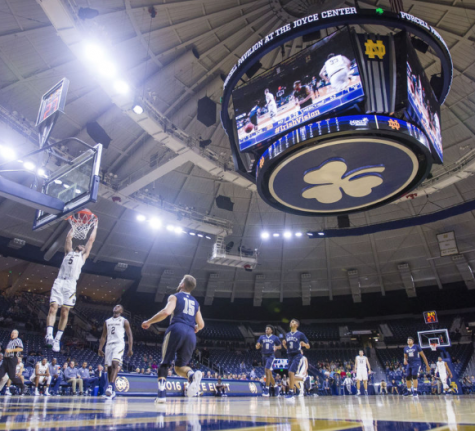 The Irish distanced themselves from the Mavericks with a 13-2 run to take their first double-digit lead of the contest at 27-14, with 10:41 remaining in the half, forcing Mercy to take a timeout.
Hickey drained a three, and senior Isaiah Cosbert made a layup to trim the Irish lead to 27-19, with nine minutes left in the half. After a trifecta made it 30-19, Cosbert made another layup to cut the Irish lead to single digits, 30-21, at the 8:11 mark. Closing the half, the Irish took the lead with 55-28
The second half saw the Irish score the first nine points in the frame as they cruised the rest of the way in earning the victory, with 61 points over the Mavs. The Mavs shot 30.6 percent from the floor on the night, while the Irish connected 62.1 percent of their attempts.
During the course of the night, Rose added four assists and four rebounds, while Hickey went 5-of-9 from the floor, including 4-of-8 from downtown. Cosbert contributed nine points and Jennings contributed eight points and four rebounds.
Regardless of the loss, Hickey was glad to have been a part of such a memorable game, as it has shined a light on his last season. Knowing the team played their hearts out and scored as much as they can against one of the nation's elite, Hickey has much gratitude towards Matt Kilcullen, the Director of Athletics, who arranged this contest.
Never in a million years did he think he would be given the opportunity to step foot on the court that's filled with such history and tradition. But he did, and he did it all while wearing his lucky number 15 jersey, like past legends.
"I just remember thinking my ultimate goal was to win once I got there. But once I got out there on the court," he paused for a second as he looked out the window, trying to find the words.
As he started to speak, he asked, "You know that feeling when you're stuck in a moment and you can't find the right words to describe what you felt because of just how amazing it treated you? That's what it's like for me, but standing out there on that court and noticing how big it is and the crowd, it was the best surreal feeling I've ever experienced."
This year more than ever, Hickey has been doing a lot of reflecting and appreciating everything in his life. As he looks back on his entire collegiate career, he looks at it in retrospective; many of his achievements have all stemmed from basketball. It's one of the many things Hickey is truly blessed to have in his life.
Owing it all to God, Hickey thanks him for every opportunity he's been given, especially when it comes to basketball. Without him, Hickey knows he may never had the chance to play his senior year of basketball at Mercy as a Maverick, or be given the opportunity to play on the court of the Fighting Irish.
"You know, as a student athlete, you're around so many athletes and parents your entire basketball career," he began to say as he looked out the window. "You see so many people that have the ability to be the best, but not everyone is given the opportunity you were given."
"You look at it and see you have a whole new appreciation for where you are at," Hickey said with a slight smile.
Knowing every opportunity is a blessing, Hickey believes everything happens for a reason. And as far as where he will go with basketball after this season, he's unsure. Just taking each day as they come to him, Hickey says, "Wherever life takes me, I'm ready for it. I'm just blessed to be here."
Leave a Comment
About the Contributor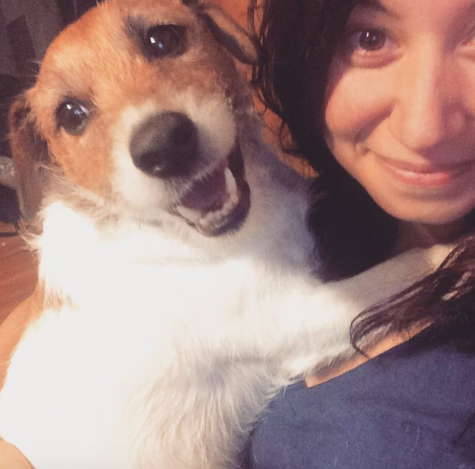 Kayla Simas, Managing Editor
Kayla Simas is a Journalism major at Mercy College. She's from the forgotten borough of New York - Staten Island. She's an avid coffee drinker and enjoys...