Fina Helps Lead the Mavs In ECC
Walking out onto the field with their game face on and brand new jerseys, the Mavericks were ready for the season opener against the Stonehill Skyhawks in the Palmetto state.
After a scoreless first inning for both teams, senior Charles Fina led off the top of the second for the Mavs with a single but was left stranded.
The Skyhawks got on the board first with six runs in the bottom of the second as they slugged in five hits in the innings to take what seemed to be a comfortable 6-0 lead after two innings.
The score remained 6-0 heading to the top of the fifth inning when the Mavs knew they had to step up to the plate. It was as though, in that moment, they had an angel looking over them when their offense exploded with six runs on two hits.
Junior Ralph Pasols recorded an RBI to start the rally and freshman David Deberardinis later scored, to make it 6-2. Junior Justin Kiesow drove in freshman John Mooradian with a sacrifice fly to get the Mavs within three. Junior John Young later drove in a run as the used the two Skyhawks' errors to help even the score at 6-6.
The game remained 6-6 until the Skyhawks erupted with a pair of runs with a single in the bottom of the sixth to give them an 8-6 lead.
Senior Randal Mendez tied the game with two-RBI single in the eighth Kiesow drove in the go-ahead run in the next at bat to put the Mavs ahead for the first time at 9-8. Young later plated Mendez on a sacrifice fly to right field to give Mercy an insurance run and a 10-8 lead.
Freshman Matteo Finocchi shut down the Skyhawks' offense the rest of the way to give the Mavs a come-from-behind victory.
It was the second defeat against Stonehill for the second straight year in the season opener. For Fina, a sports management major, it was a reminder at how similar it was to his first Division II game.
"Playing Stonehill last season was my first Division II baseball debut under the lights," Fina said.
"It was extremely nerve wracking, but at the same time, it was a great feeling just to stand out there on the field and play," he added as he described the feeling of being relaxed and how everything worked for the team, start to finish.
Though it didn't work for the Mavs in the beginning of this season's opener, many of the returning teammates know exactly what led them to that victory: Nick Daley.
Daley, who was described by many as being the heart and soul of the team, passed away last June in a vehicular accident. The team came together and decided they wanted a way to remember the type of player he was and did so by getting the No. 4 stitched on their new jerseys.
"Daley was a great friend to many of us and everything you wanted in a player," said Fina. "He's been a huge inspiration for us all."
"We all know he's watching over us, but having a piece of him will always remind each of us just what we're playing for."
***
To many athletes, sports have the biggest influence in their life. For Fina, baseball is everything. He fell in love with the sport at a young age as his father is a big Yankee fan.
He decided to take his love for the sport even further and has since used it as an outlet for everything that goes on in his life.
"Once I step out on the field, I forget about whatever it is going on in my life, and I just enjoy being in the moment," he said. "You have to love the game you're playing and the time you're playing it because one day it'll all end."
Trying to avoid his Mercy baseball career ending, being a Maverick wouldn't be possible if it wasn't for Coaches Schoen and Lamando, who recruited him two years ago.
Prior to Mercy, Fina attended Ulster Community College because he felt he wasn't ready for college, but wanted to develop himself more as an athlete.
"It was one of the best decisions I ever made, then putting the pen to the paper," Fina said. "And here I am."
"Not a lot of my family went to college and did things I'm getting to," he said. "I'm fortunate enough to get a scholarship and play here."
After appearing in 38 games, Fina recorded 33 hits, 17 runs, 13 RBI, 11 stolen bases, and seven doubles in 117 at bats. He finished the 2016 season with a .282 batting average, a .342 slugging percentage, and a .356 on base percentage. Fina was also named to the weekly Honor Roll for week eight of the season.
His hard work and dedication to the sport helped him succeed the role of being captain for the 2017 season.
Taking on the leadership position, Fina knew exactly what he wanted to do to make the season a good one. He not only hopes to fulfill it, but he looks forward to teaching the new group of freshmen about traditions, what it means to be a team and a family.
"I've always had this mindset that team comes first, no matter what," Fina said strongly. "People don't realize how important that is."
"We have this saying on our team and it's, 'You go. I go. We all go.'"
To say the baseball team is like a family would be an understatement. Where one goes – they all go – that's for sure.
"We all mesh together and have the best team chemistry I've ever witnessed," Fina said. "I'm blessed to have the opportunity to get out there on the field and be able to go to war with these guys."
Being captain isn't just about being vocal, it's also leading by example and motivating others. If a teammate is doing well, Fina won't let their success stop there. Instead, he pushes them to strive further.
"I love motivating others and getting them to believe in something, even if it's a long shot."
He always has confidence that everyone in the lineup can contribute day in and day out, in what he believes to be a mental game.
One has to be mentally and physically sharp at all times in order to get through every game, something the Mavericks need, especially this year after losing one of their own.
"I try my best to pick them up and get them out on the field, ready to fight."
He offers them the same advice his uncle once gave him, 'endeavor to persevere.'
"No matter what goes on in your life, you have to keep pushing forward," Fina said with a smile.
That's exactly what the Mavericks continue to strive for as they're playing for Daley and enter a season where they've so far seen five wins and nine losses.
After coming off of a season where they saw 13-29, the team was picked to finish sixth in the 2017 East Coast Conference Preseason Coaches Poll.
With the 13 games down, they hope to live up to that pick and look to push forward, as they have many returning team members.
Along with Fina, senior Nick Arcabascio, who led the team with a .301 average and was second on the team with 26 RBI, returns. Mendez is also playing well, who batted .289 RBI and a team-high nine doubles last season. Leading the returners on the mound is senior Matt Nalbone, who is coming off a strong season where he posted a 2.85 ERA with 68 strikeouts in 72 2/3 innings.
Regardless of the appalling start, Fina explains, "With this game, you're going to fail more than you succeed, but you learn to deal with it."
The Mavericks had their first home opener March 5 against American International for a double header where they tallied in two losses.
"I have confidence in us, if we stick to our plan and trust the process, we can contend with anyone just like we did against Stone Hill," Fina said.
On March 24, the Mavs find themselves in the first game qualifying them for the ECC, against University of Bridgeport for a doubleheader.
The team looks forward to have their first ECC Tournament berth since the 2010 season.
"We're gonna do big things," Fina said."It would be big for us and Mercy if we accomplished something that big."
"But the ECC is the dream."
***
As the Mavs prepare for their next game, Fina stands in the dugout, watching as Daley's jersey is being hung up. Right before he goes out onto the field, he pauses and looks around him.
He sees his teammates and in a distance, his family, who have supported him his whole journey through baseball.
He vows to himself to soak in every last minute he has with his team and time on the field, before it runs out.
"Baseball has been a big part of my life since I was five," he said with a smile. "I've always enjoyed playing but you don't realize how much you truly love the game until you're in your senior year and it's almost over."
Fina is sure that he'll stay involved with the sport, and take his leadership skills to the next level.
"I want to coach eventually, but obviously it won't be the same as going out on the field and competing, but it's something."
"It's just really tough to say goodbye, I'm not ready to," Fina said as his voice became soft as he's coming to the realization this is the end.
He'll no longer have long hours of practice, or the long rides with his teammates who have become like family. He'll have a different routine than what he's used to; there'll be no more tossing the ball around to get ready and relax for the game.
The sport that he's relied on to escape his problems and relieve stress won't be as easy to get rid of. The game Fina looked forward to every springtime will eventually come to an end.
As Fina looks down, he says tenderly, "I won't be an athlete anymore." Yet he will always have the memories of one.
Leave a Comment
About the Writer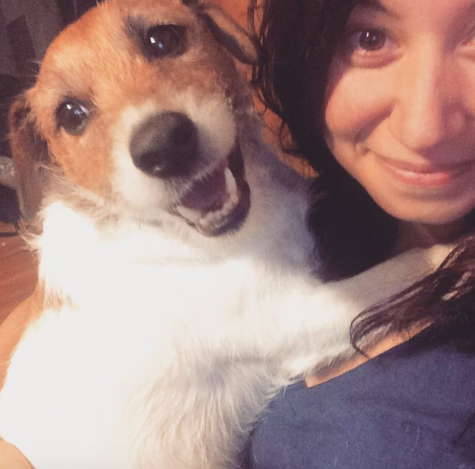 Kayla Simas, Managing Editor
Kayla Simas is a Journalism major at Mercy College. She's from the forgotten borough of New York - Staten Island. She's an avid coffee drinker and enjoys...