Men's Soccer Wins ECC Title
The Mercy Men's soccer team has won its first ECC championship in fifteen years when it defeated the University of Bridgeport, 3-1, in overtime on penalty kicks.
In the semifinals, Mercy defeated Molloy College, 1-0. The Mavericks (14-3-3) were led by three penalty kick saves after triple overtime by Joel Serrano. Serrano had previously made three saved during regulation and overtime. Manuel Achondo, Ignacio Mangada, and Santiago Corral all scored on their penalty kicks.
Bridgeport goalkeeper Carlos Torfern made nine saves. Nkolai Vadseth scored on a penalty kick after overtime.
Mercy held a 27-9 advantage in shots and 6-3 edge in corner kicks.
Mercy did not have a strong past against Bridgeport, only compiling a 5-9-3 record.
Mercy was the top seed for the second straight season and hadn't won an ECC title since 2004. With this appearance, Mercy has gone to the ECC championship for three straight years.
Mangada has a team-high 22 points on the regular season. He has been doing it all this season scoring eight goals and six assists. Corral has 17 points on the season. Goalkeeper Serrano has recovered 28 saves on the season
Achondo punched in his lone goal against Molloy in the 39th minute. This win tied Mercy's win total of 14, tying the 1986 team. It was his fifth goal of the season. Achondo had three saves in the shutout. He scored on a penalty kick after Molloy foul in the box.
Mercy led in shots, 17-3, and corner kicks, 9-1.
As for Molloy, it was its first appearance in the ECC since 2016. Molloy ended the regular season hot on a six-game winning streak heading into the playoff game.  Anthony Cestaro has had a stellar season scoring 24 points for Molloy. Carlos Bonilla added 19 points on the season.
Mercy now has an 8-6-2 record against Molloy. Bridgeport defeated Robert Wesleyan in the semifinals in the other side of the bracket.
Earlier in the week, some students earned individual conference awards. Gaston Rozenblum was named the ECC Defensive Player of the Year. Pedro Velazquez was awarded Co-Coach of the year.  Rozenblum and Velazquez have won their respective awards two years in a row.
Rozenblum, Achondo, Aaron Denk-Gracia were awarded first-team conference honors. Magnada, Jose Izarra, Francisco Ricci and Serrano were named to the second team.  Maximillano Rebolledo-Camus and Matthias Kuhn were awarded third-team honors.
Leave a Comment
About the Contributor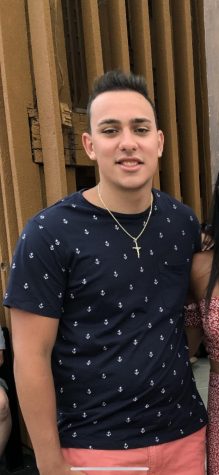 Michael Panteleo, Impact Staff
Michael Panteleo is a senior and studies journalism at Mercy College. He enjoys writing, watching, and playing football and basketball. He is a member...