Remembering Neil Judge
In December of 2022, Mercy College dedicated the gymnasium in Victory Hall to former Mercy athletic director Neil Judge. On January 27, Judge passed away at the age of 80. Judge is survived by his wife, Mary, his three children, and his seven grandchildren.
Judge served as the first athletic director in the history of the Mercy College athletic program, serving in that role for 34 years until his retirement in 2005.
Among his accolades while serving in this role, Judge helped Mercy gain membership in the Eastern Collegiate Athletic Conference in 1973, helped Mercy become a recognized NCAA institution in NCAA, and made Mercy College a charter member in the New York Collegiate Athletic Conference in 1989.
Judge, who also served as the head coach to every single team on campus at some point during his tenure, was inducted into the Mercy Athletics Hall of Fame in 2006, was awarded the East Coast Conference (ECC) Lifetime Achievement Award in 2011, the Mercy Lifetime Achievement Award from Mercy in 2017, and was inducted into the ECC Hall of Fame in 2018.
Mercy College every year awards the Neil Judge Award to the best student-athlete on campus. The best student-athlete on campus exemplifies all of the qualities necessary for being a top student, as well as being a superb athlete.
Mercy assistant athletic director Bill Sullivan has been with the institution since he was hired as an assistant baseball coach in 1994. Sullivan remembers his first meeting with Judge fondly, and he remembers to this day the first thing that Judge ever said to him.
"In my first meeting with Neil, he asked me what is the measure of success for the Mercy Athletic Department. I was 22 years old and fresh out of college. I wasn't too sure what the right answer was."
What Judge said back to Sullivan is something that continues to echo in the department in the year 2023.
"Neil said to me that 'Here at Mercy, success is measured by a photo on this wall. (in reference to the wall of student-athletes who graduated from the college) If the photo is hung it simply means, we were successful and we did our job. And it has nothing to do with any outcome on the fields and courts of play."
Judge was adamant in his stance that the measure of success for Mercy was making sure every student-athlete excelled in the classroom, graduated, and went on to become a successful member of society. He made sure each member of the athletic department was on the same page each year.
"His character was infectious," said Sullivan. "He was a man that everybody in this department loved and the person that everybody wanted to follow. Anybody who ever had the pleasure of working for Neil would say that he's one of the best guys out there."
In the dedication of the gymnasium to Judge, Sullivan made it clear that all of the past success and current success of the program was because of the culture that Judge started from the time he began his Mercy career, to the end of his tenure and beyond.
"To our current and former student-athletes with us today every positive moment, every win, every conference championship, every NCAA appearance, every trip to the Sweet 16, every Final Four, and every National Championship game is because of our firm foundation and that foundation is Neil Judge's shoulders to which we all stand on."
Mercy President Tim Hall also made note of the impact that Judge has had on the athletic program and the college as a whole, even in his retirement.
"Mercy has experienced a renaissance of our athletics program in the last 10 years, and I attribute it to our leadership now, and to Mr. Judge. We've seen a renaissance of what was alive before," said Hall.
While also making sure that education was a priority amongst all of the members of the Mercy Athletic Department, Judge also made sure that family always came first in everyone's life.
"When you would talk to Neil, he would never ask first how the teams we're doing on the field. He would always ask 'how's the family?' first. He made sure that family was the main priority."
Sullivan also added in his own personal relationship with Judge, "he acted as a father figure for me. He was a mentor and a friend."
Judge's legacy will forever be felt at Mercy College, and as Sullivan said, "with his name now on display in Victory, he will not be forgotten."
Leave a Comment
About the Contributor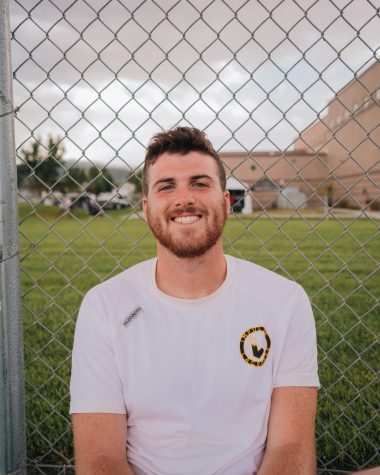 Zack Higgins, Impact Staff
Zack Higgins is a 5th year Media Studies major at Mercy College.  He is a previous student of Salisbury University, Onondaga Community College, and the...