10 Feel Good Things to Watch While You're Quarantined
With everything going on right now, it's easy to get caught up in the negative. There are new things posted every single day about the state of the world and people can easily get lost in how scary things are, so it's good to have an escape at times. During this hard time, I've spent a more hours than normal stuck in the world of television and movies. Certain shows have kept me from falling into some black hole because of the scariness of the world right now. I'm going to share with you ten things I've been watching since being cooped up in my house.
New Girl (Fox, 2011 – 2018)

The first show I'm suggesting is New Girl because it's been the only thing on my mind for the past two weeks. This show is the top reason for my sanity right now, and it makes being stuck in my house actually bearable. Two of my closest friends suggested this show to me during the school year and I didn't pay much attention to the first episode, probably because I had other things to focus on. I kept seeing people on Tiktok talking about this show, some people doing impersonations of some of the best characters, and other people saying this show felt like a warm hug. It was then that I decided I'd give it a chance, because I could certainly use a warm hug in the form of a TV show right now, and boy was she right about that. Within a week I was two and a half seasons in and I fell in love with every character only a few episodes in. There hasn't been a single episode that hasn't made me actually laugh out loud, and every character is just downright likable, even the ones you don't expect to like. 100/10 recommend watching this show.
Zoey's Extraordinary Playlist (NBC, 2020 – )

Zoey's Extraordinary Playlist is a brand new show on NBC and just wrapped it's first season, and I'm hoping to whatever's out there that it gets picked up for another season. After the debut of this show, NBC took a month before airing the second episode so they could continue advertising it by placing ads for it pretty much everywhere. They uploaded the full first episode without commercials on several different platforms such as Facebook, Hulu, Spotify and even made the episode an ad on YouTube videos, taking into consideration that many people no longer use traditional means of watching television After seeing advertisements for this show EVERYWHERE, I decided to jump into it. The first episode hooked me and every Sunday since then, I've been eagerly waiting for another episode. Every episode is filled with laughter, emotion, incredible performances and dance numbers, which may sound cheesy but I promise that they do it in an amazing way! In the first episode, the main character gains the power to hear people's "heart songs," as she calls them, and works to help those around her. This show deals with religion, sexuality, heartbreak, grief, workplace and everything in between, and it's even helped me to heal from things in my own life. It's by far my favorite thing to air in 2020.
Brooklyn Nine-Nine (NBC, 2013 – )

Brooklyn Nine-Nine has been my favorite show since it first started in 2013, and I've never been disappointed by it. Every character has their own quirks and personalities that are fleshed out so well, and I don't think there's another show that's ever made me laugh or cry so hard. You get to see the development between the characters who grow into their own little family that you can't help but to feel like you're apart of. The show got cancelled by Fox in 2018 after five long and successful years, and fans were not happy. There was an outbreak on social media where people ridiculed Fox's decision, and the actors expressed their own disappointment. Luckily only 33 hours after the show was cancelled, NBC decided to pick up the show and they've continued it for the past two years. Brooklyn Nine-Nine has become a staple in my life, and I think that most people will enjoy the humor of the show and everything the characters go through.
John Mulaney & the Sack Lunch Bunch (Netflix, 2019)

John Mulaney & the Sack Lunch Bunch is easily one of my favorite feel good things on Netflix. The first thing I had ever seen of it was at the very end when Jake Gyllenhaal makes his appearance as Mr. Music, because a friend of mine knows that Jake Gyllenhaal is easily my favorite actor, and from watching that last ten minutes, I was hooked and wanted to watch the entire thing. Honestly, you could watch anything of John Mulaney's and you would enjoy it, because that man just has a good presence to him, I think. He's so naturally funny and I've enjoyed every special of his, but watching him tackle topics for all ages with kids adding to the entertainment, along with different sketches, catchy songs and several notable guests? It's pretty much perfect.
The Good Place (NBC, 2016 – 2020)

I'm going to start this by saying that Kristen Bell is perfect and she's reason enough to watch this and any other show. If that's not enough for you, though, The Good Place is so clever and absolutely incredible. This show is about a group of people who were once considered bad, but grew with one another and became better. It shows that people can always improve, and that's something I love. I'm a firm believer that people are constantly evolving and growing, and there's always room for people to be better, no matter what they once have done. The characters in this show display incredible growth, and it actually made me want to be a better person. I was heartbroken when the show ended, mostly because I think I would have enjoyed another hundred seasons, but NBC wrapped this show up perfectly and it didn't feel like it was dragging on by the end of it, which a lot of shows do wind up getting like that.
Too Hot to Handle (Netflix, 2020)

Okay, maybe this isn't so much "feel good" as it is just plain entertaining, but I felt like it had to be added into here because I loved watching this show. The show has a pretty strange concept, and the characters can be so ridiculously annoying, there were times that I wanted to shut it off, but I just couldn't. For some strange reason, watching random single people struggle with love is such an appealing thing to many people, myself included. If I wanted to argue that it isn't a stupid show, I could go into the fact that these people really grew into themselves and were better people by the end of their experience, but… I don't want anyone thinking that I don't find it to be a silly show, because I do. The premise of the show is that these ten singles have to withhold from having any sexual experiences with one another, unless they're given permission to do so, and if they don't abstain from this, they lose money from the grand prize of 100,000, according to what it is they did. It's insane to me that people would rather kiss one another rather than get that much money, but to each their own, I guess? Anyway, this show is filled with a ton of drama and bad decisions, and a hilarious host guiding you through every episode.
The Office (NBC, 2005 – 2013)

If you've looked through this entire list, you know by now that I love NBC and you've been just waiting for me to put The Office. I'll admit, the first season of The Office is a lot slower than the rest of it, and when a certain someone (I'm not about to spoil it!) leaves, things aren't as good, but I still enjoy the show in its entirety. This show has one of the largest fan bases ever, and rightfully so. From Dwight's pranks, to Michael's extremely inappropriate jokes at the office, down to Creed's creepy and hilarious one-liners, this show is absolutely hilarious. It started a trend of using documentary style in sitcoms and I'm so thankful for that, because the confessionals of the characters are some of the funniest parts of it. If you've never watched The Office, do yourself a favor and push through the first season, and if you have watched it, always remember that bears eat beets.
High School Musical: The Musical: The Series (Disney+, 2019 -)

When I first heard about this show, I was ridiculously disappointed in the fact that there was going to be a continuation of High School Musical that didn't include the original cast. Articles were saying that the characters would be "the new Troy," or "the new Gabriella," and my heart just couldn't handle that. High School Musical 1, 2 and 3 were my favorite movies growing up, I still know the songs and I still know the choreography, and nothing could beat the originals. Honestly though, after watching season one of High School Musical: The Musical: The Series… the show comes pretty darn close. It didn't feel like they were trying to replace or do better than the original movies, it felt like its own, new thing that a new generation will be able to watch and love. The show is goofy, and the characters go through things that real high schoolers go through instead of it being completely over-dramatized. I've actually watched this show twice since it came out in November, and I've even watched interviews of the cast and become huge fans of them. Every one of the teenagers in this show are so talented and really do the movies a justice, exceeding my expectations completely. The show left me feeling nostalgic and warmed my heart as I grew to love these new characters just as much as the old ones.
Parks and Recreation (NBC, 2009 – 2015)

Parks and Recreation! I could say so much about how much I love this show and every last person in it, I can't even think of a better cast than this show has. Aubrey Plaza, Chris Pratt, Nick Offerman, freaking Amy Poehler! And that's not even getting to everyone in this incredible cast of people, but those names should be enough to convince you. This show is sweet, it is hilarious, and it has some of the funniest scenes I've ever witnessed. I mean, look at that gif! It's from season 3, episode 13 and I highly suggest you go do yourself a favor and watch it, because it is HILARIOUS. Not only was it hilarious when it was still on air, but it's incredible now. The cast did a reunion episode a few days ago where they picked up their roles and did a video chat tree with one another, talking about the importance of not only taking care of yourself through this pandemic, but caring about the people that you love, and they even set up a fundraiser for Coronavirus relief where they raised $2.8! The reunion started off with a hilarious cold open from Paul Rudd and from that first second, I knew it would be just as good as any other episode.
Glee (Fox, 2009, 2015)

Last but certainly not least, is Glee. I don't know where to begin with this one. I watched Glee from the first episode to the very last one in 2015 and I love this show so much. Be warned if you're watching it for the first time, it's actually incredibly offensive and every single teacher in it should be either fired or arrested, but it's still got a special place in my heart. I started rewatching it with my friends right before we got quarantined, and we laughed hysterically at the things they were saying, but it's not a show for those who get easily offended, believe me. All of the characters are somehow both extremely annoying, and extremely lovable at the same time, and you can't help but to feel like you're apart of their lives by the end of it. Season 4 is a little rocky but not bad, and season 5 should be entirely removed from the series altogether, but I still would say that if you watch the show, you'll grow to love it. There's just something so enjoyable about watching the characters grow as people and as performers, making their way through their lives while tackling real life issues.
Leave a Comment
About the Contributor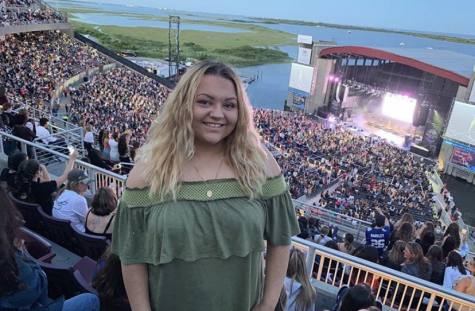 Jillian Simmons, Impact Staff
Jillian Simmons is a junior studying Television and Radio Broadcasting, with a secondary concentration in journalism.

She has a passion for video editing...