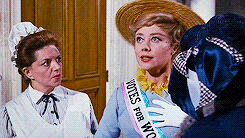 Nora-Grayce Orosz
January 22
Filed under Concerts & Carbs
"No more the meek and mild subservients we, we're fighting for our rights militantly." Starting in the early hours of Saturday January 21st, women (and men and children) gathered in crowds of thousands to participate in the "Women's March" all across the country and overseas in Sydney,...
Staff Profile
Michael Perrota
Adviser
Prof. Michael Perrota began teaching at Mercy College in 2005. Previously, he was a full-time reporter for North Jersey Media Group in the sports and news sections. After he began teaching, he worked in...
Read all stories written by Michael Perrota
Kimberly Franco
Staff Writer
Official records will say I am Kimberly Franco, others may know me as Kiki Facts! I am a Media Studies, TV/Radio Production major at Mercy College. I am addicted to self-help books and healthy living. I am ...
Read all stories written by Kimberly Franco
Britney Hoobraj
Staff Writer
Britney is a Journalism major at Mercy College. Her hobbies include attending concerts, planning on attending concerts, spending hours on Netflix or YouTube. She currently writes a column entitled,...
Read all stories written by Britney Hoobraj
Christine Coleman
Staff Writer
Christine is an English major at Mercy College who is also minoring in Journalism. In her spare time she enjoys writing, dancing, movies (usually scary ones), and anything having to with the Stranger Things...
Read all stories written by Christine Coleman
Justin de la Garza
Photographer
Hi, I take photos. He can be reached at JdelaGarza@theimpactnews.com
Read all stories written by Justin de la Garza
Abigail Smith
Staff Writer
Abigail may be a Public Accounting major at Mercy College but she's not your average accountant. Abigail enjoys meditating, journaling and reading in her spare time. She doesn't believe in life before coff...
Read all stories written by Abigail Smith
Laine Griffin
Associate Editor
Laine Griffin is from the one and only Washington D.C. and is a journalism major at Mercy College. Her hobbies range from playing sports, bartending, spending times with her best friends back at home and...