Legendary Broadcaster, Doc Emrick, Retires
Playoff Hockey just won't sound the same. 
Legendary sports announcer Mike 'Doc' Emrick announced his retirement on Monday following 47 years of calling hockey games around the world. 
Emrick's voice has been a staple of the Stanley Cup playoff and many other big games since he took over the role of lead play-by-play announcer for NBC Sports' hockey coverage 15 years ago. To say his career has been anything short of legendary is an understatement. 
His career started off where many young hockey broadcasters began in college hockey. Beginning in 1971, he called hockey games for Bowling Green State University. It was at Bowling Green where he later received his Ph.D. in broadcast communication which led to people around him calling 'Doc'. 
This iconic nickname followed him from minor league hockey all the way to the peak of hockey broadcasting. 
His first professional job began for the Port Huron Flags in 1973 where he called games until the Maine Mariners of the American Hockey League hired him in 1977. The AHL is the second-highest level of hockey played in North America. He remained there till 1980 when he finally made it. 
In 1980 the Philadelphia Flyers hired Doc to call their games and for the first time had him in the National Hockey League. This would start the run that would have him call games for the Flyers, New Jersey Devils, New York Rangers, ESPN, FOX Sports and finally finding his home at NBC Sports. He first called NBC NHL coverage in 2006 where he would later exclusively call games in 2011. 
The best way to show how legendary of a career he had is the same way you look at sports superstars. Just look at the numbers. 
According to NBC Sports, Emrick has called 22 Stanley Cup Finals, 45 Stanley Cup Playoffs Game 7s, six Olympics, 19 NHL Winter Classics, and 14 All-Star Games. Along with that, he called approximately 3,750 professional hockey games including the outdoor game which had over 105,000 people in attendance, and the epic 2010 gold medal game between Canada and the United States. 
He has watched some of hockey's all-time greatest players ranging from Gordie Howe, Bobby Orr, Wayne Gretzky, Mario Lemieux, and Sidney Crosby right up to today's young stars who will turn into some of the all-time greats. Many players defining career moments were called by Doc. 
Just think about how many people throughout the course of hockey's history have watched all of these players. Emrick was the guy who called those games. Generations of hockey fans grew up hearing Doc call their childhood heroes and became a part of the family to many of them. 
The reason fans adore Emrick was more than his voice becoming synonymous with the Stanley Cup Finals. His unique vocabulary led to some of the strangest and wackiest phrases being introduced seamlessly into the call of the play-by-play. Some of these would even draw out a chuckle from the many commentators like Eddie Olczyk who have called games with him throughout the years. Some people have claimed that Doc has used over 100 different phrases to describe either a shot or pass. 
Doc's career was not without recognition, however. He has been elected to seven halls of fame related to sports and sports media. The biggest honor of these seven elections was in 2011 when he became the first broadcaster ever elected to the U.S. Hockey Hall of Fame. 
He also received a total of eight career Sports Emmy Awards for Outstanding Sports Personality – Play-by-Play. This is the most ever in that category which he dominated having won a record seven straight times beginning in 2014 all the way to 2020. Nice to see when a person can go out on top. 
Emrick won't completely leave hockey fans for a little while yet. NBC still plans on using his voice for promos and other hockey-related coverages in the near future. However, his presence in the booth will be greatly missed. 
Emrick was always the voice that fans heard in the greatest and lowest moments watching their teams reach the top of the hockey universe or fall just short. He will be greatly missed and all wish him well on a well-deserved retirement. 
Leave a Comment
About the Contributor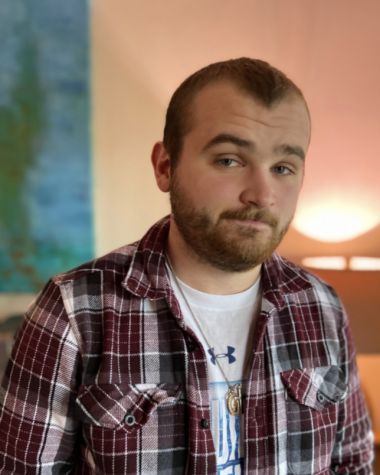 James Tiedemann, Managing Editor
James Tiedemann graduated from Mercy College in the May of 2022. He transferred there after graduating from SUNY Orange with his Associate's Degree in...