DMX In Emergency Care After Drug Overdose, Held In White Plains Hospital
According to TMZ, DMX was rushed to the hospital on Friday, April 2, 2021, after an apparent drug overdose. Murray Richman, the rapper's attorney, told NBC News that X had suffered a severe heart attack, though the cause was unknown. Richman also confirmed that DMX was on life support. DMX, real name Earl Simmons, was said to be in "grave" condition when TMZ first reported the tragic news. He was airlifted to White Plains Hospital, New York, and admitted to the Intensive Care Unit (ICU). 
TMZ was contacted a few hours later by a family member who stated that "paramedics attempted to resuscitate [X] for 30 minutes, and during that time he was deprived of oxygen," which "impacted X's brain," according to doctors. A source told TMZ that "it's not looking good" for his prognosis. Several of DMX's 15 children were also said to be flying in to see him. A representative for DMX spoke out and provided an update to the public about 24 hours after he was hospitalized.
Earl "DMX" Simmons's representative told TMZ that the "Party Up" rapper "remains in critical condition" after "collapsing at home." "Earl has been a warrior his entire life," the statement continued. This situation represents yet another obstacle he must overcome. The Simmons family is grateful for the outpouring of love, encouragement, support, and prayers for Earl. 
Earl's life and music have been a source of inspiration and strength to many people all over the world. It's reassuring to see his fans respond with the same passion and energy to him in his hour of need.
Throughout the years of DMX's career, he had his ups and downs which stems from his current state of mind which is being on life support. Here's a timeline of his uprising and drama-filled career:
DMX has established himself as a hip-hop industry staple over the course of his nearly three-decade career. The rapper established himself as a mainstay of the Ruff Ryders label, releasing major hits like "What These B*****s Want" and "Party (Up In Here)." Throughout his career, the New York native has frequently touched our hearts and playlists. However, his drug addiction became a frequent topic in the news, often overshadowing his professional achievements.
DMX's legacy is one that hip-hop fans all over the world can appreciate and recognize. We recite several of the rapper's hits at parties, and his acting has been equally compelling. However, DMX's inability to separate his personal life from his career highlights harmed his image. As previously reported by Nicki Swift, the "Ruff Ryders Anthem" crooner has struggled with substance abuse and has entered rehab on multiple occasions.
The rapper was hospitalized in 2016 after having a near-death experience as a result of a drug overdose. According to Page Six, DMX stopped breathing and had no pulse in a Westchester hotel parking lot. According to police, a medic on the scene administered Narcan, an anti-opioid used to reverse the effects of a heroin overdose. The rapper became "semi-conscious" and was taken to a nearby hospital for treatment.
Other than that, after serving a 12-month sentence for tax evasion, the rapper's representatives announced in October 2019 that he would be stopping his 20th-anniversary tour to enter rehab. "DMX has checked himself into a rehab facility as part of his ongoing commitment to putting family and sobriety first," read the announcement on Instagram. "He apologizes for the canceled shows and expresses gratitude to his fans for their continued support."
On N.O.R.E. 's Drink Champs podcast in February 2021, DMX teased his upcoming album. He revealed that the album will feature guests such as Lil Wayne and Snoop Dogg, and he declared, "I got Bono — the U2 n***a."
On the evening of April 3, 2021, media outlets published several contradictory reports about DMX's whereabouts. Yahoo! Entertainment reported at 7:35 p.m. ET that a spokesperson for the rapper said, "I can confirm that [DMX] has been removed from life support and is now breathing normally. We're still not out of the woods… I'm not sure what caused his heart attack."
Later, WPIX in New York City confirmed this in a video interview with DMX's longtime attorney, Murray Richman, which was posted on Twitter. Despite the rapper's progress, the lawyer remained concerned. "It would be disingenuous of me to suggest that I'm not a worried man at this particular point," Richman said in the video. 
Then, at 7:53 p.m. ET, Rolling Stone tweeted that the lawyer had been "given incorrect information" and that DMX was still on life support. That same night, at 10 p.m. ET, DMX's rep reportedly confirmed in a statement to TMZ: "At this time, he remains in ICU in critical condition." The following day, April 4, Richman confirmed to CBS News that DMX was not off life support and was not breathing on his own "to [his] knowledge."
Since learning of DMX's overdose on April 3, 2021, celebrities and fans have been wishing him well and sending prayers via social media. Missy Elliott, a fellow rapper, tweeted a photo of DMX praying and wrote, "Prayers for DMX and his family." Eminem also expressed his condolences on Twitter, writing, "@DMX and his family are in our thoughts and prayers!! An absolute legend!! Please stay strong as I am pulling for you!!" In his own tweet, Kid Cudi said, "Prayers up for DMX, we love you man," accompanied by heart and prayer emojis.
Chance the Rapper quoted DMX while tweeting a video of him reading from the Bible. Chance wrote in the quote-tweet, "I felt DMX's anointing when he prayed over me once. I'm hoping for a full recovery for him." Fans also shared their memories of DMX on Twitter, including his hobby of growing orchids and how he trained his dog to ad-lib for him in rap battles.
According to these tweets, DMX's fellow rappers and devoted fans are among the many people who are rooting for his recovery. We will keep DMX and his family in our thoughts and prayers.
Leave a Comment
About the Contributor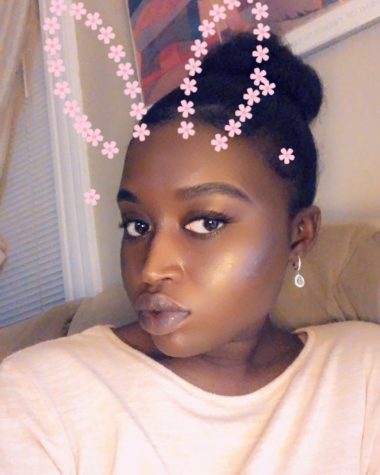 Amy Mbaye, Impact Staff
Amy is from Elmsford, New York who studied Communications Media and Arts at Westchester Community College and has her associate's degree. She is now studying...