Being A Collegiate Athlete Is A Full-Time Job
Being a student-athlete is challenging and there's no doubt about it. It's even harder when you're in season. While my team is preparing for the upcoming 50+ games we have about three weeks of nonstop softball before our season begins. We start with traveling to South Carolina, North Carolina, and Florida to avoid the bad weather in New York. As we are preparing for our upcoming games we've been practicing five days a week and multiple practices a day. 
Our preseason practice schedule looks like this: 
Monday- hitting practice from 7-9 am.
Tuesday- hitting practice from 7-9 am then lift from 11:45-12:15
and defense from 1:30-3:30 pm. 
Wednesday- hitting practice from 7-9 am and defense from 1:30-3:30 pm. 
Thursday- hitting practice from 7-9 am and defense from 1:30-3:30 pm. 
Friday- scrimmages in Connecticut from 12-4 pm.
This year our coach gave us the weekends off which was something we barely had in all the four years I've been here. It finally allows us to either relax, catch up on homework, or go explore. This weekend some teammates and I decided to explore.
It was Friday afternoon when we all had the idea to drive up to Syracuse. There was snow, ice, and traffic to get through but we made it safely. We even had a home-cooked meal from one of our teammates' moms waiting for us when we arrived. Four and a half hours in the car can work up an appetite. 
We woke up bright and early the following morning to start some homework. After eating a delicious breakfast and getting some homework done we got ready for the day. 
It was close to 10 degrees outside, so we layered up. Never in my twenty-one years of living have I worn three pairs of socks, two leggings, sweatpants, snow pants, under armor, a long sleeve shirt, a sweatshirt, and a coat. I have been in the snow before though it was nothing like this. We spent the afternoon slipping and falling on the ice rink. Correction, I fell up and down the ice rink. Then had a delicious lunch right in the heart of Syracuse. 
After lunch, the real fun began. 
We drove 20 minutes down the way to my teammate's Grandparents' house. Where 4 snowmobiles were waiting for us. Tanks were filled and the motors were running. We jumped on and started doing laps around the house. It was my first time riding one so I took it slow. Once I got comfortable, I sped up a bit and tried going a little bit faster each lap. The second I got a little too confident I ended up flipping the snowmobile. Thankfully, there was plenty of slow to break my fall. 
After hours of snowmobiling, tubing, and sledding we went back inside the house to have dinner. My teammates' mom prepared us some snacks and pizza. I sat back in my chair and looked at everyone around me. It felt as though everything I did that day was a dream. Opportunities to get out of town while in softball season don't come around often. So when they do come around, I take them. 
My collegiate career is quickly coming to an end. When I think about it I'll probably never live in Irvington ever again. I find it interesting how in all of the four years of living here I've never really had the time to explore the culture. The closest thing I have to familiarity in my town is walking into the local deli and hearing the guy up front say, "Your usual?" 
Exploring and having fun outside of school is something you have to sacrifice after committing yourself to a college team. When you join a team it becomes your job. Hours of hard work, uniforms, and a team of people who all have their jobs. 
When I graduate college, I'll have to start all over and get a real job. One where I won't have families of teammates who live locally and are willing to open their homes up to me whenever I need an escape. That is something I'll cherish forever. It's tough not having family on the east coast but so many families stepped in to make sure the out-of-state girls felt like they had a second home.
Leave a Comment
About the Contributor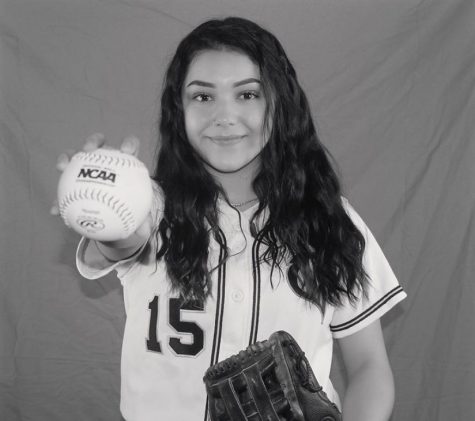 Ariana Ricci, Impact Staff
Ariana Ricci is currently a Senior at Mercy College. She is a collegiate athlete that is a part of the Student Athlete Advisory Committee and the Maverick...