Guilt Trip
It's the middle of January. A large white blanket of snow has quickly consumed the entire Onondaga Community College campus over the course of two hours, and the snow doesn't plan on stopping anytime soon. The temperature is very much below freezing even though the sun is completely uncovered. I'm freezing. I'm frightened. I have no idea what the hell is going on.
After a nightmare semester at Salisbury University filled with below-average grades, poor athletic performance, and a coach-imposed eating disorder that I thought was going to literally put me in a grave, I was stuck in middle-of-nowhere Syracuse on an actual Native American reservation.
How did I get to Onondaga? Four years later, and I still don't have any answers to that. If I had to give a reason, though, I would say because my old high school coach went there, and he suggested it. Still, him suggesting it did not make me want to go. I was more concerned about finding a way to stay close to my high school girlfriend.
During my time at Salisbury, we went through our own set of problems. She missed me and I missed her, but long-distance relationships are extremely difficult. Most people can attest to that. There would be days where we barely talked. A lot of the time, she would get upset with me just for not being around to spend time with her. She never told me to transfer, but she made it perfectly clear that she did not want me there. She only came to visit once in the four and a half months I was at the school, and continuously talked bad about the college in general.
When I told her I was leaving, she was almost too excited. Sure, she was upset that for me that it didn't go well, and she tried to say all of the right things to support me.
"They're missing out on you."
"You deserve better than that school."
"It's going to be okay."
"I support you."
I began looking at other schools while I was still enrolled at Salisbury. She certainly had her input. She wanted me to go to schools near our hometown in Pennsylvania. She had another year half year of high school to go through and was planning on attending St. Joe's in Philadelphia. St. Joe's is only 45 minutes from our hometown. If I could find a school that I liked, I could be close to her all the time.
So, I looked at schools in Allentown. I looked at schools in Philadelphia. I didn't like one.
That didn't seem to particularly matter to her. She had it all planned out for me anyway. I would go to the local community college in our hometown. Then, I could transfer to a four year school close to her. It would all be perfect. She'd be happy and we'd be happy together.
Problem is, I had absolutely zero desire to attend our local community college. Yes, I'd be close to her. But I still had a dream of my own. I wanted to play lacrosse in college. Our local community college had no lacrosse team. All it had was a ten-minute commute drive to her house.
How could I tell her that though? She was so excited about the idea that I might be staying close to home. I wasn't going to let her down. How could I? In my mind, she was the one that got me through my hellish first semester of college. It felt like I owed it to her to stay close. Plus, I really did want to stay close to her. She meant a lot to me and I loved the idea that I could see her everyday after going weeks at a time without her.
Fortunately for me and my future, my father had other ideas about where I needed to go. Now, my father is not a classic sports father. He wasn't the kind of dad to yell from the stands to give me pointers. He knew better to stay away from that. He also would never tell me what to do. He trusted that all of the decisions I made were going to be the right ones. If they were the wrong ones, he'd let me figure that out for myself, or maybe give me advice on what he would do instead.
Not this time.
He knew that I wanted to play lacrosse. My desire to play had only increased after Coach Berkman at Salisbury basically told me I wasn't good enough to do it. I had to prove him wrong.
He forced me and my mother into the car early in January and we trekked up to Syracuse. We arrived at the small campus in Onondaga and met with the coaches on staff. They certainly wanted me a their school, and they pushed hard to recruit me to join the Onondaga Lazers. It felt nice to be wanted, and the coaches were certainly nice. They never promised me a thing, but I wasn't looking for promises. Honestly, I tried hard not to listen to the words they were saying.
In my head, I had already made a decision. I was staying home, whether I liked it or not. Whether my parents liked it or not. Whether my girlfriend liked it or not (she clearly did).
We got back to Pennsylvania that same day, and my dad wanted to talk about what I thought about the school?
"It all seemed cool, Dad. But I'm not going to the middle of nowhere. I'm going to stay home and figure it out here."
For my father, that was all that he needed to hear to step in.
"You're going to OCC."
That was it. He knew my reasons for staying home for the wrong reasons. This time, he knew what was best. He seemed to always know what was best.
He was absolutely right. I needed to go and do this.
Trying to tell my girlfriend of my choice was incredibly difficult. I kind of stammered through my reasons for why I was going to OCC. Partly because I didn't feel that the reasons were accurate at that time. I did want to stay home. I also wanted to not upset her at all.
Like she wasn't going to be upset?
She was so hurt at my choice. She cried and kept asking over and over why I was leaving her. I kept trying to say that I wasn't. I was going back to school. The same amount of miles away as Salisbury was to our hometown. Only this time in the opposite direction. We did it already, we can do it again.
She wasn't having any of it.
Yes, we stayed together my first semester at OCC. This time, it was even harder for us than it was at Salisbury. We fought a lot. She was upset I wasn't there for her when she felt like I needed it most. I constantly would apologize to her. I would say that I hated it at OCC and that I didn't understand why I was even here. I started to blame it on my dad. That didn't seem to make it any easier.
Long-distance relationships never work. People will tell you that all of the time. You always think that you're going to be different, though. The young love that you have will work. You're too in love for it to fail.
It's all bull****, I promise.
It's even harder to make a relationship like that work when you're a permanent fixture stuck inside the transfer portal.
Leave a Comment
About the Contributor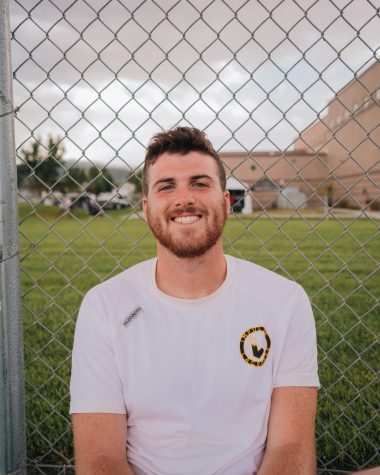 Zack Higgins, Impact Staff
Zack Higgins is a 5th year Media Studies major at Mercy College.  He is a previous student of Salisbury University, Onondaga Community College, and the...