Comparing The 2022 Jets To Their Last Great Team
Here in New York, everybody is thrilled with the emergence of not one, but two competent teams in the city. After basically a decade of ineptitude, the New York Giants and Jets are currently near the top of the NFL standings at the halfway mark of the season.
Of course, both teams have major question marks. But let's not highlight those right now. Instead, lets just enjoy the fact that they are actually both truly, sincerely, good.
Now, I don't really care that much about the Giants. I don't hate them. But I live and die with the New York Jets. For my entire life, I've mostly died. Poor play, poor coaching. Everything has gone completely against them. It's been like that ever since the Jets won Super Bowl III in 1969.
But fans will remember the New York Jets in 2009 and 2010 being not just watchable and competent, but dominant. They had a dominating run game, a strong offensive line, a destructive defense, and a fun-loving head coach on the sideline in Rex Ryan.
As the Jets look to return to the playoffs for the first time since that 2010 team, let's take a look at some of the similarities between the two.
The 2009-2010 Jets can best be remembered by one man who ruled the NFL. Darrelle Revis.
Revis, or "Revis Island" as he was affectionately known, was the NFL's top cover corner for half a decade. He would completely take away an offense's best player for the entire 60 minutes. It's weird today to think that the Jets actually had one of the best players to ever play a position and spend his prime with them.
Revis wasn't alone in the secondary. Opposite of him was Antonio Cromartie, a lanky cover-man with elite return skills. Over the top was classic over-performer Jim Leonard at free safety. Leonard is now the head coach at Wisconsin.
Their front seven was dominant as well. Outside linebacker Calvin Pace was a force on the outside, and demanded attention from all offensive line coaches. Inside backers Bart Scott and David Harris stuffed up the run in the middle and had the pass coverage ability to blanket tight ends in the AFC.
Defensive lineman Shaun Ellis and Kris Jenkins stuffed up the run very well, and both had the pass rushing chops to demand respect.
Other contributors of course played a part, and with Rex Ryan and defensive coordinator Mike Pettine leading the charge, the Jets had the number-one-ranked defense two years in a row.
Today's Jets defense is similar in many ways. Rookie first-round pick Sauce Gardner might as well be a clone of Cromartie. Lanky, and with the speed and zone awareness to cover just about anyone, Sauce is making a compelling argument for Defensive Rookie of the Year. Free-agent signee DJ Reed came over from Seattle in the offseason and has proven to be one of the more underrated overall signings this year.
The real strength of the team is on the defensive line. They go 10 deep in their pass-rushing rotation with a plethora of high-quality talent. Carl Lawson, Quinnen Williams, and John Franklin-Myers are the three top dogs on the line, and rotate in Solomon Thomas, Nathan Shepherd, Sheldon Rankins, Bryce Huff, and 2022 draft picks Jermaine Johnson II and Michael Clemons to terrorize quarterbacks all over the league.
Head coach Robert Saleh came over from San Francisco and brought over a stellar reputation for getting after the passer and shutting down receivers on the outside. He, along with defensive coordinator Jeff Ulbrich, have certainly been able to accomplish that in year two.
The 2009-10 Jets employed some of the game's best running backs during that period of time. The 2009 Jets featured a healthy dose of veteran Thomas Jones, and were able to complement him with talented return man Leon Washington and rookie Shonn Greene.
The 2010 Jets were led in the backfield by a now veteran Greene, and he was able to share the backfield with Hall of Fame running back Ladanian Tomlinson. Tomlinson had just spent ten years in San Diego, and signed with the Jets in hopes for a Super Bowl run.
While he was never able to get that ring, all of these running backs were the catalysts of an offense that was weekly among the best in the NFL in rushing yards per game and touchdowns per game. Pairing talented running backs with an offensive line that left to right featured Damien Woody, Brandon Moore, D'Brichashaw Ferguson, Nick Mangold, and future Hall of Famer Alan Faneca is certainly a way to get the job done.
The 2022 Jets have featured predominantly three runners in their backfield. They began the year with 2022 draft choice Breece Hall as the lead back, and his dual-threat abilities quickly made him one of the games best. After a season-ending knee injury left Hall sidelined, the Jets turned to second-year back Michael Carter and new trade acquisition James Robinson to lead the charge. All three have been crucial to the Jets 6-3 start.
Young, Troublesome Quarterbacks
Perhaps the biggest similarity is with the quarterbacks in question. The 2009-10 Jets were led by 2009 first-round choice Mark Sanchez. The Jets traded a lot to move up and get Sanchez with the expectation that he, along with a veteran team, would lead the Jets back to relevancy.
He did much more than that. Sanchez was able to help the Jets get to back-to-back AFC Championship games. While they lost both, that kind of success had not been with the Jets in quite some time.
In spite of all their success, many Jets fans and NFL analysts believe that the Jets got to these games in spite of Sanchez. It's hard to say that they are wrong.
Sanchez struggled mightily in his first two seasons. He threw more interceptions than touchdowns, and would often waver down the stretch of the games. His playoff record is 4-2, which is a lot better than many quarterbacks that play in the NFL. Still, it's fair to say that his defense and run game were the main reasons he was even in those games.
Zach Wilson is facing many of those same questions as the Jets starter. A high draft choice with high expectations. While it's often hard to meet expectations in New York, Wilson has played well-below average in his year and a half starting.
Wilson missed some games early in 2022, but has come back to lead the Jets to a 5-1 record as a starter. Still, his stats have been poor, and he played awfully bad during their loss to New England earlier in the year.
It will be up to Wilson to turn his play around if the Jets are going to continue to win this year.
So far, the Jets have positioned themselves well for their first trip to the playoffs since that 2010 season. If they can go .500 the rest of the way, they should get there. Still, Wilson needs to step up his game in a major way if they are going to advance, and if he wants to be the starter past this year.
Leave a Comment
About the Contributor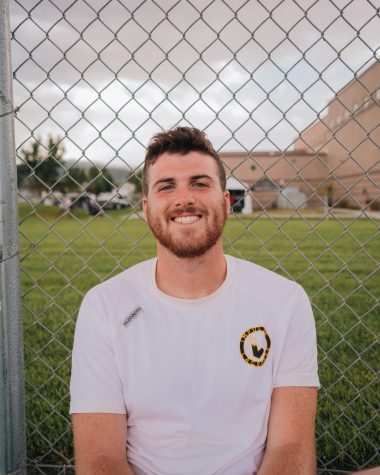 Zack Higgins, Impact Staff
Zack Higgins is a 5th year Media Studies major at Mercy College.  He is a previous student of Salisbury University, Onondaga Community College, and the...