Why Do Draft Busts Happen?
Draft day is an exciting time for many fan bases. For years, the draft in every sport was the only way to improve your team from year to year. Free agency is fairly new in the sports world. Now, teams can look anywhere for upgrades. But there is just something special about draft.
Kevin Costner even starred in a movie about how exciting the day is, as well as how daunting the entire day is for front offices. It's actually not a bad watch. I mean, it's completely unrealistic. For one, no GM will trade the sixth overall pick for three second round picks. Also, the Browns made themselves better. That doesn't happen in real life. It's not even believable in a movie. If you have HBO Max, I'd go check it out on a rainy day, just keep have an open-mind. But I digress…
Because I'm a big football fan, a huge NFL Draft fan, and somewhat of a nerd, I often find myself watching old NFL Drafts that find their way to YouTube. One of my favorites is the 1998 NFL Draft. For NFL historians, you will know that this was the Peyton Manning draft. Manning was selected first overall and went on to have a Hall of Fame career. Manning would be a no-brainer choice for number one.
But many also know that the answer was not so clear-cut in the year 1998. The debate for the Indianapolis Colts at number one was between Manning and former Washington State quarterback Ryan Leaf.
I know, I know. Who is Ryan Leaf? Die-hard fans know him well. Casual fans will have no clue. If you're unfamiliar, Leaf was essentially the 90's version of Johnny Manziel. Uber-talented, but a complete and utter distraction off the field with a possible drug problem. In Leaf's case, a definite drug problem.
As I watch, though, the analysts working the draft for ESPN talk up Leaf to the crowd in New York City, and the fans who watched at home. "He has a rocket arm. He is a dynamic pocket passer. His ceiling is higher than Manning." At the time, those statements were true. They probably still are true. Leaf's arm was stronger. His ceiling theoretically was higher. So why did he fail? Why do any of these guys become busts?
There are lots of reasons that guys become busts. Off-the-field issues, poor situations surrounding them whether it be with the team or their inner circle, the cities they are drafted into, or they may just not fit the scheme. These things happen.
For Leaf, it was unquestionably his off-the-field antics, as well as a serious attitude problem that hindered his career greatly. Leaf bounced around the league for five years before ultimately being forced to retire. He never lived up to the Manning comparisons. He spent time in and out of prison, and has slowly begun to improve his life. He has appeared on ESPN announcing games, and has been very outspoken on his struggles.
Leaf isn't alone in his draft bust status. The NFL isn't the only league where draft busts occur.
To reference another movie, Moneyball is the story about how Oakland Athletic's general manager Billy Beane had to construct a winning baseball club without quality funds. He is able to build a division-winning team in 2002, but the A's ultimately fall short of their goal of a World Series win.
Before Beane began evaluating talent, he was a player himself. In the same draft that the New York Mets took Daryl Strawberry number one overall, they also used a first-round pick to select Beane, a talented outfielder from San Diego. Many scouts had him as the best player in the entire draft, and much more refined than Strawberry. He dropped to the 23rd pick due to concerns that he would instead opt to play baseball, as well as football, for Stanford University.
Beane spent four years in the minors before reaching the major leagues in 1984. His time in the minors was marred by inconsistent play, and surrounding players who were quickly jumping to the major leagues like Strawberry, Doc Gooden, and Lenny Dykstra. His Major League breakthrough was short-lived, and was sent back down to the minors after only a few games. As the Mets began transforming into the team that would eventually win a World Series in 1986, they traded Beane at the end of 1985 to the Minnesota Twins. He spent time in the major leagues with the Twins, Tigers, and the A's before retiring in 1989 and transitioning into scouting.
Beane's career was not marred by scandal or drug abuse. He avoided 1980s New York for the most part. His confidence was just shaken from poor play in the minor leagues. Sometimes that's all it takes to derail a career. Mentality is a big reason why athletes succeed, and a big reason why they fail.
Life worked out for Beane, clearly. He is still with the A's and has built winning teams. Although he has never reached the World Series, he is a respected front-office guy in the MLB, and they made a movie about him. Pretty cool.
Draft busts just happen. It's easy in the draft day moments to hype up a talented athlete as the next great thing. Every single athlete who is drafted high has a reason to be. They are dynamic players with upside. Sometimes, all it takes is one slice of life to go wrong before everything unravels.
It's important to remember that the people we taunt for being busts are also just people trying to do their jobs. It's easy to lose that perspective. But imagine somebody coming down to your 9-5 telling you how much you suck.
You're expected to perform, and perform at a high level. Sometimes, in the case of these athletes, it doesn't work out. Drafting isn't an exact science.
Further proof of how hard drafting is can also be found in the 1998 NFL Draft. With the 21st selection, the Minnesota Vikings selected a wide receiver that was coming from a Division I-AA program after being dropped from two Division I programs for off the field issues. Even though he dominated in college when he did play, his level of competition plus his legal issues caused him to drop. A scout even said that his ability to play in the NFL was "questionable at best."
Randy Moss ended up as a superstar.
And of course, this argument is cemented with Tom Brady. The seventh quarterback drafted in 2000 with the 199th pick ended up as the greatest quarterback in NFL history. The six quarterbacks selected ahead of him were featured in a documentary titled "The Brady 6" because their careers were so underwhelming compared to Brady's.
When drafting, you might as well put pictures on a dart board, close your eyes, and throw.
The 1998 NFL Draft is the perfect example. Peyton Manning, Charles Woodson, and Randy Moss all went in the first round. Hall of Fame caliber football players.
But for every Manning, you get a Leaf.
Leave a Comment
About the Contributor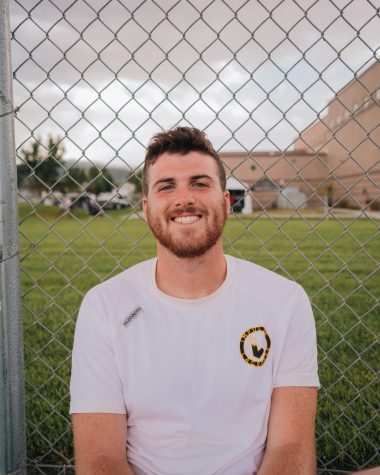 Zack Higgins, Impact Staff
Zack Higgins is a 5th year Media Studies major at Mercy College.  He is a previous student of Salisbury University, Onondaga Community College, and the...