Controversy Over GLEE's Transgendered Character
GLEE is at it again. But this time the hit FOX television show is being hit from within it's own confines.
On Tuesday, April 17, fans tuned in from coast-to-coast to watch Season 3, Episode 16: "Saturday Night Glee-ver" a take on Saturday Night Fever.
In the episode, fans were introduced to Alex Newell, a finalist from OXYGEN's series Glee Project where talented fans audition to win a seven-episode guest spot on the television series.
Newell had not appeared on the show prevision to the "Saturday Night Glee-ver" leaving viewers questionable as to what his role on the show would be.
Within minutes of his introduction to the show, it was revealed that Wade (Newell's character) aspires to being on stage wearing five-inch heels and a wig while performing under the name Unique.
During the Glee Project Newell experienced with drag during two performances, in which dressed in heels a wig and feminine clothing (a dress and a skirt).
So the fact that his character on the show would desire to do the same was not a huge shock to the fandom, but viewers who weren't captivated by the Glee Project and hadn't known of Newell's history with drag, weren't amused.
One woman in particular, Fox News correspondent Gretchen Carlson was appalled by what she saw that night on television.
Carlson responded to "Saturday Night Glee-ver" on The O'Reilly Factor by saying "I think here we go again, pandering to the .3 percent of the American population who consider themselves transgender. Now I get to explain this to my 8-year-old if I just want her to see a nice family show with nice music."
GLEE definitely has an outstanding track record when it comes to issues of controversy and yes .3 percent of the American population may identify themselves as transgendered, but does that mean a show which millions of people watch shouldn't step outside it's boundaries to address these types of issues?
GLEE has two LGBT couples on the show, one lesbian and one gay, has dealt with issues in regards to eating disorders and other topics other shows wouldn't dare touch.
Just this season the show had a student experience a severe car accident which led her to using a wheelchair because she was texting while driving, dealt with the issue of domestic violence in which a teacher was being abused by her husband, experienced the hardships that one of the females dealt with in regards to "coming-out" to her family, witnessed a male character attempt suicide after his being bullied in school and online due to his sexuality and many other instances.
The messages have sometimes been portrayed in an extreme light, but the situations themselves are ones that are prevalent to our times and the fact that the show continues to address these topics should be commendable.
Yes I am a huge fan of the show and will watch it regardless of it's reviews, but coming across instances like Carlson's reaction to the episode stirs something in me.
GLEE is rated TV-14 so Carlson's mindset about having to explain the situation to her 8-year-old shouldn't be backlashed at the show. Yes many view glee as a series which families can sit around and watch together, but at the end of the day, the rating is placed there for a reason. If Carlson doesn't want her 8-year-old to understand that there are people in the word like Unique then she shouldn't have her child watch a show that is 7 years too mature for that child.
Carlson also went on to add that the show has "two cheerleaders who are apparently lesbians with each other" and that there are "two seniors who are engaged to get married to each other."
Okay yeah, even I was taken back when Finn (Cory Monteith) proposed to Rachel (Lea Michele) and viewed it to be completely unnecessary, but it's not a concept that hasn't happened in the world we live in. So to see it covered on a show, not that preposterous, no?
Same goes for the comment in regards to the "two cheerleaders who are apparently lesbians with each other." First, what a weird way to word that they are in a relationship with one another. She could have clearly said "two lesbians" or "two cheerleaders who are romantically involved" but to go so far as to describe them that way, it more or less made it seem as though she tried to cover herself without bashing the LGBT community.
But wait it is the LGBT community isn't it? Not the LGB community. So why carefully, or carelessly, make that statement then have such an issue with Unique?
I still don't understand.
All-in-all. Newell's performance as Unique in the rendition of "Boogie Shoes" was absolutely amazing!
Even I can't dance around in heels like she did.
Great job Alex!
The episode of The O'Reilly Factor can be viewed above, which has several clips of "Boogie Shoes," so you can create your own opinions.
View Comments (2)
About the Contributor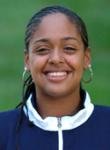 Jasmine Williams, Managing Editor
Jasmine Williams is a Senior majoring in Media Studies (Journalism) and minoring in Psychology. She is the Editor for the Impact and co-captain of Mercy's...